I-FLOWS
June 13, 2020

Posted by:

admin1

Category:

DPN Topics

Subject: Disaster management
Context:
Integrated Flood Warning System called 'IFLOWS-Mumbai' has been launched
Concept:
It is a joint initiative between the Ministry of Earth Sciences (MoES) and Brihanmumbai Municipal Corporation (BMC)
The warning system will relay alerts of possible flood-prone areas anywhere between six to 72 hours in advance.
The system can provide all information regarding possible flood-prone areas, likely height of the floodwater, location-wise problem areas and calculate the vulnerability and risk of elements exposed to flood.
Mumbai is only the second city in the country after Chennai to get this system. Similar systems are being developed for Bengaluru and Kolkata.
Working method:
Amount of rainfall, tidal waves and storm tides are the primary source for the system.
The system includes weather models from the National Centre for Medium Range Weather Forecasting (NCMRWF), India Meteorological Department (IMD), field data from the rain gauge network of 165 stations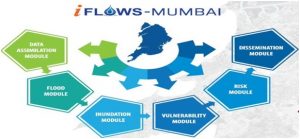 In the last two years, researchers have been conducting studies to provide real-time weather information by measuring the city's rainfall, how much water drained out, topography, land use, infrastructure development, population, lakes, creeks and data on river bathymetry of all rivers namely Mithi, Dahisar, Oshiwara, Poisar and Ulhas.