Immediate Mobile Payment Service (IMPS)
October 10, 2021

Posted by:

admin1

Category:

DPN Topics

Immediate Mobile Payment Service (IMPS)
Subject – Economy
Context – RBI hikes IMPS daily transaction limit to ₹5 lakh
Concept –
The Reserve Bank of India on Friday announced a proposal to increase the per-transaction limit for the Immediate Payment Service (IMPS) from ₹2 lakh to ₹5 lakh for channels other than SMS and IVRS.
This will lead to further increase in digital payments and will provide an additional facility to customers for making digital payments beyond ₹2 lakh.
The per-transaction limit for SMS and IVRS (interactive voiceresponse) channels is ₹5,000.
The RBI also unveiled a slew of other measures related to payment and settlement systems including geotagging of payment system touchpoints.
It has proposed to lay down a framework for geotagging (capturing geographical coordinates through latitude and longitude) of physical payment acceptance infrastructure, point of sale terminals and quick response (QR) codes used by merchants.
Different ways to transfer funds online in India–
India currently has various methods to transfer money online such as digital wallets, UPI, and more. However, the most commonly used online fund transfer method has been:
National Electronic Funds Transfer (NEFT)
Real-Time Gross Settlement (RTGS)
Immediate Mobile Payment Service (IMPS)
While NEFT and RTGS were introduced by RBI (Reserve Bank of India), IMPS was introduced by National Payments Corporation of India (NPCI).
NEFT
National Electronic Funds Transfer (NEFT) is a payment system that facilitates one-to-one funds transfer.
Using NEFT, people can electronically transfer money from any bank branch to a person holding an account with any other bank branch, which is participating in the payment system.
Fund transfers through the NEFT system do not occur in real-time basis and the fund transfer settles in 23 half-hourly batches.
RTGS
Real-Time Gross Settlement (RTGS) is another payment system in which the money is credited in the beneficiary's account in real-time and on a gross basis.
The RTGS system is primarily meant for large value transactions that require and receive immediate clearing.
IMPS
Immediate Mobile Payment Services(IMPS) is a real-time instant inter-bank funds transfer system managed by National payment corporation of India.
IMPS is available 24/7 throughout the year including bank holidays, unlike NEFT and RTGS.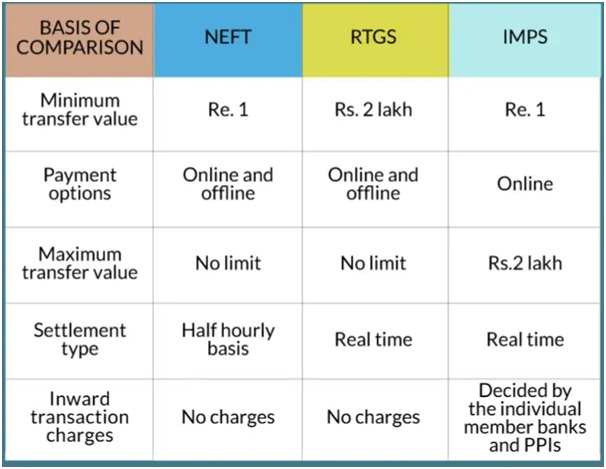 To know about UPI, please click here.
National Payments Corporation of India
National Payments Corporation of India (NPCI), an umbrella organisation for operating retail payments and settlement systems in India, is an initiative of Reserve Bank of India (RBI) and Indian Banks' Association (IBA) under the provisions of the Payment and Settlement Systems Act, 2007.
It is a "Not for Profit" Company under the provisions of Section 25 of Companies Act 1956 (now Section 8 of Companies Act 2013), with an intention to provide infrastructure to the entire Banking system in India for physical as well as electronic payment and settlement systems.