India needs to increase urban infrastructure investments to $55 billion a year: World Bank
November 15, 2022

Posted by:

OptimizeIAS Team

Category:

DPN Topics

India needs to increase urban infrastructure investments to $55 billion a year: World Bank
Subject :Geography
Context-
The World Bank report, titled 'Financing India's Infrastructure Needs: Constraints to Commercial Financing and Prospects for Policy Action', estimated that India would need $840 billion over the next 15 years.
India's Urbanization requirements-
India needs to increase its annual investment in city infrastructure from an average of $10.6 billion a year in the past decade to an average of $55 billion a year for the next 15 years.
By 2036, 600 million people will be living in urban cities in India, representing 40% of the population.
Currently, the central and state governments finance over 75% of city infrastructure, while urban local bodies (ULB) finance 15% through their own surplus revenues.
Currently, only 5 per cent of the urban infrastructure investments were coming from the private sector.
Government's current (2018) annual urban infrastructure investments is $16 billion.
Urbanisation prospects-
As per the World Urbanization Prospects, 2018 report produced by the UN Department of Economic and Social Affairs (UN DESA) together, India, China and Nigeria will account for 35% of the projected growth of the world's urban population between 2018 and 2050.
By 2050, it is projected that India will have added 416 million urban dwellers.
Currently, India's population stood at 1210 million in 2011, with an urbanisation level of 31.1% (Census of India 2011).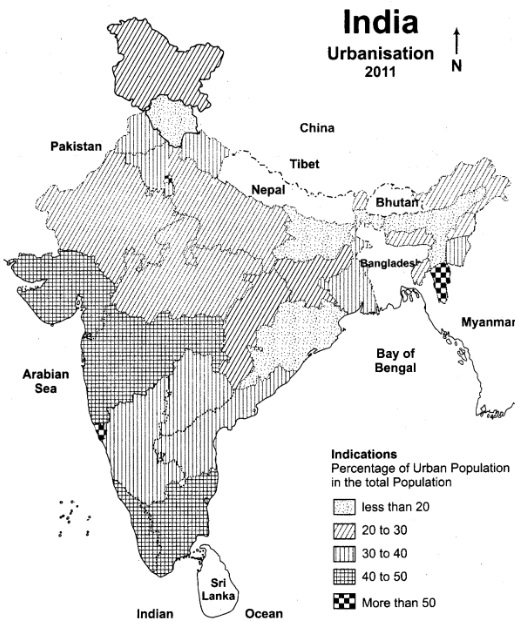 State-wise Scenario:
Over 75% of the urban population of the country is in 10 States: Maharashtra, Uttar Pradesh, Tamil Nadu, West Bengal, Andhra Pradesh, Gujarat, Karnataka, Madhya Pradesh, Rajasthan, and Kerala.
Maharashtra leads with 50.8 million persons (13.5% of the total urban population of the country).
Uttar Pradesh accounts for about 44.4 million, followed by Tamil Nadu at 34.9 million.
Goa is the most urbanised State with 62.2% urban population.
Tamil Nadu, Kerala, Maharashtra, and Gujarat have attained over 40% urbanisation.
Among the North-Eastern States, Mizoram is the most urbanised with 51.5% urban population.
Low-Scoring States: Bihar (11.6%), Assam (14.1%), Odisha (16.68%) and Uttar Pradesh (22.3%) continue to be at a lower level of urbanisation than the national average.
Among Union Territories the NCT of Delhi and the UT of Chandigarh are most urbanized with 97.5% and 97.25% urban population respectively, followed by Daman and Diu and Lakshadweep.
India's Global Commitments regarding Urban Development:
The SDGs Goal 11 promotes urban planning as one of the recommended methods for achieving sustainable development.
The UN-Habitat's New Urban Agenda was adopted at Habitat III in 2016.
It puts forth principles for the planning, construction, development, management, and improvement of urban areas.
The UN-Habitat (2020) suggests that the spatial conditions of a city can enhance its power to generate social, economic and environmental value and well-being.
Paris Agreement: India's National Determined Contributions (NDCs) includes the goals to reduce the emission intensity of the country's GDP by 33 to 35% by 2030 from 2005 level.
UN-Habitat
The United Nations Human Settlements Programme is the United Nations programme for human settlements and sustainable urban development.
Established in 1978 as an outcome of the First UN Conference on Human Settlements and Sustainable Urban Development (Habitat I) held in Vancouver, Canada, in 1976.
Headquarters at the United Nations Office at Nairobi, Kenya.
It is mandated by the United Nations General Assembly to promote socially and environmentally sustainable towns and cities with the goal of providing adequate shelter for all.
It is a member of the United Nations Development Group.
The mandate of UN-Habitat derives from the Habitat Agenda, adopted by the United Nations Conference on Human Settlements (Habitat II) in Istanbul, Turkey, in 1996.
The twin goals of the Habitat Agenda are:

Adequate shelter for all.
The development of sustainable human settlements in an urbanizing world.
India's Initiatives for Urbanisation:
Schemes/Programmes Related to Urban Development:

Smart Cities
AMRUT (Atal Mission for Rejuvenation and Urban Transformation) Mission
Swachh Bharat Mission-Urban
HRIDAY (Heritage City Development and Augmentation Yojana)
Pradhan Mantri Awas Yojana-Urban
Government Initiatives for Slum Dwellers/Urban Poor:

Pradhan Mantri Garib Kalyan Yojana
Atmanirbhar Bharat Abhiyan (self-reliant India)
Affordable Rental Housing complexes (ARHC)