India poised to become next global SaaS capital, says EY-CII study
August 26, 2022

Posted by:

OptimizeIAS Team

Category:

DPN Topics

India poised to become next global SaaS capital, says EY-CII study
Subject : Science and Technology
Section: Computer
Concept –
SaaS is a way of delivering software applications over the internet when a customer requires them.
Earlier, companies would have to install software in their clients' localised hardware for them to use their applications. So, this required customers to pay for use of the software upfront, and also for the hardware on which the software would run.
SaaS, which started as a concept during the dotcom boom, began to flourish as a business model after the financial crisis of 2007 as companies looked to save costs.
At a personal level, the Microsoft Office 365 suite of products is a good example of SaaS. Instead of purchasing multiple one-time licences at a hefty cost, users can opt for a more affordable monthly subscription of the entire suite based on requirements. Users can also make do with basic hardware, while saving data on the cloud.
One can view SaaS as a subset of cloud computing. Cloud or cloud computing is a broader concept that involves not just delivering software over the internet, but also providing computing and data storage services from a different location (owned or third party).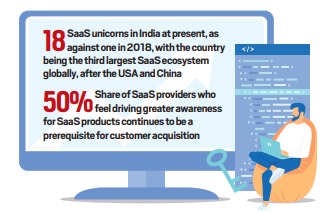 Some of the most famous examples of SaaS are:
Amazon Web Services (AWS) – It is a subsidiary of Amazon. It provides around 150 services and has more than a million subscribers. AWS is even used by streaming companies like Netflix, defence organizations like the US Navy, and the world's most famous space organisation NASA.
Dropbox – Files stored in Dropbox can be accessed from any device, from any location at any time.
Google Apps – Google drive enables employees to access files from any location from any device.
Salesforce – It is a Customer Relationship Management (CRM) tool, enabling employees of organizations to access the required information from any device at any location.
SAP Cloud Platform – Launched by SAP in 2012
Microsoft Azure – Launched by Microsoft in 2010.
Why is it important?
The biggest advantage that SaaS enables is innovation. The advantage behind this method of delivery is that data can be accessed with an internet connection, web browser in any device at any location. In this type of model, vendors host and maintain servers and databases. The main difference between SaaS Delivery and On-premise model is that SaaS deployments won't require extensive hardware and the payment type is through a subscription model, no need to pay the entire cost upfront.
It has basically converted fixed costs of companies into variable costs. When capital is scarce, the SaaS model frees up capital for more high priority requirements.
The payment model for SaaS is typically a per seat, per month charge based on usage. This ensures more efficient allocation of capital, especially for early-stage companies.
This also implies that the threat for established companies is higher today. If they are not alert, it's just a matter of time before SaaS-using start-up will outwit them.