Infrastructure for Resilient Island States
November 1, 2021

Posted by:

admin1

Category:

DPN Topics

Infrastructure for Resilient Island States
Subject – Economy
Context – IRIS and CDRI work to strengthen critical infrastructure against climate change
Concept –
Prime Minister Narendra Modi along with his UK counterpart Boris Johnson and a few other world leaders will launch a new programme to secure and strengthen critical infrastructure in small island states against disasters induced by climate change.
Named IRIS or Infrastructure for Resilient Island States, this programme is the first major work of the Coalition for Disaster Resilient Infrastructure which India had initiated in 2019.
CDRI – Climate-proofing infrastructure
The Coalition for Disaster Resilient Infrastructure (CDRI) is a multi-stakeholder global partnership of national governments, UN agencies and programmes, multilateral development banks and financing mechanisms, the private sector, and knowledge institutions.
The Prime Minister of India launched CDRI during his speech at the UN Climate Action Summit on 23rd September 2019.
The CDRI Secretariat is based in New Delhi, India.
The Coalition for Disaster Resilient Infrastructure (CDRI) is all about climate-proofing critical infrastructure in member countries.
As of now, 26 countries including the United States, Germany, UK, Australia, Brazil, Bangladesh, Afghanistan, Nepal, Bhutan, Sri Lanka and Japan are members of the coalition.
The coalition is supposed to serve as a 'knowledge centre' where member countries can share and learn best practices with respect to disaster-proofing infrastructure projects.
The coalition will not create any new infrastructure but, instead, will work towards making existing and upcoming infrastructure in member countries more robust and resilient so that they can withstand climate disasters like floods, heat waves, cyclones, forest fires, rains and other such events.
According to CDRI estimates, every dollar invested in making infrastructure more resilient in low and middle-income countries can potentially save over four dollars in losses suffered when a disaster strikes.
The aim of CDRI is to minimise damages and disruptions caused by disasters.
The CDRI is the second international climate initiative that India has launched.

The first was the International Solar Alliance (ISA) launched at the 2015 Paris climate change conference.
While the solar alliance would result in mitigation of greenhouse gases through large-scale switch from fossil fuels to solar energy, simultaneously addressing issues of energy access and energy security, CDRI is aimed towards the adaptation goal.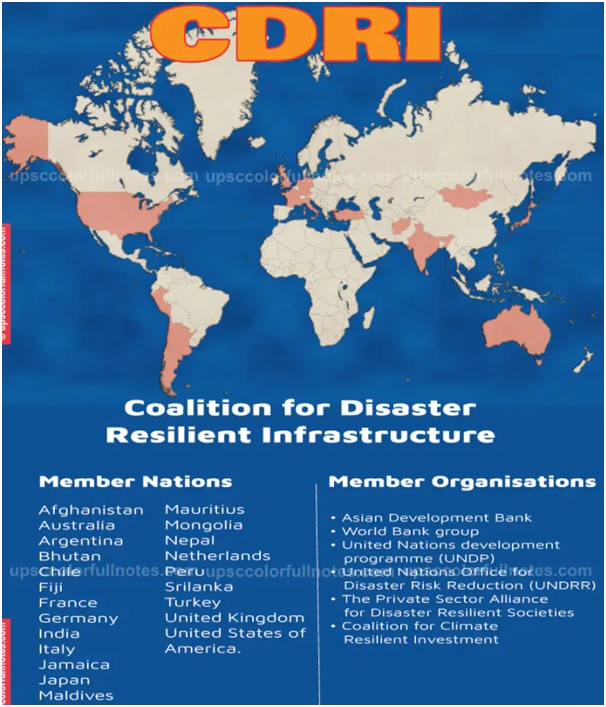 IRIS or Infrastructure for Resilient Island States
Infrastructure for Resilient Island States (IRIS) is an operationalisation of the CDRI initiative.
According to the CDRI, several small island states have lost as much as 9 per cent of their GDP in single disasters in the last few years.
The main work would involve mobilising and directing financial resources towards building resilient infrastructure in these countries, retrofitting existing infrastructure, development of early warning systems, and development and sharing of best practices.