International Year of Fruits & Vegetables 2021
October 26, 2021

Posted by:

OptimizeIAS Team

Category:

DPN Topics

International Year of Fruits & Vegetables 2021
Subject – IR
Context – 2021 has been designated by the UN General Assembly as the International Year of Fruits and Vegetables (IYFV)
Concept –
2021 has been designated by the UN General Assembly as the International Year of Fruits and Vegetables (IYFV).
The IYFV is a unique opportunity to raise awareness of the important role of fruits and vegetables in human nutrition, food security and health as well as in achieving the UN Sustainable Development Goals.
The 2021 IYFV falls within the UN Decade of Action on Nutrition (2016-2025) and the UN Decade of Family Farming (2019-2028).
FAO is the lead agency for celebrating the year in collaboration with other relevant organizations and bodies of the United Nations systems.
What are fruit and vegetables?
There is no widely accepted definition for either fruit or vegetables. The definition agreed to for the International Year of Fruits and Vegetables is as follows.
Fruit and vegetables are considered edible parts of plants (e.g., seedbearing structures, flowers, buds, leaves, stems, shoots and roots), either cultivated or harvested wild, in their raw state or in a minimally processed form.
Excluded are the following:

Starchy roots and tubers such as cassava, potato, sweet potato and yams (although leaves of these plants are consumed as vegetables).
Dry grain legumes (pulses) unless harvested when immature.
Cereals including maize (corn), unless harvested when immature.
Nuts, seeds and oilseeds such as coconuts, walnuts and sunflower seeds.
Medicinal or herbal plants and spices, unless used as vegetables.
Stimulants such as tea, cacao and coffee.
Processed and ultra-processed products made from fruit and vegetables such as alcoholic beverages (e.g. wine, spirits), plant-based meat substitutes, or fruit and vegetable products with added ingredients (e.g., packed fruit juices, ketchup).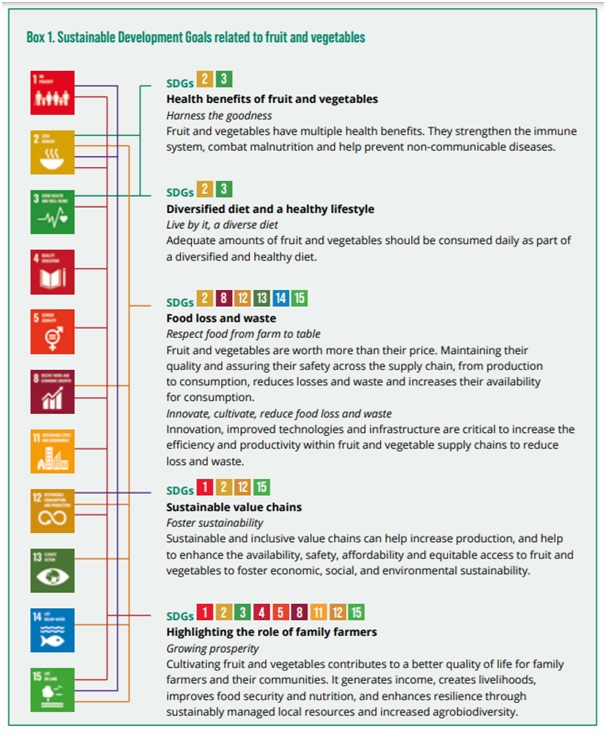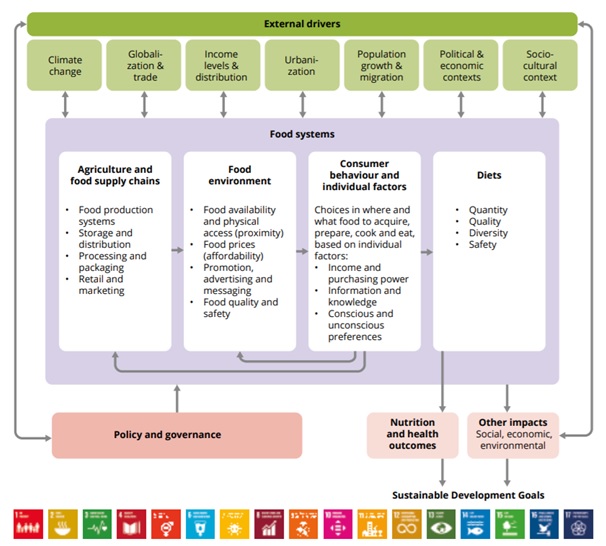 World fruit production by commodity, 2018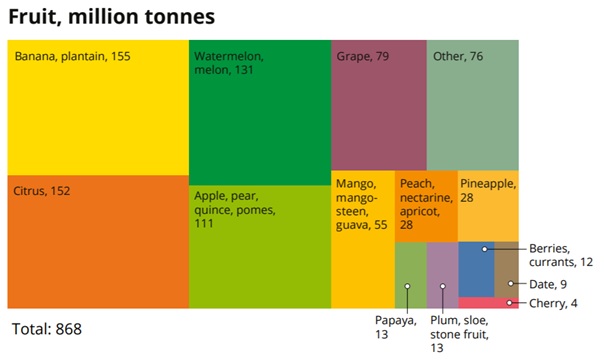 World vegetable production by commodity, 2018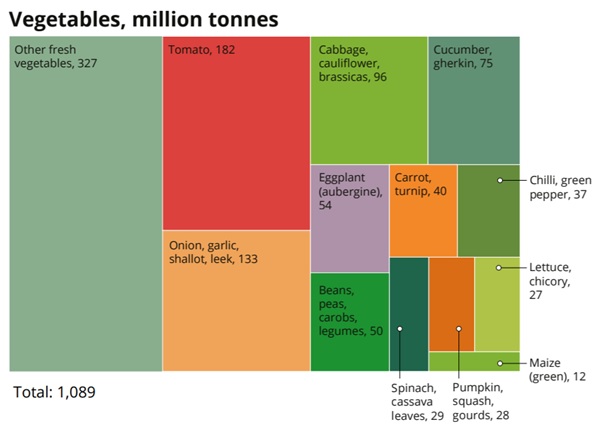 Meeting standards and ensuring safety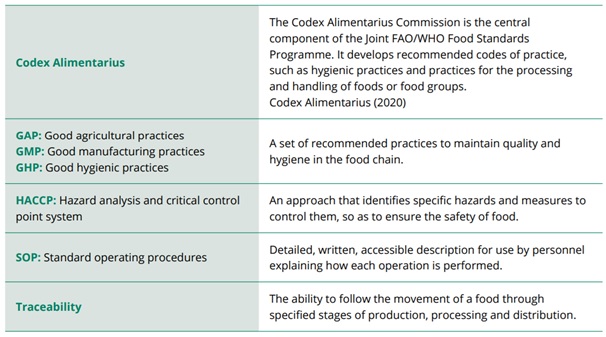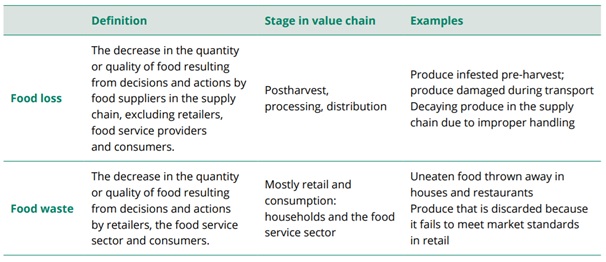 Food safety risks along the value chain
In India –
India's diverse climate ensures availability of all varieties of fresh fruits & vegetables.
It ranks second in fruits and vegetables production in the world, after China.
According to FAO (2019), India is the largest producer of ginger and okra amongst vegetables and ranks second in production of potatoes, onions, cauliflowers, brinjal, Cabbages, etc.
Amongst fruits, the country ranks first in production of Bananas (26.08%), Papayas (44.05%) and Mangoes (including mangosteens and guavas) (45.89%).
Grapes, Pomegranates, Mangoes, Bananas, Oranges account for larger portion of fruits exported from the country while Onions, Mixed Vegetables, Potatoes, Tomatoes, and Green Chilly contribute largely to the vegetable export basket.
The major destinations for Indian fruits and vegetables are Bangladesh, UAE, Netherland, Nepal, Malaysia, UK, Sri Lanka, Oman and Qatar.
Though India's share in the global market is still nearly 1% only, there is increasing acceptance of horticulture produce from the country.