Irrigation
November 17, 2020

Posted by:

admin1

Category:

MMN

What Irrigation is?
Irrigation is the artificial application of water to the soil or agricultural field. It is the replacement or supplementation of rainwater with another source of water.
The main idea behind irrigation systems is to assist in the growth of agricultural crops and plants by maintaining with the minimum amount of water required, suppressing weed growth in grain fields, preventing soil consolidation etc.
Facts
About 80 per cent of the current water use is drawn by agriculture. Irrigated area accounts for nearly 8 per cent of the 140 million hectare (mha) of agricultural land in India. The remaining 51.2 per cent is rainfed.
The increasing gap also impacts rainfed production in the country. The mean productivity of rainfed area (71.62 mha) is about 1 tonne per ha compared to 2.8 tonne per hectare of irrigated area.
Water Budget: The country receives annual precipitation (including snowfall) of almost 4,000 billion cubic metre (BCM), which results into estimated average water potential of 1,869 BCM. But its per capita availability is reducing year on year, the ICAR said. The per capita annual water availability has declined from 5,177 cubic metre (cm) in 1951 to 1,508 cm by 2014, and is likely to reduce further to 1,465 cm and 1,235 cm by 2025 and 2050, respectively.
About 40 mha of the country is flood prone and every year about 8 mha is affected by floods. The waterlogged area in the country is about 11.6 mha.
The overall irrigation efficiency of the major and medium irrigation projects is estimated to be around 38 per cent. "The efficiency of surface irrigation system can be improved from about 35-40 per cent to around 50-60 per cent and that of groundwater from about 65-70 per cent to 72-75 per cent
Objective
Enhance Productivity
Tap the Productive potential of soil
Reduce dependence upon Monsoon and rainfed agriculture
Enhance Production by having multiple crops within a year
Types
| | |
| --- | --- |
| Traditional | Modern |
| | |
| Subsurface or sub irrigation | |
Surface Irrigation
Surface irrigation is where water is applied and distributed over the soil surface by gravity. It is by far the most common form of irrigation throughout the world and has been practiced in many areas virtually unchanged for thousands of years.
| | |
| --- | --- |
| A.   COMPLETE FLOODING | |
| | A-1. Wild Flooding |
| | A-2. Border Irrigation |
| | A-3. Check or Basin Irrigation |
| B.   PARTIAL FLOODING | B-1. Furrow Irrigation method |
| | B-2. Basin and Ring method |
| | B-3. Surge Irrigation |
| | |
A-1Wild Flooding
In this method water flows from the ditch directly to the field without much control on either side of the flow. It covers the entire field and moves almost unguided.
A-2 Border Irrigation
Borders are usually long, uniformly graded strips of land, separated by earthen bunds. The bunds so formed are not to contain the water from ponding but to guide it as it flows down the field.
A-3 Check Basin Irrigation
Check method consists of dividing the field into several relatively level plots called checks surrounded by low bunds. They are irrigated with comparatively large flow of water.
B-1 Furrow Irrigation Method
Furrow irrigation refers to irrigating land by constructing furrows between two rows of crops or alternately after every two rows of crops.
B-2 Basin and Ring Irrigation
Fruit crops in orchards are irrigated by constructing basins or rings around trees. Basins are usually used for small trees, while rings are used in bigger trees which are widely spaced.
B-3 Surge Irrigation
Surge irrigation is defined as the intermittent application of water to field surface under gravity flow which results in a series of "on and off" modes of constant or variable time spans. Large intermittent flows rather than continuous.
Sub-Surface Irrigation Method
Subsurface irrigation, also designated as sub irrigation, involve irrigation to crops by applying water from beneath the soil surface either by constructing trenches or installing underground perforated pipe lines or tile lines. Water is discharged into trenches and allowed to stand during the whole period of irrigation for lateral and upward movement of water by capillarity to the soil between trenches.
Modern Methods
The strength modern technology include (Drip and sprinkler) – efficient deployment of inputs such as water, electricity, fertilizers, labour, increase in crop productivity, better quality of produce leading to higher realization of sale price resulting in increased income of farmer.
Drip Irrigation
Drip irrigation is a type of micro-irrigation system that has the potential to save water and nutrients by allowing water to drip slowly to the roots of plants, either from above the soil surface or buried below the surface. The goal is to place water directly into the root zone and minimize evaporation.
It has an important role in increasing irrigation water productivity (IWP) and water use efficiency (WUE)
The trajectory of policy should shift from land productivity to irrigation water productivity
Irrigation water productivity (IWP), defined as the yield produced per unit of irrigation water use, has become an important criteria which takes into account both agricultural production and water use efficiency. Increasing the value of IWP would not only alleviate the pressure of limited water resources but also ensure the food security.
IWP can be increased by adopting improved methods of irrigation and irrigation technologies such as micro-irrigation system; organic and natural farming techniques including Zero Budget Natural Farming (ZBNF); economizing the use of fertilizers and pesticides; and adopting appropriate technology for small farmholders.
However, a few challenges are associated with shifting of priority from land productivity to IWP such as
Fragmentation of agricultural land holdings
Credit availability
Expensive micro-irrigation
Knowledge gap (Transfer of technology from Lab to Land is poor)
WUE:
The irrigation water use efficiency can be defined as the yield of plant product per unit of irrigation water use and it is a measure of the productivity of the irrigation water. It represents the ratio between effective water use and actual water withdrawal. It characterizes, in a specific process, how effective is the use of water. Efficiency is scale and process dependent. Along a canal, the conveyance efficiency is the ratio between the volume of water at delivery points and inflow at entrance. At field level, effective water use is the water transpired by the crop and some other special requirements (land preparation, salt leaching). Runoff, deep percolation and evaporation from bare soil or standing water in paddy fields, are losses.
Drip irrigation is most suitable for row crops (vegetables, soft fruit), tree and vine crops where one or more emitters can be provided for each plant. Generally only high value crops are considered because of the high capital costs of installing a drip system. Though now used for field crops also owing to its multiple advantages.
Process: In drip irrigation, the water pumped out from a well is first sent through sand separators and media/screen filters to remove silt and impurities such as algae or dead plant matter. This filtered water is, then, applied to the crop via a network of mainline and sub-mainline pipes, valves (that turn on or off the water flow) and smaller diameter polytubes or 'laterals', which have pre-installed emitters at spaces corresponding with the placement of each plant. These ensure delivery of water directly to each plant's root zone (where it is really required) and at discharge rates as low as one litre per hour. Drip irrigation systems also have provision for 'fertigation' (Irrigation + Fertilizer application simultaneously) — application of fertiliser, in liquefied form from a separate tank, along with the water.
Simcha Blass (November 27, 1897 – July 18, 1982) was a Polish-Israeli engineer and inventor who developed the modern drip irrigation system with his son
Fertigation
This refers to the application of fertilisers through irrigation water. Nitrogen is the principle nutrient that is commonly used. Potassium and highly soluble forms of zinc and iron can also be readily applied in this technique. When an element forms a precipitate with another substance commonly found in the irrigation water, it is not advisable to use this method. Phosphorus and anhydrous ammonia may form a precipitate in water with high calcium and magnesium content. So, they are not used in fertigation. Normally, this system is used through drip irrigation. Liquid fertilisers, containing all three major nutrients, are used.
What are the advantages of fertigation in agriculture ? [UPSC Prelims 2020]
Controlling the alkalinity of irrigation water is possible.
Efficient application of Rock Phosphate and all other phosphatic fertilizers is possible.
Increased availability of nutrients to plants is possible.
Reduction in the leaching of chemical nutrients is possible.
Select the correct answer using the code given below:
(a) 1, 2 and 3 only
(b) 1, 2 and 4 only
(c) 1,3 and 4 only
(d) 2, 3 and 4 only
Sprinkler Irrigation
Sprinkler irrigation is a method of applying irrigation water which is similar to natural rainfall. Water is distributed through a system of pipes usually by pumping. It is then sprayed into the air through sprinklers so that it breaks up into small water drops which fall to the ground. The pump supply system, sprinklers and operating conditions must be designed to enable a uniform application of water.
Sprinkler irrigation is suited for most row, field and tree crops and water can be sprayed over or under the crop canopy. However, large sprinklers are not recommended for irrigation of delicate crops such as lettuce because the large water drops produced by the sprinklers may damage the crop.
Sprinkler irrigation is adaptable to any farmable slope, whether uniform or undulating. The lateral pipes supplying water to the sprinklers should always be laid out along the land contour whenever possible. This will minimize the pressure changes at the sprinklers and provide a uniform irrigation.
Sprinklers are best suited to sandy soils with high infiltration rates although they are adaptable to most soils.
Per Drop More Crop
Per Drop More Crop component of Pradhan Mantri Krishi Sinchayee Yojana (PMKSY-PDMC) is operational in the country from 2015-16. The PMKSY- PDMC focuses on enhancing water use efficiency at farm level through Micro Irrigation viz. Drip and Sprinkler irrigation.
The Government provides financial assistance @ 55% for small and marginal farmers and @ 45% for other farmers for installation of Drip and Sprinkler Irrigation systems. In addition, some States provide additional incentives/top up subsidy for encouraging farmers to adopt Micro Irrigation.
The first place in micro irrigation goes to Karnataka (8.16 lakh ha) followed by Andhra Pradesh (7.17 lakh ha) and Gujarat (7 lakh ha). At the all-India level, 43.71 lakh ha of lands were brought under micro irrigation in the last five years.
Rs 5000 crore dedicated Micro Irrigation Fund (MIF) created with Nabard was facilitating the states in mobilizing the resources for expanding coverage of micro irrigation envisaged under Per Drop More Crop component of PMKSY and also in bringing additional coverage through special and innovative initiatives by state governments
According to Economic survey (2019-20) micro-irrigation is a proven technology which has gained immense popularity amongst the farmers. Farmers have been able to save irrigation water from 20 to 48 per cent; energy saving from 10 to 17 per cent; saving of labour cost from 30 to 40 per cent; saving of fertilizers from 11 to 19 per cent and increase in crop production from 20 to 38 per cent,
Current Issues Pertaining to Irrigation
Issue 1: Gap between Irrigation Potential created (IPC) and Irrigation potential Utilized (IPU)
Irrigation potential created is the total area which can be irrigated from a project on its full utilization. This implies that Irrigated Potential Created denotes full utilization. If the area actually irrigated is smaller than the potential created, it denotes under-utilization. Thus, irrigation utilization is percentage of actual irrigated area to potential created. Thus, while the irrigated area created is merely a notional figure. The irrigation potential utilized is gross cultivable area.
Let's take a case study from Maharashtra and compare Capital cost for IPC and IPU. Then we will observe how the benefit: cost ratio of these projects leading to scenario of "Less crop per drop" instead of more crop per drop"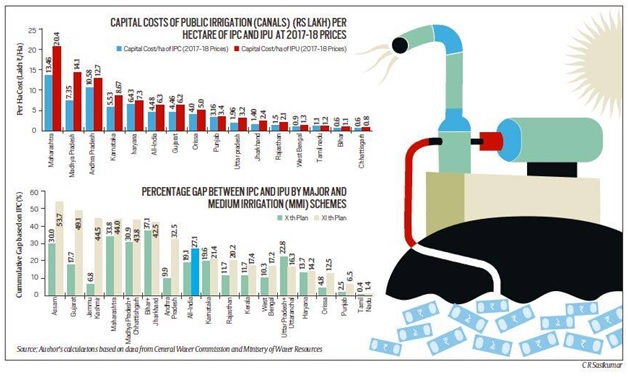 IPC is a Misnomer: Example – Let us look at the results. Graph 1 gives the state-wise capital cost of public irrigation (canals, primarily through MMI schemes). Maharashtra tops the list with Rs 20.4 lakh/ha of irrigation potential utilised (IPU) compared to the all-India average cost of just Rs 6.3 lakh/ha of IPU. The costs per ha of irrigation potential created (IPC) are somewhat lower, but still the highest is for Maharashtra at Rs 13.5 lakh/ha. While engineers and contractors are quick to announce IPC after construction of reservoirs and main canals, farmers benefit only when this potential created is converted to potential utilised, which is to be ensured by the Ministry of Agriculture and Farmers' Welfare.
| | |
| --- | --- |
| TYPE |               CAPITAL COST |
| IPU | Rs 20.4 lakh/ha |
| IPC | Rs 13.5 lakh/ha |
One can give several reasons for the high costs of public irrigation in Maharashtra, ranging from its tough topography to the widening gap between the IPC and IPU (see Graph 2) to rampant corruption. But, the fact remains that these costs are so high that one is forced to think whether any investments in public irrigation in Maharashtra are worth making without bringing in transparency and accountability in terms of benefits and costs. We say this because the profitability in crop cultivation from public irrigation hardly matches with the opportunity cost of public irrigation. For example, if say, Rs 20 lakh (equivalent to the cost of public irrigation on IPU basis) were given to each farmer on per ha basis as long-term bonds with a fixed interest of say 8 per cent per annum, he would have got a net annual income of Rs 1.6 lakh without any risk.
If 20 lakh which was utilized for IPU were given to farmer on per ha basis in form of long term bonds that would  GENERATE
Rs 1.6 lakh per annum without any risk
The question is are farmers generating Rs 1.6 lakh also per ha/annum in those areas where these irrigation projects were created ?
The question to ask is whether the existing farmers with access to public irrigation are making this much (Rs 1.6 lakh/ha) as net income? The analysis based on cost of cultivation studies does not support this. It is thus very clear that the benefit cost (B/C) ratios of most of these projects do not justify these projects. But, as the system functions, the B/C ratios are highly inflated in feasibility reports to justify starting several projects, money is splurged, and hardly any ex-post analysis is done to see if what was promised is delivered at that cost, and, whether the benefits have turned out to be commensurate to costs.
In sum, public irrigation needs major overhauling in the country, Also, there is the question of who uses how much of irrigation water. In Maharashtra, although about 19 per cent of gross cropped area is irrigated, in case of sugarcane, it is 100 per cent and, in case of cotton, just 3 per cent. So there is massive inequity in the distribution of irrigation water in the state.
Issue 2: MSP, Power subsidy, Cerealization and ground water exploitation
As we have discussed earlier in cropping pattern that policy of government like focused MSP towards cereals like Rice and wheat (and FRP for sugarcane) has led to rampant cultivation of these crops which has distorted the cropping pattern of country leading to over utilization of surface and ground water and imbalance in nutritional security.
Example of Punjab: According to the state's own report on the underground water situation, there is over-exploitation of groundwater to meet the agriculture requirements of the state. It says that about 79 percent area of the state is over-exploited. Of 138 blocks, 109 blocks are "over-exploited", two blocks are "critical" five blocks are "semi-critical" while only 22 blocks are in "safe" category.
Power and electricity Subsidy– It is often argued that tube wells have an auto-start switch. They turn on as soon as power is supplied and pump water even if it is not required. Various agriculture experts scoff at the free power supply saying it is making the state lose its precious resource.
On average, there are 34 tube wells per sq. km of net sown area in Punjab. The state policy of free power for agriculture in combination with central policy favorable to paddy cultivation has ended up in indiscriminate use of groundwater. The situation has reached a critical stage and a shift from existing practices is necessary to ensure that the next generation has adequate natural resources for its use. Experts suggest a dire need to diversify.
Lowering of water table coupled with the increased use of fertilizers and pesticides is causing water quality deterioration in surface and groundwater resources. Groundwater at shallow depth is largely contaminated due to surface water pollution.
Way Out
Promoting Practices which helps in conserving water and reducing the demand and on other side increasing the supply by working on efficiency. Overall balancing the cycle of demand and supply of water.
Demand for water needs to be decreased by use of efficient technology, precision agriculture and enhancing the Irrigation water Productivity (IWP). On other side Supply needs to be streamlined so that gap between Irrigation potential Created(IPC) and Irrigation potential utilized is decreased.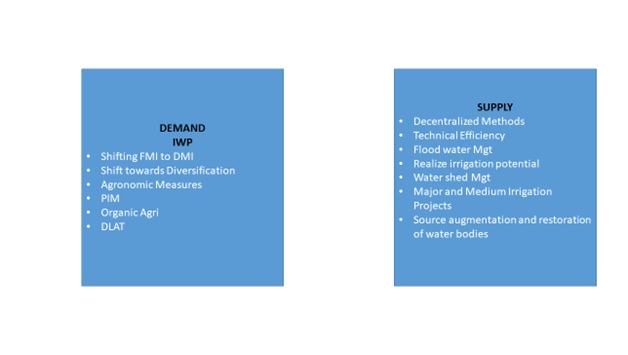 Policy Shift: Should work towards enhancing crop diversity, as water guzzler crops like rice, sugarcane, wheat are consuming more water, policy should shift towards adding diversity. Millets or nutricereals should be promoted as these crops grow in dry areas, require less water, suitable for small and marginal farmer and also adds to food basket of India leading to nutritional security.
Promoting Dry land agriculture: As per Ministry of agriculture annual report Rainfed agriculture occupies about 51 percent of country's net sown area and accounts for nearly 40 percent of the total food production. Dry land techniques must be improved and promoted through research and awareness campaign
Dryland Agriculture refers to cultivation of crops entirely under natural rainfall without irrigation. It is a form of subsistence farming in the regions where deficit of the soil moisture retards the growth of water consuming crops like rice, sugarcane etc. Dryland areas are characterized by low and erratic rainfall and no assured irrigation facilities. Dryland agriculture is important for the economy as most of the coarse grain crops, pulses, oilseeds, and raw cotton are grown on these lands. Dryland areas receive rainfall between 500 and 1200 mm.

Types of Dryland Agriculture

Depending on the amount of rainfall received, dryland agriculture has been grouped into three categories:
Dry farming: it is production of crops without irrigation in areas where annual rainfall is less than 750 mm. Crop failures are more frequent under dry farming condition owing to prolonged dry spells during crop period. The growing season is less than 200 days. It is generally practiced in arid regions of the country
Dryland farming: cultivation of crops in areas receiving rainfall above 750 mm is known as dryland farming. Dry spell during crop duration occurs, but crop failures are less frequent. Semi-arid regions are included under this category.
Rainfed farming: It is practice of crop cultivation without irrigation in areas receiving 1150 mm rainfall, mostly in sub-humid and humid areas. Here chances of crop failure and water stress are very less.
Water conservation: Rain water harvesting, watershed management must be promoted to conserve water

Rain water harvesting
Watershed Management – Neeranchal water shed mgt. by World Bank
Decentralized Irrigation
Source Augmentation and restoring water body
Participatory Irrigation Management

Agronomic Measures: to reduce water demand

Mulching
Developing & Cultivating Water stress varieties
Conservation Tillage
Strip cropping
Cover crops
Organic Farming
Agroforestry
Decentralized irrigation
Decentralized irrigation refers to the small-scale, storage and distribution of water for agricultural and other needs in rural as well as urban areas. Various decentralized irrigation techniques are as follows:
Farm ponds: Farm ponds are small tank or reservoir like constructions, are constructed for the purpose of storing the surface runoff, generated from the catchment area. The farm ponds are the water harvesting structures, solve several purposes of farm needs such as supply of water for irrigation, cattle feed, fish production etc.
Rain water harvesting: Rainwater harvesting has agricultural uses. It can be used to water crop plants in agricultural fields, improve ground water table. For instance, Work done by Paani foundation in selective rural areas has led to improvement in ground water table.
Surface irrigation: Water is distributed over and across land by gravity, no mechanical pump involved.
Localized irrigation: Water is distributed under low pressure, through a piped network and applied to each plant.
Drip irrigation: A type of localized irrigation in which drops of water are delivered at or near the root of plants. In this type of irrigation, evaporation and runoff are minimized.
Sprinkler irrigation: Water is distributed by overhead high-pressure sprinklers or guns from a central location in the field or from sprinklers on moving platforms.
Advantages of Decentralized Irrigation System
Less Disputes: The dispute for distribution of water is less owing to use of local resources
4% vs 80%: India has worlds 4% water resources but its agriculture sector consumes 80% water so by decentralizing and using local resources this gap can be reduced.
Reach to unreached: Decentralised  irrigation  offer the possibility to provide adequate water where centralised supply systems are not feasible due to technical, economical or institutional reasons. Ex: In rural communities or informal settlements.
Economical: Small water bodies (mainly tanks) are less capital-intensive, user-friendly with fewer environmental problems and augment groundwater resources through sub-surface recharge. Ex: Existence of decentralised water storage systems in (Hebbal) Bengaluru, etc.
Independent System: They are independent from an institutional set-up or centralised systems.
Promotes in site technologies: Availability of local source of water promotes use of modern technologies like Drip irrigation, Sprinkler technique, etc.
Government initiatives to promote decentralized irrigation:
PM-KUSUM – The proposed scheme consists of three components:

Component-A: 10,000 MW of Decentralized Ground Mounted Grid Connected Renewable Power Plants.
Component-B: Installation of 17.50 lakh standalone Solar Powered Agriculture Pumps.
Component-C: Solarisation of 10 Lakh Grid-connected Solar Powered Agriculture Pumps.

Mission Kakatiya is a flagship program under Telangana government aimed at restoring minor irrigation sources of water like ponds and tanks.
JalyuktShivaryojan in Maharshtra has played a prominent role in providing farm ponds to every farmer in her/his  agriculture field.
The announcement of the Jal Shakti Abhiyan, a time-bound, mission-mode water conservation campaign initiated by the new Jal Shakti ministry is a welcoming step focussing on rainwater harvesting, rejuvenation of waterbodies, reuse of treated wastewater, and intensive afforestation.
Participatory Irrigation Management
Participatory irrigation management (PIM) refers to the participation of irrigation users – the farmers – in the management of the irrigation system. It does not refer only to the tertiary level of management, nor does it refer to merely consulting with farmers. The concept of PIM refers to management by irrigation users at all levels of the system and in all aspects of management. This is the simplicity of PIM, and also its flexibility. It is done by creating local water regulatory bodies like Pani Panchayat or Water Users' Associations (WUAs).
Successful Examples
International: Turkey, Mexico
National: Odisha
Backed by Pani Panchayats Act (2002), participatory irrigation management is flourishing in Odisha. In Sunei Medium Irrigation project of Mayurbhanj district, the efficient coordination amongst Pani Panchayats under the supervision of the project committee coupled with adherence to rotational irrigation practice (beginning with the tail end of the command area) led to a whopping 36% increase even in a drought-like situation in 2015-16 Kharif season. The decision of the Project Committee and Pani Panchayats to restrict paddy cultivation during Rabi season also proved to be effective in maximizing output. As on 31st May 2018, altogether 30,033 Pani Panchayats have been programmed out of which 28,105 have been formed by conducting elections.
Not only such participatory irrigation management bring equity in water distribution, improve crop productivity through collective effort and create a sense of ownership among the farmers for the irrigation infrastructure, it also integrate women into mainstream through a provision in Pani Panchayat Act to reserve 33% women at chak level. The formation of Water Users Associations in all categories of irrigation commands supplements this participatory approach.
Objectives of PIM
Sense of Ownership: Creating a sense of ownership of water resources and the irrigation system among the users, so as to promote the economy in water use and preservation of the system.
Better Services: Improving service deliveries through better operation and maintenance of the irrigation systems.
Optimum Utilization: Achieving optimum utilization of available resources, precisely as per crop needs.
Equity: Striving for equity in water distribution.
Balanced Utilization: Increasing production per unit of water, where water is scarce and to increase production per unit of land where water is adequate.
Constraints in Implementation of PIM
Lack of legal backup and policy changes: In many States, there is no or very little legal back up and clear-cut policy decisions at the Government level to take up PIM.
System deficiency:There are many problems like deterioration of old control and measuring structure, leakages and seepage at various places, erosion of banks and beds. These problems hinder farmers from taking over irrigation management.
Uncertainty of Water Availability: Farmers are reluctant to take on the responsibility for managing the system unless deliveries of water are made reliable, flexible, practical and responsive to need.
Fear of financial viability: Farmers are apprehensive to take irrigation management, due to the absence of surety of finance, it would be difficult for them to fulfil the requirement of funds for operation and maintenance.
Demographic Diversity: Due to variation in economic, ethnic, education levels etc. diversity of farmers, PIM is taking much time in India.
Need For Monitoring: Regular monitoring and evaluation of the performance of the WUAs is necessary for the development of the PIM programme in the country.
Way Forward
PIM is like giving power and authority to users at grass root level just like Panchayati Raj. These would led to sense of ownership which will lead to usage of water resources with sense of belongingness.
Model Policy or law suited to local areas to minimize disputes
Increasing women role in it as they women farmer has major role to play
Watershed
Watershed is geo-hydrological unit of land, which collects water and drains it through a common point. Watershed management basically involves storage and recharge of groundwater through various methods like percolation tanks, recharge wells and artificial ponds.
The term 'watershed management' gained importance since the 1990, government launched:

Integrated Watershed Development Program (IWDP)
National Watershed Development Program for Rainfed Areas (NWDPRA) with the help of World Bank.

In 2015, the Ministry of Rural Development and World Bank signed a loan agreement to consolidate these initiatives under "Neeranchal National Watershed Project (NWP)"
National Watershed Project
The Neeranchal National Watershed Project (NNWP) is a World Bank assisted project undertaken by the Government of India to support the Integrated Watershed Management Program (IWMP) for the improvement and conservation of water resources. The project started in 2016 and will continue until 2022.
The Ministry of Rural Development will implement the project and support the Pradhan MantriKrishiSinchayiYojana in water management. Gujarat, Madhya Pradesh, Chhattisgarh, Rajasthan, Telangana, Andhra Pradesh, Jharkhand, and Maharashtra are the chosen states for project implementation. The cost of the total project is Rs. 2142 crore, of which 50% is funded by the World Bank
Benefits
Human Health: A healthy watershed provides safe drinking water, provides food, enables us to adapt to the impacts of climate change more easily by cooling the air and absorbing greenhouse gas emissions, and provides natural areas for people to keep active and recharge our batteries.
Ecological Health: A healthy watershed conserves water, promotes streamflow, supports sustainable streams, rivers, lakes, and groundwater sources, enables healthy soil for crops and livestock, and also provides habitat for wildlife and plants.
Economic Health: A healthy watershed produces energy and supplies water for agriculture, industry and households. Forests and wetlands help to prevent or reduce costly climate change andflooding impacts, manages drought, contributes to tourism, fisheries, forestry, agriculture and mining industries.
Agriculture Health: Water shed management will prove to be life line for dry land agriculture. It will help reducing surface runoff of rainwater, increasing recharge of ground water. It will help in decentralization of Irrigation where source of local water will make them 'AtmaNirbhar'
Sir MokshagundamVisvesvaraya's role in Water Engineering
Sir M.Visvesvaraya was the creator automatic sluice gates which were later reused for Tigra Dam (in Madhya Pradesh) and KRS Dam(in Karnataka). He is architect of the Great Krishna Raja Sagara Dam in Mysuru.
The automatic sluice gate design was a patented design and he was eligible for a recurring income in the form of royalty but he refused it so that the government could use this money for more developmental projects.
He introduced a block system of irrigation and water weir flood gates in the Bombay Presidency.
He supervised the construction of KRS dam in the erstwhile Mysore state which was the then Asia's biggest dam.
He came up with an efficient way of filtering water through 'Collector Wells' in 1895 which was rarely seen anywhere in the world.
He designed a flood protection system for the city of Hyderabad by Mussi River.
He played a key role in developing a system to protect the Visakhapatnam port from sea erosion.
                                                        *******************
Previous Year Question based on Irrigation GS-III
What is water-use efficiency? Describe the role of micro-irrigation in increasing water-use efficiency. [UPSC Mains 2016]
Elaborate on the impact of the National Watershed Project in increasing agricultural production from water-stressed areas. [UPSC Mains 2019]
How has India benefited from the contributions of Sir M. Visvesvaraya and Dr. M. S. Swaminathan in the fields of water engineering and agricultural science respectively?[UPSC Mains 2019]
Inputs by
Sangeet Sir
Bsc (Ag)&Msc (Ag) Gold Medalist
To access Mains Master Notes of every topic in a scientific and systematic manner.