K-shaped recovery Vs V-shaped recovery
July 30, 2021

Posted by:

admin1

Category:

DPN Topics

K-shaped recovery Vs V-shaped recovery
Subject: Economy
Context: Economic Adviser (CEA) Krishnamurthy Subramanian acknowledged on Thursday that some parts of the economy may be witnessing a K-shaped recovery, as smaller firms and urban poor had been hit harder by the pandemic, but stressed that India's overall economic rebound remains V-shaped.
Concept:
K-shaped recovery
Z-shaped recovery: It is the most-optimistic scenario in which the economy quickly rises after an economic crash.
A K-shaped recovery occurs when an economy recuperates unevenly, and there's a separate trajectory for two segments of the society.
While the financial markets recover and grow, the real economy, or the flow of goods and services, gets worse.
It makes up more than for lost ground before settling back to the normal trend-line, thus forming a Z-shaped chart.
In this economic disruption lasts for a small period wherein more than people's incomes, it is their ability to spend is restricted.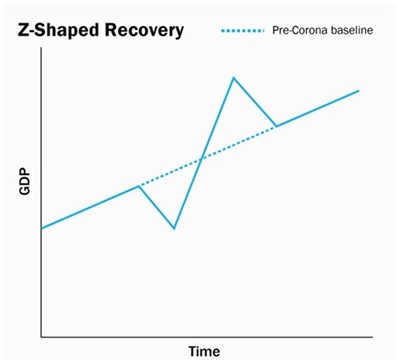 V-shaped recovery
V-shaped recovery: It is the next-best scenario after Z-shaped recovery in which the economy quickly recoups lost ground and gets back to the normal growth trend-line.
In this, incomes and jobs are not permanently lost, and the economic growth recovers sharply and returns to the path it was following before the disruption.
V-shaped recovery is characterized by a sharp economic decline followed by a quick and sustained recovery. This type of recession tends to be considered a best-case scenario.