Lightning toll down 60% in 3 most vulnerable States: Report
July 18, 2022

Posted by:

OptimizeIAS Team

Category:

DPN Topics

Lightning toll down 60% in 3 most vulnerable States: Report
Subject: Geography
Section: Climatology
Lightning Resilient India Campaign has created a Lightning Atlas that details strikes across States/UTs with impacts.
Lightning, even today, is not notified as a national disaster. It has been declared a state-specific disaster by 16 states as per Ministry of Home Affairs guidelines, opening up access to 10 per cent of the State Disaster Response Fund.
What is lightning?
Lightning is a very rapid and massive discharge of electricity in the atmosphere. It is the process of occurrence of a natural 'electrical discharge of very short duration and high voltage between a cloud and the ground or within a cloud. 
There are two types of lightning. Such as,

Intercloud or intracloud (IC) lightning: These are visible and harmless.
Cloud to ground (CG) lightning: This is harmful as the 'high electric voltage discharge for very short time leads to electrocution.

Cloud-to-Ground (CG) Lightning
In CG lightning, a channel of negative charge, called a stepped leader, will zigzag downward in a 'forked' pattern – hence it is sometimes called forked lightning. This stepped leader is invisible to the human eye, and travels to the ground in a millisecond. As it nears the ground, the negatively charged stepped leader is attracted to a channel of positive charge reaching up, a streamer, normally through something tall, such as a tree, house, or telephone pole. When the oppositely-charged leader and streamer connect, a powerful electrical current begins flowing (hence why it is ill-advised to stand under a tall object during a thunderstorm!). A return stroke (the very bright visible flash that we see as lightning) travels at about 60,000 miles per second back towards the cloud, with one flash consisting of as many as 20 return strokes.
Negative Cloud-to-Ground Lightning  (-CG)
The most common CG flashes are initiated by a downward-moving, negatively-charged stepped leader which is followed by an upward travelling return stroke. The net effect of this flash is to lower negative charge from the cloud to the ground. Negative CG lightning strikes can be identified by their distinctive downward branching.
Positive Cloud-to-Ground Lightning  (+CG)
The less common CG flashes are initiated by a downward-moving, positively-charged stepped leader which is followed by an upward travelling return stroke that lowers the positive charge to earth. Such lightning is usually associated with supercell thunderstorms and trailing stratiform precipitation regions behind squall lines. Positive cloud-to-ground lightning strikes are typically very bright (relative to other lightning activity) and can be identified by their distinct lack of branching near the ground. Thunder from such lightning is very loud and may sound like a series of deep, low-frequency sonic booms. Sprites (see side box) are usually associated with more intense positive CGs.
Cloud-to-Air (CA) Lightning 
This refers to a discharge that jumps from a cloud into clear air and terminates abruptly – indeed, CG lightning contains CA lightning via the branches that extend from the main channel into the mid-air. However, the most dramatic examples occur when long, bright lightning channels extend from the sides of cumulonimbus clouds.
Ground-to-Cloud (GC) Lightning
A discharge between cloud and ground initiated by an upward-moving leader originating from an object on the ground. Ground-to-Cloud lightning strikes – sometimes called upward-moving lightning –  are common on tall towers and skyscrapers.  GC lightning can also be either positive or negative in polarity. Lightning that demonstrates upward branching is a clear indication of a ground-to-cloud flash, though some upward-moving lightning is branchless below the cloud base.
Intracloud (IC) Lightning 
This is the most common type of discharge and refers to lightning embedded within a single storm cloud, which jumps between different charge regions in the cloud.
Sheet Lightning is a term used to describe clouds illuminated by a lightning discharge where the actual lightning channel is either inside the clouds or below the horizon (i.e. not visible to the observer). Although often associated with IC lightning, it is simply any lightning that is hidden by clouds or terrain aside from the flash of light it produces.
A related term, heat lightning, is any lightning or lightning-induced illumination that is too far away for thunder to be heard. Heat lightning got its name because it is often seen on hot summer nights, a time when thunderstorms are common.
Cloud-to-Cloud (CC) Lightning (or intercloud lightning)
Although rare, lightning can also travel from one cloud to another . Spider lightning refers to long, horizontal moving flashes often seen on the underside of stratiform clouds.
When lightning strikes the ground it will often melt the soil (especially sandy soil) and leave behind a rootlike structure called a fulgurite.  A fulgurite is just a narrow (1/2 to 1 inch across) segment of melted sand (glass).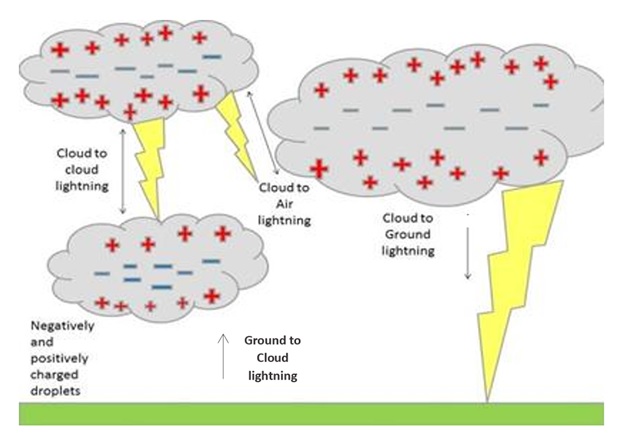 Lightning Atlas of India.
It maps entire lightning strikes across States and Union Territories along with impacts and detailed analysis
It uses micro-zonation down to the district level.
Distribution:
Madhya Pradesh remains at the top with the maximum number of lightning strikes. Maharashtra and Chhattisgarh saw more strikes than Odisha.
Among States with more than two lakh CG strikes are West Bengal, Jharkhand, Karnataka, Uttar Pradesh, Tamil Nadu, Bihar, Andhra Pradesh, Gujarat and Rajasthan.
Among districts, Kutch in Gujarat is the most lightning-prone, along with Mayurbhanj in Odisha. However, mortality is much higher in Mayurbhanj due to socio-economic attributes
Lightning Resilient India Campaign
The campaign has been a joint initiative of the Climate Resilient Observing Systems Promotion Council (CROPC), India Meteorological Department (IMD) and the Ministry of Earth Science (MoES).
It carried the early warning services of IMD and knowledge products of various MoES institutions to stakeholders and the community with value-added insights for more meaningful outcomes.
Other Govt initiative to reduce Lightning toll
Damini App
It was developed by the Indian Institute of Tropical Meteorology (IITM-Pune) and Earth System Science Organization (ESSO) under the ministry of earth sciences.
The app monitors the lightning occurrence all over India and alerts the user of lightning near them by a GPS notification under 20 km and 40 km.
Further, the Damini app also triggers warning about lightning strikes three hours in advance which can help reduce losses to life and property.