Mura-Drava-Danube (MDD)
September 17, 2021

Posted by:

admin1

Category:

DPN Topics

Mura-Drava-Danube (MDD)
Subject – Environment
Context – UNESCO declares world's first 5-country biosphere reserve in 'Amazon of Europe'
Concept –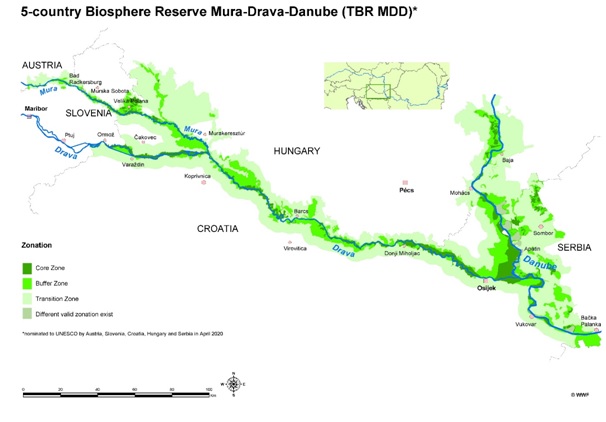 The UNESCO September 15, 2021, designated Mura-Drava-Danube (MDD) as the world's first 'five-country biosphere reserve', according to a statement by the World Wide Fund (WWF) for Nature.
The biosphere reserve covers 700 kilometres of the Mura, Drava and Danube rivers and stretches across Austria, Slovenia, Croatia, Hungary and Serbia.
The total area of the reserve — a million hectares — in the so-called 'Amazon of Europe', makes it the largest riverine protected area on the continent.
The strategy's aim is to revitalise 25,000 km of rivers and protect 30 per cent of the European Union's land area by 2030.
MDD's recognition "was a mandate to all five countries to jointly advance the protection and revitalisation of the Mura-Drava-Danube area and boost sustainable business practices".
The reserve is home to floodplain forests, gravel and sand banks, river islands, oxbows and meadows.
It is home to continental Europe's highest density of breeding white-tailed eagle (more than 150 pairs), as well as endangered species such as the little tern, black stork, otters, beavers and sturgeons.
It is also an important annual resting and feeding place for more than 250,000 migratory birds, according to WWF. Almost 900,000 people live in the biosphere reserve.
Additional projects for nature and people are already being implemented in the area. They have a combined funding of around 20 million Euros and are co-financed by the European Union.
These projects put river revitalisation, sustainable business practices enhancing cross-border cooperation into focus.
One such project is the Interreg Danube Transnational Programme-funded Amazon of Europe Bike Trail, a long-distance cycling trail following the Mura, Drava and Danube river landscapes for over 1,250 km.
About Biosphere Reserve:
Biosphere Reserve (BR) is a designation by UNESCO for representative parts of natural and cultural landscapes extending over large areas of terrestrial or coastal/marine ecosystems or a combination of both.
Biosphere Reserves tries to balance economic and social development and maintenance of associated cultural values along with the preservation of nature.
It has three-part structure:

Core areas: It is most protected area of a biosphere reserve and free from human interference. It may contain endemic plants and animals.
Buffer Zone: It is around the core areas and help in the protection of core areas. Some activities like restoration, limited tourism, fishing, grazing, research and educational activities etc. are allowed.
Transition zone: It is the zone of cooperation where human activities and conservation are done in harmony (Ex- settlements, croplands, managed forests and areas for intensive recreation and other economic uses etc. are done).
Biosphere Reserves in India