New species of genus Allmania spotted
October 23, 2022

Posted by:

OptimizeIAS Team

Category:

DPN Topics

New species of genus Allmania spotted
Subject : Environment
Context-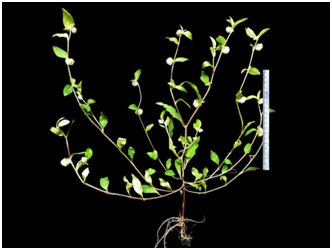 A rather frail-looking plant spotted on the granite hillocks of Palakkad has been identified as a new species of the genus Allmania.
Named Allmania multiflora, the species is quite special from both the botanical and conservation points of view.
About the new plant species-
An annual herb that grows to a height of about 60 cm, Allmania multiflora is only the second species of this genus identified so far anywhere.
The discovery has come 188 years after the genus and the first species were described by botanists.
The first species,Allmanianodiflora, was originally published under the genus Celosia as Celosia nodiflora in 1753.
Specimens found in Ceylon (Sri Lanka) were first described as Allmanianodiflora in 1834.
Found at heights ranging between 1,000 to 1,250 metres, Allmania multiflora is an annual herb, erect, with branches arising from the base.
The stem is redto violet at the base and green above.
Shorter tepals and wider gynoecium (parts of the flower), shorter bracts and the diameter of the seeds are among the characteristics that distinguish it from Allmanianodiflora.
Flowering and fruiting occur from May to September.
Threats-
The species faced a number of threats
Its population is quite small.
It could be accidentally exploited by local people as a vegetable along with amaranths.
Its habitat, granite hillocks, too faces various forms of threats today.