Nord Stream 1 pipeline shuts down amid German suspicion of Russia
July 17, 2022

Posted by:

OptimizeIAS Team

Category:

DPN Topics

Nord Stream 1 pipeline shuts down amid German suspicion of Russia
Subject : International relations
Context:
Owned by the Russian energy giant, Gazprom, Nord Stream the longest subsea pipeline, is an export gas pipeline which runs under the Baltic Sea carrying gas from Russia to Europe.
The gas for Nord Steam comes mainly from the Bovanenkovo oil and gas condensate deposit in Western Siberia.
The pipeline's significance comes from the fact that it bypasses transit countries, making it highly reliable for European customers.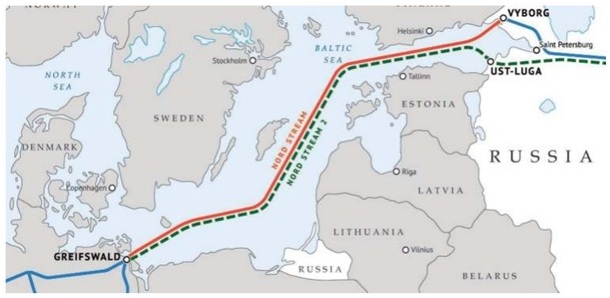 What is the Nord Stream Pipeline?
Nordstream consists of two pipelines, which have two lines each.
Nord Stream 1 was completed in 2011 and runs from Vyborg in Leningrad to Lubmin near Greifswald, Germany.
Nord Stream 2 which runs from Ust-Luga in Leningrad to Lubmin was completed in September 2021 and has the capacity to handle 55 billion cubic meters of gas per year once it becomes operational.
The twin pipelines together can transport a combined total of 110 billion cubic metres (bcm) of gas a year to Europe for at least 50 years.
The Nord Stream crosses the Exclusive Economic Zones (EEZs) of several countries including Russia, Finland, Sweden, Denmark and Germany, and the territorial waters of Russia, Denmark, and Germany.
In Germany, the pipeline connects to the OPAL (Baltic Sea Pipeline) and NEL (North European Pipeline) which further connects to the European grid.