Overseas Investment
August 23, 2022

Posted by:

OptimizeIAS Team

Category:

DPN Topics

Overseas Investment
Subject :Economy
Section: External sector
Why in the news?
The finance ministry made it tougher for loan defaulters and those facing probe by investigative agencies to invest in overseas entities.
Details:
They need to secure a no-objection certificate (NOC) from their lenders, or the regulators or probe agencies concerned before making overseas investments,
This NOC will be mandatory for any person who has a bank account classified as a non-performing asset, or is labelled a wilful defaulter by any bank, or is under investigation by a financial service regulator, the Enforcement Directorate (ED) or the Central Board of Investigation (CBI).
Concept:
At present, the overseas investment by a resident in India is governed by

the Foreign Exchange Management (Transfer or Issue of Any Foreign Security) Regulations, 2004, and
the Foreign Exchange Management (Acquisition and Transfer of Immovable Property Outside India) Regulations, 2015.
The Overseas Investment Rules and Regulations, notified under the Foreign Exchange Management Act (FEMA), subsumes all existing norms relating to overseas investments as well as the acquisition and transfer of immovable property outside India.

As per the Foreign Exchange Management (Overseas Investment) Rules 2022,

An Indian entity can invest up to four times of its net worth in a foreign entity .
It is permitted to invest  up to 50 per cent of its net worth in overseas portfolio investment.
An Indian entity may make Overseas Direct Investment (ODI) by way of buying shares either through subscription, acquisition through bidding or tender procedure by way of rights issue or allotment of bonus, shares, capitalisation, swap of securities and through merger, demerger, amalgamation or any scheme of arrangement.
An Indian Financial institution may make ODI in a foreign entity , which is directly or indirectly engaged in fifinancial services activity.
A resident individual can invest in non financial companies without any limit, to acquire foreign securities by way of inheritance, gift from a person residing in India and in case the gift giver is in abroad (as per th provisions of the Foreign Contribution (Regulation) Act 2010)
Employee or a director of an office in India or branch of an overseas entity or a subsidiary in India of an overseas entity, or of an Indian entity in which the overseas entity has direct or indirect equity holding allowed acquisition of shares or interest under Employee Stock Ownership Plan or Employee Benefits Scheme or sweat equity shares.
Indian entities or residents can make ODI in startups recognised under the law in the host country, but only from its internal accruals.
No Indian resident will be permitted to make investments in foreign entities that are engaged in real estate business, gambling in any form and dealing with financial products linked to the Indian rupee without the central bank's specific approval.

Direct investment outside India means investments, either under the Automatic Route or the Approval Route, by way of contribution to the capital or subscription to the Memorandum of a foreign entity or by way of purchase of existing shares of a foreign entity either by market purchase or private placement or through stock exchange, signifying a long-term interest in the foreign entity .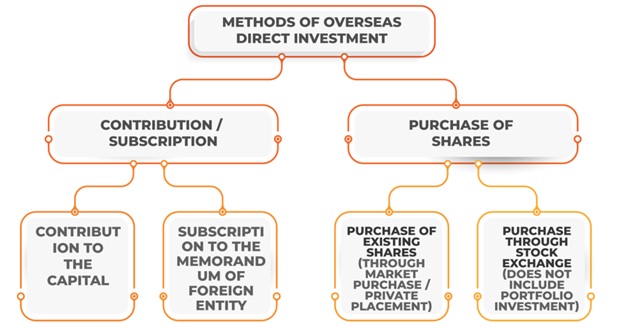 Overseas Portfolio Investment-listed Indian companies can invest up to 50% of their net worth as on the date of the last audited Balance Sheet in overseas companies, listed on a recognized stock exchange, or in the rated debt securities issued by such companies.
Foreign direct investment (FDI) occurs when a company purchases an interest in a company by a company located outside its own borders. Overseas direct investment ODI occurs when a resident company invests in a wholly-owned subsidiary (or joint venture) in a non-resident country, in order to expand the business.