Pacific Islands
October 30, 2021

Posted by:

OptimizeIAS Team

Category:

DPN Topics

Pacific Islands
Subject – Geography
Context – Actions, not words – Pacific Islands urge strong commitment on climate
Concept –
Three major groups of islands in the Pacific Ocean are Melanesia, Micronesia and Polynesia.
The indigenous inhabitants of the Pacific Islands are referred to as Pacific Islanders.
The Pacific Island region covers more than 300,000 square miles (800,000 square km) of land—of which New Zealand and the island of New Guinea make up approximately nine-tenths—and millions of square miles of ocean.
Most Pacific islands are coral formations, although all of these rest on volcanic or other cores.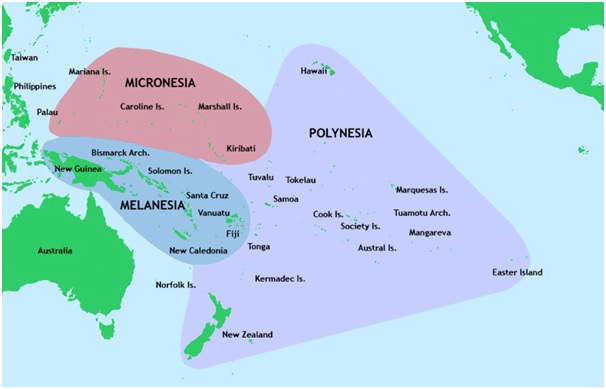 It excludes the following –
the neighbouring island continent of Australia,
the Asia-related Indonesian, Philippine,
Japanese archipelagoes, and the Ryukyu, Bonin, Volcano, and Kuril island arcs that project seaward from Japan
the Aleutian chain or such isolated islands of the Pacific Ocean as the Juan Fernández group off the coast of South America.
Melanesia
The great arc of islands located north and east of Australia and south of the Equator is called Melanesia (from the Greek words melas, "black," and nēsos, "island") for the predominantly dark-skinned peoples of New Guinea island, the Bismarck Archipelago, Solomon Islands, Vanuatu (the New Hebrides), New Caledonia, and Fiji.
Micronesia
North of the Equator and east of the Philippines are the islands of Micronesia, which form an arc that ranges from Palau, Guam, and the Northern Mariana Islands in the west eastward through the Federated States of Micronesia (the Caroline Islands), Nauru, and the Marshall Islands to Kiribati.
Polynesia
In the eastern Pacific, largely enclosed within a huge triangle formed by the Hawaiian Islands to the north, New Zealand to the southwest, and Easter Island (Rapa Nui) far to the east, are the many ("poly") islands of Polynesia.