Prevention better than cure: Why World Bank bats for One Health to combat pandemics
October 27, 2022

Posted by:

OptimizeIAS Team

Category:

DPN Topics

Prevention better than cure: Why World Bank bats for One Health to combat pandemics
Subject: Science and Technology
Context-
The report, Putting Pandemics Behind Us: Investing in One Health to Reduce Risks of Emerging Infectious Diseases, was released October 24.
Causes for increased pandemic-
This is largely due to humans extending their global footprint, altering natural habitats, and accelerating the spillover of animal microbes into human populations.
Some 75 per cent of these outbreaks are zoonotic events.
With increased interaction between the two, the volatility of emerging infectious disease (EID) outbreaks has increased.
It's resulting in more than 1 billion human infections and 1 million deaths each year.
The World Bank report described pandemic prevention as a global public good.
It is non-excludable (no country can prevent others from benefitting) and non-rival (one country benefitting does not limit the extent to which other countries can benefit).
Approach to deal with emerging infectious disease (EID)-
The report details a three-pronged approach to make headway in implementing a One Health approach to prevent a potential pandemic.
The first is timing– the moment is ripe to work towards mitigating emerging infectious diseases.
The second is the cost- The large proposed amount of between $10.3 billion to $11.5 billion per year is divided into $2.1 billion per year to bring public veterinary services up to international standards, $5 billion to improve farm biosecurity, and $3.2-$4.4 billion to reduce deforestation in higher risk countries.
The Third is- the approach which has other benefits for sustainable development.
One Health Concept-
One Health is an approach that recognizes that the health of people is closely connected to the health of animals and our shared environment.
One Health' vision derives its blueprint from the agreement between the tripartite-plus alliance comprising the Food and Agriculture Organization of the United Nations (FAO), the World Organisation for Animal Health (OIE).
It's purpose is to encourage collaborations in research and sharing of knowledge at multiple levels across various disciplines like human health, animal health, plants, soil, environmental and ecosystem health in ways that improve, protect and defend the health of all species.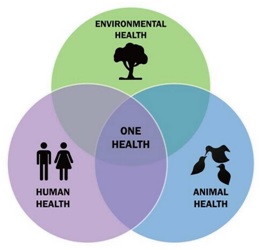 Need for One Health Approach-
Investing in One Health is the way forward in preventing, instead of fighting, the next global pandemic, claimed a report released by the World Bank.
A One Health approach integrates the health of people, wildlife and the environment and can help end the cycle of devastating outbreaks.
It estimated an annual expenditure to implement a One Health approach to be between $10.3 billion (Rs 84,856 crore) to $11.5 billion. While it is a monumental amount, it dwarfs in comparison to the cost of managing a pandemic, which hovers around the $30.1 billion per year mark.
The pace of emerging infectious disease (EID) outbreaks has increased at an average annual rate of 6.7 per cent from 1980 onwards and the number of outbreaks has grown to several hundred per year since 2000, the report said.
Funding mechanism-
The One Health Investment Framework for national, regional and global stakeholders to adopt has five core principles for funding.
These principles are:
Adopting an integrated One Health multisectoral approach that aims to sustainably balance the health of people, animals, and ecosystems
Prioritising prevention, a most overlooked component of health security
Complying with existing minimum standards that are relevant for One Health
Focusing on geographical locations with higher risks of spillover at the human-animal-ecosystem interfaces
Reducing risks of spillovers in forests (or wildlife habitat), farms (livestock), and sprawling urban areas