RBI Governor
October 30, 2021

Posted by:

OptimizeIAS Team

Category:

DPN Topics

RBI Governor
Subject – Economy
Context – The three-year term extension given to Reserve Bank of India (RBI) Shaktikanta Das
Concept –
RBI Governor Appointment Procedure –
In India, the process is entirely a political one. Though an Appointments Committee is the formal vehicle designated to shortlist candidates for the job, in reality, the Prime Minister's Office chooses the governor after consulting the finance ministry and the outgoing governor.
The RBI Governor is appointed after the proposal made by the Financial Sector Regulatory Appointments Search Committee (FSRASC), headed by the Cabinet Secretary.
In absence of the Governor, a Deputy Governor nominated by him functions as the Chairman of the Central Board.
Largely, the world over, central bankers are appointed by the head of the state
Term of the RBI Governor –
The Governor and Deputy Governors hold office for periods not exceeding five years. The term of the governor may be fixed by the government at the time of his appointment.
Governor (and also Deputy Governors) is eligible for reappointment or extension (according to RBI Act).
On average, the BIS survey showed that worldwide, most central bankers serve a term of 5-6 years.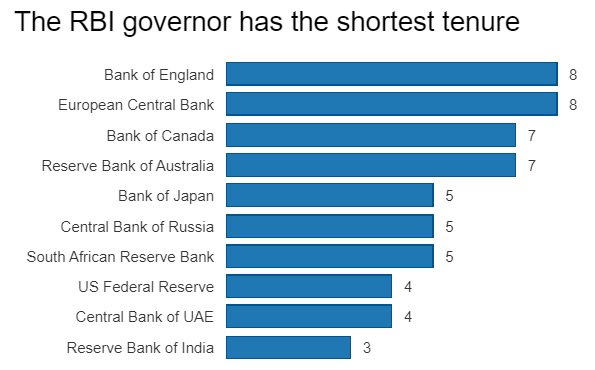 Qualification of the Governor
The RBI Act doesn't mention any specific qualification for the governor. Persons with different educational backgrounds were selected as Governor.
But they had either Economics/Financial management experience with the government (Economic Affairs Secretary/Financial Secretary etc.,) or were Economists.
This means that the qualification for Governor is a matter of convention rather than a rule.
Traditionally, the Governor is appointed from either Civil Services Personnel or Economists. The implication is that if a civil servant has experience in Economic management, he can be appointed as the Governor.
Profile of RBI Governors from 1934 (25 Governors and Shakthikanta Das being the latest) shows that 14 out of 25 Governors were Civil Servants (IAS or ICS/IAAS officers). Only 7 were Economists.
Salaries and allowances –
Salaries and allowances of the Governor and Deputy Governors may be determined by the Central Board, with the approval of the Central Government.
The governor can be removed by the government.
To know about RBI, please refer August 2021 DPN.