RBI new four-tiered regulatory framework for Urban Co-operative Banks (UCBs)
July 20, 2022

Posted by:

OptimizeIAS Team

Category:

DPN Topics

RBI new four-tiered regulatory framework for Urban Co-operative Banks (UCBs)
Subject :Economy
Section :Banking
The RBI has decided to adopt a simple four-tiered regulatory framework for Urban Co-operative Banks (UCBs) based on size of deposits, with an aim to strengthen their financial soundness.
Details:
An expert committee, headed by former RBI deputy governor N S Vishwanathan, had made a host of recommendations for strengthening the UCBs including:
A four-tiered regulatory framework based on size of deposits of the banks and their area of operations.

Specifically, a minimum net worth of Rs 2 crore for Tier 1 UCBs operating in a single district and Rs 5 crore for all other UCBs (of all tiers) has been stipulated.

The differentiated regulatory approach for key parameters such as net worth, Capital to Risk-weighted Assets Ratio (CRAR), branch expansion and exposure limits.

The RBI has said the minimum CRAR requirement for Tier 1 banks is retained at the present prescription of 9 per cent under current capital adequacy framework based on Basel I.
For Tier 2, Tier 3 and Tier 4 UCBs, it has been decided to revise the minimum CRAR to 12 per cent.
In respect of housing loans, it has been decided to assign the risk weights on the basis of Loan to Value (LTV) Ratio alone for all tiers of UCBs.

Membership to an Umbrella Organisation also formed a vital part of the recommendations.

The Reserve Bank had accorded regulatory approval for setting up of UO for UCB sector which will have a paid-up capital of Rs 300 crore.
The National Cooperative Finance and Development Corporation Limited (NCFDC) has been incorporated, which is in the process of enrolling UCBs as members.
Concept: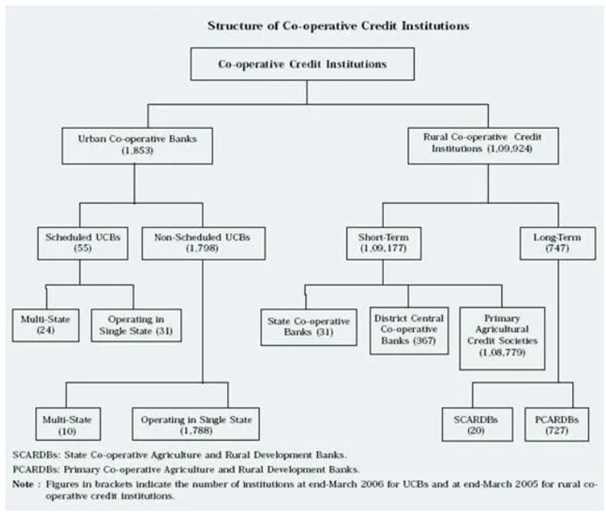 Urban Cooperative banks (UCB):
The term Urban Cooperative Banks (UCBs) is not formally defined but refers to primary cooperative banks located in urban and semi-urban areas.
As on March 31, 2021, there were 1,534 UCBs (53 scheduled and 1,481 non-scheduled). They constituted4 percent of the asset size of commercial banks.
Per Section 56 of the Banking Regulation Act, 1949, a primary co-operative bank (Urban Co-operative Bank or UCB) means a co-operative society, other than a primary agricultural credit society, whose,

Primary or principal business is a transaction of banking business.
Paid-up share capital and reserves of which are not less than one lakh of rupees

The UCBs are categorised under two Tiers (Tier I and II).

Tier I UCBs is defined as

Banks with deposits below 100 crore operating in a single district,
Banks with deposits below 100 crore operating in more than one district provided the branches are in contiguous districts and deposits and advances of branches in one district along with constitute at least 95 per cent of the total deposits and advances respectively of the bank and
Banks with deposits below 100 crore, whose branches were originally in a single district but subsequently became multi-district due to reorganisation of the district.

All other UCBs are categorised as Tier-II UCBs.

The Banking Regulation Act, 1949, instructs the submission of periodical returns by UCBs to the Reserve Bank of India.
There is duality of control over these banks with banking related functions being regulated by the Reserve Bank and management related functions regulated by respective State Governments/Central Government.
In the case of UCBs, the central bank regulates and supervises them to ensure that the institutions are financially fit to deliver their functions.

Licensing of New Primary (Urban) Cooperative Banks: For starting the banking business, a primary (urban) cooperative bank, as in the case of a commercial bank, is required to obtain a licence from the RBI as per the BR Act.
Licensing of Existing Primary (Urban) Co-operative Banks: A primary credit society which would like to become a primary (urban) cooperative bank (by fulfilling the share capital and reserve norms) should avail a license from the RBI.
Branch Licensing: Primary (urban) cooperative banks are required to obtain permission from the RBI for opening branches.
Statutory Provisions: Some of the statutory provisions under the BR Act is also applicable for UCBs, and they will be monitored on the basis of these provisions:

Minimum Share Capital: Minimum paid-up capital of Rs 1 lakh.
Maintenance of CRR and SLR: The UCBs have to keep the SLR as per the RBI requirements.