Retail Inflation preferred over Wholesale Inflation
December 20, 2021

Posted by:

OptimizeIAS Team

Category:

DPN Topics

Retail Inflation preferred over Wholesale Inflation
Subject – Economy
Context – Policymakers are not concerned with rise in wholesale inflation
Concept –
Policymakers within the government prefer to focus on retail inflation.
The RBI, which is India's central bank charged with the mandate to maintain stable prices in the country, also chooses to "target" retail inflation instead of wholesale inflation.
The wholesale and retail (consumer) inflation rates are based on the wholesale price index (WPI) and the consumer price index (CPI), respectively.
The percentage change is the rate of inflation.
The CPI-based inflation data is compiled by the Ministry of Statistics and Programme Implementation (or MoSPI) and the WPI-based inflation data is put together by DPIIT.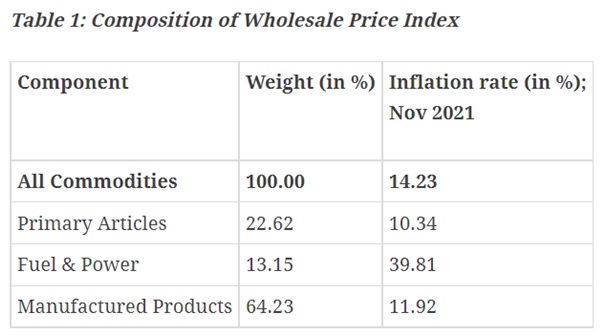 Difference between WPI and CPI
WPI is dominated by the prices of manufactured goods while CPI is dominated by the prices of food articles.
WPI does not take into account the change in prices of services. But CPI does.

If services such as transport, education, recreation and amusement, personal care etc. get significantly costlier, then retail inflation will rise but there will be no impact on wholesale price inflation.
Wholesale inflation does not capture price movements in non-commodity producing sectors like services, which constitute close to two-thirds of economic activity in India.

Over the past two years, the wholesale inflation rate has varied far more than the retail inflation rate.
RBI, as the monetary authority, has little ability to control food and fuel prices, which together account for well over 50% of the CPI.
Wholesale inflation "does not generally reflect price movements in all wholesale markets". This happens because price quotations for some important commodities such as milk, LPG etc. are taken from retail markets.
Movements in WPI often reflect large external shocks and as such, the wholesale inflation rate is often subject to large revisions.
Almost all central banks in Advanced Economies and Emerging Market Economies use CPI as their primary price indicator.