Secularism
October 21, 2020

Posted by:

admin1

Category:

MMN

SECULARISM
Secularism is defined as a separation of religious institutions from the institutions of state, and no domination of the political sphere by religious institutions.
It is the belief that religion should not influence or be involved in the organization of society, education, government, etc.
Secularism may be categorized into two types, "hard" and "soft".
"Hard" secularism considers religious propositions to be epistemologically illegitimate and seeks to deny them as much as possible.
The "soft" variety emphasizes tolerance and liberalism.
FEATURES OF INDIAN SECULARISM:
The following are the features of Indian secularism:
Equal respect and regard for all faiths by the nation.
No prejudice sponsored by the state between residents on religion basis.
India follows the policy of non-interference in the functioning of any faith by the state.
Moreover, the 42nd Constitutional Amendment of the Indian Constitution states that India is a secular country, thus, there is no relationship between religion and state. However, India pays respects to all religions but it did not recognize any national religion.
DIFFERENCES BETWEEN WESTERN-SECULARISM AND INDIAN-SECULARISM: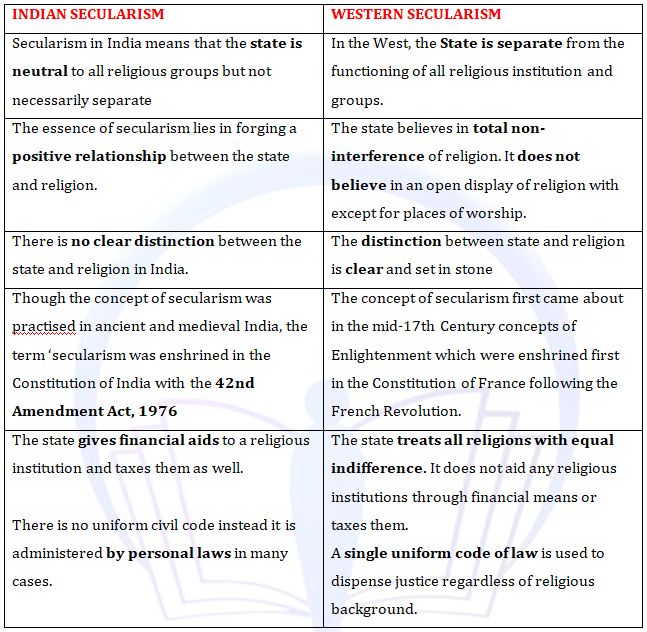 SECULARISM IN INDIA:
Indian philosophy of secularism is related to "Sarva Dharma Sambhava"  which means equal respect to all religions.
India does partially separate religion and state. For example, it does not have an official state religion and state-owned educational institutions cannot impart religious instructions.
In matters of law in modern India, however, the applicable code of law is unequal, and India's personal laws – on matters such as marriage, divorce, inheritance, alimony – varies with an individual's religion.
The Indian Constitution permits partial financial support for religious schools, as well as the financing of religious buildings and infrastructure by the state.
The Islamic Central Waqf Council and many Hindu temples of great religious significance are administered and managed by the Indian government.
The attempt to respect unequal, religious law has created a number of issues in India such as acceptability of polygamy, unequal inheritance rights, extra judicial unilateral divorce rights favorable to some males, and conflicting interpretations of religious books.
INDIAN CONSTITUTINAL PROVISIONS REGARDING SECULARISM:
In India, freedom of religion is a Fundamental Right and is guaranteed through the following provisions:
Article 25: guarantees freedom of conscience and free profession, practice and propagation of religion.
Article 26: every religious denomination has the freedom to manage its religious affairs.

Article 27

: Freedom from payment of taxes for promotion of any particular religion.

Article 28

: Freedom as to attendance at religious instruction or religious worship in certain educational institutions.
PROVISIONS REGARDING RELIGIOUS SAFEGUARDS:
Article 15

:Prohibition of discrimination on grounds of religion, race, caste, sex or place of birth.

Article 16

: Equality of opportunity in matters of public employment and no citizens shall be ineligible for employment on grounds only of religion, race, caste, sex, descent, place of birth.

Article 29

: Protection of distinct language, script or culture of minorities Article 30: Rights of all minorities, whether based on religion or language, to establish and administer educational institutions of their choice.
The Preamble of India states that India is a secular country (added after 42nd Amendment Act, 1976).
SUPREME COURT JUDEGEMENTS REGARDING SECULARISM IN INDIA:
KESHAVANANDA BHARATHI CASE 1973

:
It gave rise to the concept of "Basic Structure of the Indian Constitution". The Supreme Court in the KeshavanadaBharati case (1973) held that the basic structure of the Constitution cannot be altered by the Parliament.
RATILAL VS STATE OF BOMBAY CASE (1954)

:
It was held that regulations by the state should not interfere with essentials of religion.
R BOMMAI VS UNION OF INDIA CASE (1994):
The Supreme Court observed the following, "Notwithstanding the fact that the words 'Socialist' and 'Secular' were added in the Preamble of the Constitution in 1976 by the 42nd Amendment, the concept of Secularism was very much embedded in our constitutional philosophy" Thus, secularism which was implicit in the Constitution was made explicit.
THE CHURCH OF GOD (FULL GOSPEL) IN INDIA VS K. K. R. MAJESTIC COLONY WELFARE ASSOCIATION CASE (2000)

:
It was held that as the right to religion is subject to public order, no prayers (through voice amplifiers or beating of drums) should be performed by disturbing the peace of others.
The Supreme Court had declared the practice of Triple Talaq (talaq-e-biddat) as unconstitutional.           
INDIAN YOUNG LAWYERS ASSOCIATION VS. THE STATE OF KERALA

CASE (2018)

:
In a 4:1 judgment, 5-membered constitution bench of Supreme Court, has allowed women of all ages to worship in Sabarimala Temple.
CHALLENGES TO INDIAN SECULARISM:
It becomes a problem in a secular state with Muslim minorities because there is an inherent clash between the requirements of a secular way of life on the one hand and religious orthodoxy on the other.
It also derives support from the followers of the same faith but belonging to the other political regimes. Such external support, not only emotional but also financial, and even in terms of arms tends to internationalize the conflict and this goes beyond disturbing the internal peace by threatening the very integrity of the nation.
 Secessionist tendencies exhibited by the extreme form of communalism, result in terrorist activities. Thus, communalism is a great menace to the secular nature of our polity.
The roots of the caste system are very deep. The ancient 'varna' scheme is supposed to be the basis of the caste system. It may be said, that originally caste was associated with a specific occupation and village community and village economy.
The policies in India, especially at the state level, cannot be understood without the study of the caste in that particular state. There are some political parties which are organized to represent castes. Thus, caste consciousness has become the very core of the Indian polities and it has become the greatest roadblock to the furtherance of secularism in our polity.
PARTY AND VOTE BANKPOLITICS:
Some of the political parties in India are organized on communal lines. These parties represent the interests of a particular region or a particular group. Some of the regional parties even desire and struggle for a separate independent State. They play communal politics for achieving and safeguarding their political interests. It has been remarked, that the known secular parties are not very secular in terms of composition and working.
Obscurantism is one of the obstacles of the Indian secularism. Despite the progress in almost all the directions of life, obscurantism still persists. In all the religions, there are obscurantism elements which create obstacles in the way of evolution of human and dynamic social order. It is because of obscurantism, that the people give importance to customs and traditions rather than reason.
The Indian people in general whether Hindus, Muslims, Sikhs etc. are traditional in their outlook, and see many of the things in their traditions and customs. Thus, obscurantism is a great hurdle in the way of secularism in the Indian society.
DATA ON COMMUNAL VIOLENCE AND ISSUES WITH IT:
Further, the data on communal violence as released by different agencies of the government is not clear, as seen in the image below there is a wide range of difference between the data on communal violence as released by the National Crime Records Bureau and Ministry of Home Affairs: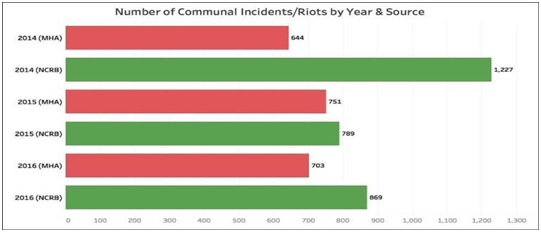 Such inconsistency begs to questions, if the government data is credible at all.  However, one thing that is for sure is that, the rate of communal violence is pretty high and consistent on a year to year basis.
So, definitely there is a need to develop a certain mechanism to contain the same. Apart from the national data, there is also wide discrepancies in the state-wise data as well, released by NCRB and MHA:
Based on the data above, we get a clear picture of the existing situation with regards to the communal violence in our country. The above are just some of the problems which are affecting the social structure of our country, which need to be addressed at the earliest if India is to progress as a nation.
The high incidents of communal violence do not enthuse confidence in the working of a secular nation like ours. It was thus, imperative to carry out a ground level survey to ascertain people's understanding of the ideas of secularism; what makes them believe in it and, whether the policy of secularism as followed by us has served us some good.
   Sometimes, Indian secularism is also criticized for being anti-religious. It is also said that it promotes Minoritism, but it only advocates minority rights as long as those rights protect their fundamental interests. It is also criticized for being Interventionist, which means that secularism is coercive and it interferes excessively with the religious freedom of communities.
OTHER ISSUES ON SECULARISM IN INDIA:
Problem of Uniform Civil Code:
A problem of uniform civil code is essential in the direction of bringing about national identity and the integration of members of all religious communities into one bond of common citizenship.
Following independence, it was hoped that this step would be taken to usher in secular society. But unfortunately till now no progress has been made in the evolution of a uniform Civil Code and today its adoption appears to be more problematic than it was at the time when the Constitution was framed.
Thus, the Muslim minority compelled the Government, in 1986, to enact legislation concerning maintenance of divorced women which it felt was closer to its Personal Law and, therefore, religiously more acceptable. Modern secular considerations, and the opinion of those Muslims who took a secular position, were given no cognizance by the Government.
Similarly, other minorities like Christians and Sikhs, too, have given some indications that would render the formulation and enforcement of a uniform Civil Code an impossibility. Such limitations indicate that the path leading to a truly secular society in India is strewn with numerous hurdles.
The political parties in India have tended to use religion and caste factors for the promotion of their political interests and thus greatly undermined the secular values.
    The growing communalism has also greatly hampered the growth of genuine secularism in India. Despite abandonment of communal electorates and a ban on the use of religion for soliciting votes, the various political parties and groups have frequently made use of communal factors to get into power. In this regard both the minorities as well as the majority communities are equally to blame. Unless this feeling of communalism is shunned, secularism cannot take firm roots in the Indian soil.
Cultural Symbols and Secularism

:
Many public rituals and ceremonials like bhoomipujan, breaking of coconuts on inaugural or auspicious occasions, performing of  'aarti' and applying to 'tilak' to distinguished guests are perceived by Hindus as cultural or nationalistic expressions, but to non-Hindus these are manifestations of Hindu culture. Such rituals are performed even on state functions and therefore, create unnecessary misgivings about the neutrality of the State.
The confusion between "Hindu" and "Indian" has largely arisen in the last forty years. The cultural dimension of secularism has been totally neglected, and we have, therefore, neither attempted to develop a composite Indian culture based on a true amalgam of all religious sub-cultures, nor have we developed a new culture based on secular values, with emphasis on secular symbols.
The Defective Educational System

:
The defective educational system which has encouraged the people to think in terms of groups and communities, has also failed to inculcate secular ideas in the minds of young students and promote feeling of mutual give and take.
The Distortion of the Constitutional and Democratic Institutions:
The distortion of the Constitutional and democratic institutions has also greatly contributed to the weakening of the secularism in India. The Constitution and the political institutions have not worked the way they were envisaged by the framers of the Constitution. For example, though use of religion is not permitted for soliciting votes, yet certain religious political parties have made free use of factors like religion, caste etc. to secure votes. All this has hampered the growth of a true secular polity in the country.
WAYS TO NURTURE SECULARISM IN INDIA:
In a multicultural and linguistic society, the best approach to rear secularism is to expand religious freedom rather than the concept of being a neutral state.
Value-education must be ensured that makes the future generation to understand and appreciates not only its own religious traditions but also those of the other religions in the country.
There is also a need to identify a common policy framework or set of ethical values which allows the diverse groups to live with peace and harmony.
Steps should be taken to implement reforms like Uniform Civil Code and create a conducive environment and enhancing socio-political concurrence.
Steps should be taken to stamp out communal parties and take strict action against any Communal mobilization.
To access Mains Master Notes of every topic in a scientific and systematic manner.