Smartphones are killing the planet
October 14, 2021

Posted by:

admin1

Category:

DPN Topics

Smartphones are killing the planet
Subject – Environment
Context – smartphones have a highly detrimental impact on the physical and social well-being of the planet.
Concept –
Smartphones are typically discarded after an average of two years despite being operational. A McMaster University study found that 85-95 per cent of carbon emissions during this two-year period correspond to the manufacturing phase alone.
The energy used to build a single smartphone is equal to the energy required to operate it for about a decade. This alone makes smartphones the most damaging of information and communication technology (ICT) devices.
The iPhone 6s produced 57 per cent more carbon dioxide (CO2) than the iPhone 4s, with less than one per cent smartphones are recycled by Apple and other companies.
Gold mining for the tech industry is a major causes of deforestation and depletion of natural CO2 sinks in the Amazon.
Vast quantities of water evaporate in Chile, Argentina and Bolivia, to obtain lithium for batteries that power smartphones.
Mercury and cyanide by-products further contaminate local water bodies. Discarded smartphones add to toxic e-wastes which then leach into the groundwater.
Greenpeace, a non-profit, estimated that the European Union would produce more than 12 million tonnes a year of electrical and electronic waste by 2020.
From 2007 to 2017, around 7.1 billion smartphones were manufactured. A majority of these smartphones are now past their two-year discard period and are now part of the growing global toxic e-waste.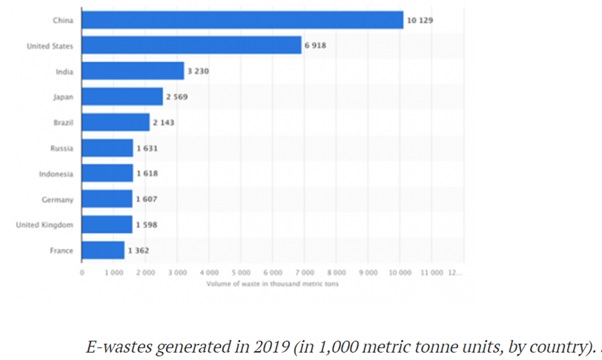 To know about E-Waste management in India, please click here.