Subsidy and Climate Change
November 15, 2021

Posted by:

OptimizeIAS Team

Category:

DPN Topics

Subsidy and Climate Change
Subject: ENVIRONMENT
Context: India and many other developing countries strongly objected the draft agreement of Glasgow climate meeting that calls for 'an end to fossil fuel subsidies', the first such explicit mention in any climate agreement in 20 years.
Concept:
India's view: UNFCCC has referred to mitigation of GHG emission from many sources. Targeting any particular sector i.e., "phasing out of unabated coal power and inefficient fossil fuel subsidies" in the draft agreement has raised inequity amidst developing countries and "lack of balance" in their fair share of global carbon budget.
LDC's, small island states and the Africa group push for creation of 'Loss and Damage facility' to deal with relief & rehabilitation efforts for countries affected by climate change disasters.
INDIA'S TOTAL ENERGY SUBSIDIES (FY 2014- 2020):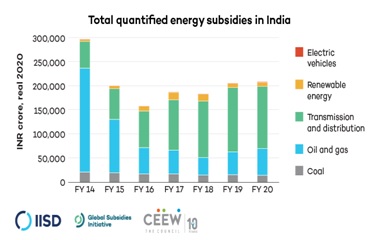 FOSSIL FUEL SUBSIDY- INDIA

BENEFITS

IMPACTS ON CLIMATE CHANGE

1. Significant contribution to government revenue and rail cross subsidies.
support for fossil fuels has increased to Rs 70,578 crore in 2020 – which is over seven times the sum of subsidies to clean energy – contribute to GHG emissions.
2. reforming fossil fuel subsidies can generate valuable additional resources for economic recovery from Covid-19 and investments in clean energy
support for coal continue with concessional tax benefits (87%), the largest subsidy for the sector.
3. social cost is much higher than its net contributions.
Non-subsidy measures to incentivize domestic coal production like withdrawing environmental regulations despite health impacts and climate destabilization.