The search algorithm in action
May 10, 2022

Posted by:

OptimizeIAS Team

Category:

DPN Topics

The search algorithm in action
Subject: Science and Technology
Section: Computers
Context: Search algorithms becoming a privacy threat by dominant search engines.
Concept: A search algorithm is a unique formula that a search engine uses to retrieve specific information stored within a data structure and determine the significance of a web page and its content. Search algorithms are unique to their search engine and determine search engine result rankings of web pages
What are the major search engines?
Top search engines includes
Google.
Bing.
Baidu.
Yahoo!
Ask.com.
DuckDuckGo.
What are the 3 common types of search engines?
There are three main types of search engines, web crawlers, directories, and sponsored links. Search engines typically use a number of methods to collect and retrieve their results. These include: Crawler databases.
Major Google algorithm updates
Date: February 24, 2011. …
Date: April 24, 2012. …
Date: August 22, 2013. …
Date: April 21, 2015. …
Rank Brain. Date: October 26, 2015. …
Date: May 4, 2018. …
Date: October 22, 2019. …
Core Updates. Date: 2017-present.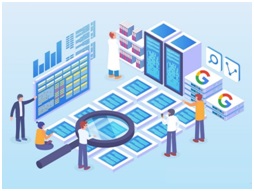 PageRank is a search algorithm used by google works by counting the number and quality of links to a page to determine a rough estimate of how important the website is. The underlying assumption is that more important websites are likely to receive more links from other websites.
The image below is a graphical representation of page rank. Note circle B is large because many other pages link to it. But C few links, Circle C is larger because it is linked to from an authoritative source
HITS
This is also known as "hubs and authorities".
A good hub represented a page that pointed to many other pages, and a good authority represented a page that was linked by many different hubs.
Hyperlink-Induced Topic Search assigns two scores for each page: its authority, which estimates the value of the content of the page, and its hub value, which estimates the value of its links to other pages.
HITS identifies good authorities and hubs for a topic by assigning two numbers to a page: an authority and a hub weight. These weights are defined recursively.
What are the concerns?
The search giant's trackers have allegedly been found on majority of the top million websites, this means they are not only tracking what you search for, [but] they're also tracking which websites you visit, and using all your data for ads that follow you around the internet.
The use of data from profiles, including those established based on data collected by search algorithms and search engines, directly affects the right to a person's informational self-determination. Most of Google's revenues stem from advertisements, such as those it shows consumers in response to a search query.
The current state of algorithms
These search algorithms can be used to personalise services in ways that are difficult to detect, leading to search results that can be manipulated to reduce choice or artificially change consumers' perceptions.
Firms can also use these algorithms to change the way they rank products on websites, prioritising their own products and excluding competitors. Some of these concerns have caught the eye of regulators and as a result these search algorithms have come under their scrutiny.
Under the Commission's proposal on the Digital Services Act, transparency measures for online platforms on a variety of issues, including the algorithms used for recommending content or products to users are expected to come into force.
Majority of algorithms used by private firms online are currently subject to little or no regulatory oversight.