TN asks AP to suspend supply krishna water
June 28, 2022

Posted by:

OptimizeIAS Team

Category:

DPN Topics

TN asks AP to suspend supply krishna water
The Krishna is the second largest east flowing river of the Peninsula.
The Krishna Basin extends over Andhra Pradesh, Telangana, Maharashtra and Karnataka having a total area of ~2.6 lakh Sq.km.
It is bounded by Balaghat range on the north, by the Eastern Ghats on the south and the east and by the Western Ghats on the west.
The Krishna River rises from the Western Ghats near Jor village of Satara district of Maharashtra at an altitude of 1,337 m just north of Mahabaleshwar.
The total length of river from origin to its outfall into the Bay of Bengal is 1,400 km.
The major part of basin is covered with agricultural land accounting to 75.86% of the total area.
The Krishna forms a large delta with a shoreline of about 120 km. The Krishna delta appears to merge with that formed by the Godavari and extends about 35 km into the sea.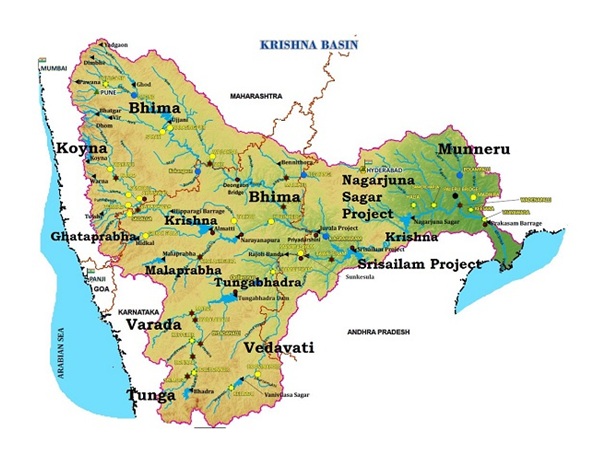 About Krishna River Water Dispute:
Telangana and Andhra Pradesh share stretches of the Krishna and the Godavari and own their tributaries.
Both states have proposed several new projects without getting clearance from the river boards, the Central Water Commission and the Apex Council, as mandated by the Andhra Pradesh Reorganisation Act, 2014.
Andhra Pradesh alleges that Telangana has been drawing Krishna water from four projects — Jurala, Srisailam, NagarjunaSagar, and Pulichintala — for hydropower generation without approvals from the Krishna River Management Board (KRMB), an autonomous body that was set up after the bifurcation of the state, to manage and regulate the waters in the Krishna basin.
Telangana made it clear that it would not recognize Pothireddypadu project, which it alleges is being illegally constructed by the Andhra Pradesh government on Krishna river without any environmental clearances or allocation of even a drop of water to the project or any permission from the Green Tribunal.
Krishna River Management Board:
In exercise of the powers conferred under section 85 of the Andhra Pradesh Reorganization Act, 2014, the Central Government constituted an autonomous KRMB for

the administration,
regulation,
maintenance and
operation of such projects,
Apex Council
Section 84(1) of the ANDHRA PRADESH REORGANISATION ACT, the Central Government shall, on and from the appointed day, constitute an Apex Council for the supervision of the functioning of the Krishna River Management Board.
The Apex Council shall consist of-

Minister of Water Resources, Government of India-Chairperson;
Chief Minister of State of Andhra Pradesh-Member;
Chief Minister of State of Telangana-Member.
Inter-State Water Disputes
Article 262 of the Constitution provides for the adjudication of inter-state water disputes.

Under this, Parliament may by law provide for the adjudication of any dispute or complaint with respect to the use, distribution and control of waters of any inter-state river and river valley.
Parliament may also provide that neither the Supreme Court nor any other court is to exercise jurisdiction in respect of any such dispute or complaint.

The Parliament has enacted the two laws, the River Boards Act (1956) and the Inter-State Water Disputes Act (1956).


The River Boards Act provides for the establishment of river boards by the Central government for the regulation and development of inter-state river and river valleys.
A River Board is established on the request of state governments concerned to advise them.
The Inter-State Water Disputes Act empowers the Central government to set up an ad hoc tribunal for the adjudication of a dispute between two or more states in relation to the waters of an inter-state river or river valley.
The decision of the tribunal is final and binding on the parties to the dispute.
Neither the Supreme Court nor any other court