WTO Appellate Body
June 24, 2022

Posted by:

OptimizeIAS Team

Category:

DPN Topics

WTO Appellate Body
Subject: International relations
Section :International Organization
Context:
There was no discussion to revive the World Trade Organization's (WTO) Appellate Body, which has been redundant since 2019, at the recently concluded 12th ministerial conference.
WTO Appellate Body
WTO was established to provide a platform for negotiations for liberating trade and creating rules, as well as to monitor and administer multilateral trades.
However, one of the key objectives was also to address the grievances between its members by acting as a court for global trade.
Appeals against the orders of DSB are taken to the WTO Appellate Body.
The Appellate Body, set up in 1995, is a standing committee of seven members with a limited four year term that presides over appeals against judgments passed in trade-related disputes brought by WTO members.
Disputes arise when a member country observes that another member government is breaching a commitment or a trade agreement made at the WTO.
Trade remedies under WTO guidelines mean that members are prohibited from raising their tariffs above a certain margin. But it offers a provision for governments to break these rules to apply trade remedies, which include anti-dumping duties, wherein the market is distorted by the manufacturing country by exporting the goods at a cheaper rate than the market.
Countries are allowed to make the move to defend its cheap imports and other offsetting duties to protect itself from subsidised imports to safeguard tariffs countering the import hikes.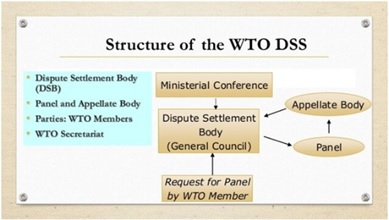 Dispute Resolution: current mechanisms
The United States stopped the process of reappointing judges after their terms expired in 2017. In December 2019, the number of judges in the court fell below three — the minimum required.
The revival is significant especially in the wake of Ukraine-Russia crisis that forced many countries to suspend exports pushing International trade to a standstill.
Until a full-fledged solution comes into place, a few countries have found a makeshift arrangement. The interim arrangement involves countries and membership nations taking a shared approach.

EU, for instance, took measures to set up interim appeal arbitration arrangements. After the suspension of the Appellate Body, EU and 18 members established a 'multi-party interim appeal arbitration arrangement', which allows WTO members access to the two-step dispute settlement issues for a mutual resolution.
The mechanism allows the parties to refer to Article 25 of the Dispute Settlement Understanding (DSU) of WTO's arbitration rules and follow substantiative and procedural concepts of the appellate body's operations.