5G Services to be rolled out in India
October 1, 2022

Posted by:

OptimizeIAS Team

Category:

DPN Topics

5G Services to be rolled out in India
Subject : Science & technology
Context : Prime Minister Narendra Modi will launch 5G services at the sixth edition of Indian Mobile Congress (IMC 2022) scheduled to be held in Pragati Maidan, New Delhi.
Concept :
The telecom giants, including Reliance Jio, Airtel, and Vodafone-Idea took part in the mega auction for spectrum that concluded on August 1 where they bid for a combined value of Rs 1.56 lakh crore.
Various previous reports suggest that Airtel and Jio will be the front-runners in launching 5G services in India.
The companies will initially launch 5G in a few cities across the country. This means that not all users will get access to the 5G service this year.
In order to get 5G connectivity, one must have a 5G-enabled smartphone/ tablet. A report says that 9.7% of smartphones in use in India are 5G-capable.
A 4G SIM can work in 5G-powered phones, however, you won't be able to leverage the 5G capabilities to the fullest. To enjoy the 5G network to its maximum potential, one is required to have a 5G SIM with a 5G phone.
About 5G Technology
5G is the latest upgrade in the Long-Term Evolution (LTE) mobile broadband networks with reduced latency than 4G.

5G technology offers an extremely low latency rate, the delay between the sending and receiving information.
From 200 milliseconds for 4G, 5G brings it down to 1 millisecond(1ms).

It works in three bands of the spectrum with their respective pros and cons.

Low Band Spectrum

It shows great promise in terms of coverage and speed of internet and data exchange with a maximum speed limited to 100 Mbps (Megabits per second).
Telcos can use and install it for commercial cellphone users who may not have specific demands for very high-speed internet.
It may not be optimal for the specialised needs of the industry.

Mid-Band Spectrum

It offers higher speeds compared to the low band but has limitations in terms of coverage area and penetration of signals.
It may be used by industries and specialised factory units for building captive networks that can be moulded into the needs of that particular industry.

High-Band Spectrum

It offers the highest speed of all three bands, but has extremely limited coverage and signal penetration strength.
Internet speeds have been tested to be as high as 20 Gbps (gigabits per second).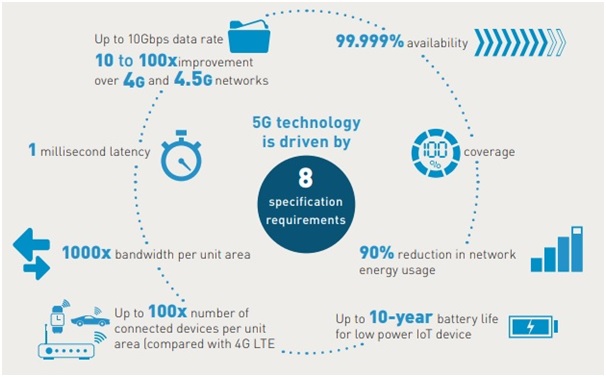 Global Status of 5G

More than governments, global telecom companies have started building 5G networks and rolling it out to their customers on a trial basis.
Telcos in developed countries like the US and China have already been providing commercial 5G connections to their users.
South Korean company Samsung started researching 5G technology in 2011 and has taken the lead in building the hardware for 5G networks for several companies.
Benefits
It will enable the development, testing and proliferation of 5G technology system components, cross-sectoral use cases, besides setting up the foundation for the development of the "6G Technology landscape" in the country.
The users will be able to stream videos with multiple camera angles during sports matches or even play immersive video games using VR headsets or other accessories.
It will also enable a mesh of connected Internet of Things (IoT)-enabled devices and services with zero-fail rate, as in the case of connected cars.
Healthcare: Healthcare providers can create sensor networks to track patients and share information faster than ever before.
Public Safety: A vast network and rapid response times mean that public works can respond to incidents and emergencies in seconds rather than minutes, and municipalities can react fast and with reduced costs.
Autonomous Vehicles: 5G will allow vehicles to communicate between themselves and with infrastructure on the road, improving safety and alerting drivers to travel conditions and performance information.