Air pollution is not just about PM10 and PM2.5
October 29, 2022

Posted by:

OptimizeIAS Team

Category:

DPN Topics

Air pollution is not just about PM10 and PM2.5
Subject: Geography
Context-
The discourse on air pollution in India centres on the mean concentration of particulate matter PM10 (particles smaller than 10 microns) and PM2.5 (particles smaller than 2.5 microns, about 25 to 100 times thinner than a human hair), while a potential air pollutant 'Nanoparticles' got neglected totally,
Nanoparticles as air pollutants-
The Central Pollution Control Board has the facility to monitor only PM2.5/PM10 pollutants in Delhi or elsewhere.
There are pollutants which are more harmful than PM10/PM2.5 in the case of air pollution, known as nanoparticles.
What are nanoparticles?
Size –

Nanoparticles (NPs) are tiny particles between 1 and 100nm.
Due to their ultrafine size, they can be suspended in the atmosphere for a long time and can travel larger distances.

Mass –

They possess very little mass but are many in number.
So, the current mass-based, ambient air quality regulations for particulate matter are ineffective in dealing with nanoparticle concentrations in cities.

Source-

They are arising from both natural and man-made processes: soil erosion, dust storms, burning of unprocessed fuel, industrial, and mechanical processes.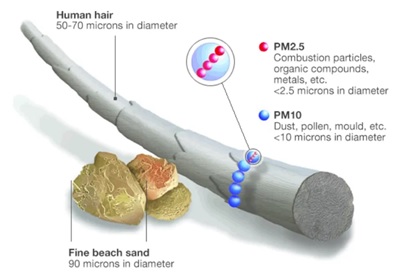 Impact of Nanoparticles on human health-
Inhalation is the most common route through which people get exposed to nanoparticles. Ingestions and dermal contact of engineered nanoparticles are also popular transmission mechanisms.
Inhaled particles can enter the blood circulation from where they can be carried to different organs such as the heart, kidney and liver.
Suggestive evidence shows that nanoparticles accumulated in the vascular sites can clot blood vessels, increasing the likelihood of heart attack and stroke.
Occupational exposure to these toxic elements can increase the risk of lung cancer.
For patients with pre-existing heart or pulmonary conditions, the situation can get worse when exposed to elevated particle concentrations.
Infant mortality, neonatal complications, and birth defects are also likely to increase with ever-increasing concentrations of matters smaller than 10 µm.
Incidentally, while the pollution mask provides protection against PM10/PM2.5 particulate matter, the same is not true for pollution from nanoparticles.
Where studies have extensively researched the health impacts of PM2.5 and PM10 exposure, evidence of the toxic effects of nanoparticles on human health is insufficient.
The chemically reactive nature of nanoparticles makes the risk assessment highly uncertain.