At meeting on State Home Minister- Amit Shah flags surge in mazaars in Bet Dwarka
October 30, 2022

Posted by:

OptimizeIAS Team

Category:

DPN Topics

At meeting on State Home Minister- Amit Shah flags surge in mazaars in Bet Dwarka
Subject: Geography
Context-
Union Home Minister Amit Shah red-flagged the disproportionate rise in the number of mazaars (shrines) in Bet Dwarka, an island off the coast of Dwarka in Gujarat to highlight the challenges in coastal security at the State Home Ministers' conference that concluded recently.
The Gujarat administration had recently carried out a demolition drive against several illegal structures in Bet Dwarka.
State Home Ministers conference on internal security-
The State Home Ministers conference or the Chintan Shivirto discuss internal security subjects was held the first time after the Bharatiya Janta Party came to power in 2014.
The Congress-led United Progressive Alliance government regularly held Chief Ministers internal security conclave.
About Bet Dwarka Island-
Location-
Bet Dwarka (also spelt Beyt Dwarka) or Shankhodhar is an inhabited island at the mouth of the Gulf of Kutch situated 3 km (2 mi) off the coast of Okha, Gujarat, India.
Northwest to southeast, the island measures 13 km (8 mi) long with an average east-west width of 4 km (2 mi). It is a strip of sandstone situated 30 km (19 mi) north of the town of Dwarka.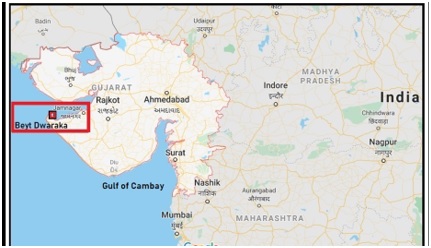 Historical significance of the Island-
Religious-

The Muslim-majority Island is famous for the DwarkadhishMukhya Mandir that is said to have been the residence of Lord Krishna when he ruled Dwarka.
The temples on the island were built around the end of the eighteenth century.
The establishment of the temple is credited to Guru Vallabhacharya.
In the ancient epic, Mahabharata, Bet Dwarka is known by the name of 'Antardvipa'.

Ancient period

Archaeological remains found under the sea suggest the existence of a settlement during the Late Harappan period of the Indus Valley civilization, or immediately after it.
It can be reliably dated to the time of the Maurya Empire.
It was a part of the Okha Mandal or Kushdwip area. Dwarka is mentioned in a copper inscription of Simhaditya, the minister of Vallabhi under Maitraka, dated 574 AD.
He was the son of Varahdas, the king of Dwarka.
The shipwrecks and stone anchors found during excavations suggested the historic trade relation with the Romans.

Medieval period-

The island, along with the Okhamandal region, was under Gaekwad of Baroda State.
During the Indian rebellion of 1857, the Vaghers captured this region.
Later by the joint offensive of the British, Gaekwad and other princely state troops ousted the rebels and recaptured the region in 1859.

Modern period-

After the Indian Independence in 1947, it was integrated into the Saurashtra State.
Later, Saurashtra merged with Bombay State under the state reorganization plans.
When Gujarat was created from the bifurcation of Bombay State, Bet Dwarka was under the jurisdiction of the Jamnagar district of Gujarat.
Later, Devbhoomi Dwarka district was created from the Jamnagar district in 2013, and as such became part of it.