B.1.617: Indian Variant of Coronavirus
May 11, 2021

Posted by:

OptimizeIAS Team

Category:

DPN Topics

B.1.617: Indian Variant of Coronavirus
Topic: Science & Technology
Context: The B-1617 variant of coronavirus, first identified in India, has been classified as a "variant of concern" at the global level by the World Health Organisation (WHO).
Concept:
Variant of Concern– These are variants for which there is evidence of an increase in transmissibility, more severe disease (increased hospitalizations or deaths), significant reduction in neutralization by antibodies generated during previous infection or vaccination, reduced effectiveness of treatments or vaccines, or diagnostic detection failures.
Virus Variant:
Variants of a virus have one or more mutations that differentiate it from the other variants that are in circulation. While most mutations are deleterious for the virus, some make it easier for the virus to survive.
The SARS-CoV-2 (Corona) virus is evolving fast because of the scale at which it has infected people around the world.
The original pandemic virus (founder variant) was Wu.Hu.1 (Wuhan virus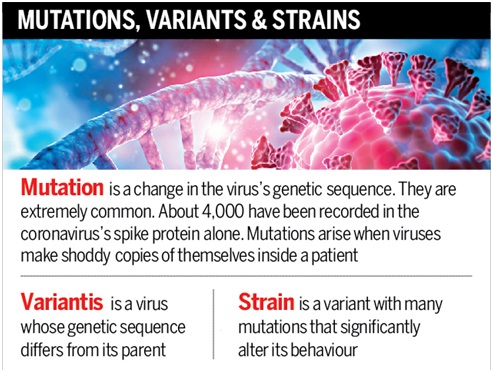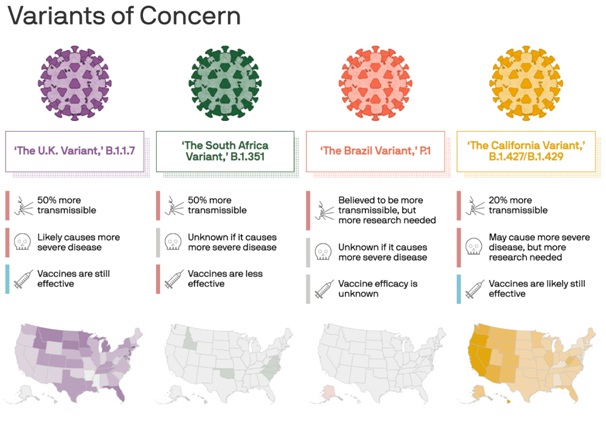 What causes a virus to change to a new variant?
When a virus is widely circulating in a population and causing many infections, the likelihood of the virus mutating increases. The more opportunities a virus has to spread, the more it replicates – and the more opportunities it has to undergo changes.
Most viral mutations have little to no impact on the virus's ability to cause infections and disease. But depending on where the changes are located in the virus's genetic material, they may affect a virus's properties, such as transmission (for example, it may spread more or less easily) or severity (for example, it may cause more or less severe disease).
Concerns related to different variants
Increased Transmission
Increased Severity
Lowered Immunity
Lowered efficacy of vaccines