Bhitarkanika National Park
July 20, 2022

Posted by:

OptimizeIAS Team

Category:

DPN Topics

Bhitarkanika National Park
Subject: Environment
Section: Biodiversity
Context:
A record number of saltwater crocodiles laid eggs during the nesting season this year in Bhitarkanika National Park situated in Odisha's Kendrapara district, with forest officials counting 122 nests from May 1-June 24, 2022.
In 2020 and 2019, we had counted 103 nests. In 2018, we sighted 101 nests. The increased numbers of nests this year indicate that the adult population of the crocodiles is rising
In 1975 a crocodile breeding and rearing project in Dangamala within Bhitarkanika by MOEF in collaboration with the United Nations Development Programme.
Thanks to the success of the project, the crocodile population started increasing in the creeks, river and other water bodies of the park and its nearby areas.
Bhitarkanka National Park
Bhitarkanika is a unique habitat of Mangrove Forests crisscrossed with numerous creeks and mud flats located in Kendra Para district of Orissa.
It is a Ramsar Site under Ramsar Convention on wetlands.
Bhitarkanika located in the estuary of Brahmani, Baitarani, and Dharma & Mahanadi River systems.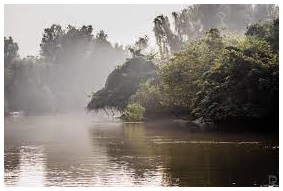 Bhitarkanika National Park is a prime habitat of leopard cat, fishing cat, jungle cat, hyena, wild boar, spotted deer, sambar, porcupine, dolphin, salt water crocodile including partially white crocodile, python, king cobra, water monitor lizards, terrapin, marine turtle, kingfisher, wood pecker, hornbill, bar headed geese, pintail, white bellied sea eagle, tern, sea gull, waders and a large variety of resident and migratory birds.
Nutrients from Bhitarkanika are flushed out to the Gahirmatha Marine Sanctuary, which attracts the world's largest population of Olive Ridley sea turtles for congregation and nesting. Nearly half a million turtles arrive here every winter.