Blockchain Technology: Layer-1 and Layer-2 Networks
November 4, 2021

Posted by:

OptimizeIAS Team

Category:

DPN Topics

Blockchain Technology: Layer-1 and Layer-2 Networks
Subject – Science and Tech
Context – At $4,643, Ether scales to record high; Bitcoin trails
Concept –
Ether, the world's second-largest cryptocurrency, hit an all-time high on Wednesday, catching up with Bitcoin's rally and riding on news of wider blockchain adoption.
The Ether token, which underpins the Ethereum blockchain network, rose to as high as $4,643 in Asian hours.
In the days since Bitcoin, the world's largest cryptocurrency, hit its record high of $67,016.5 on October 20, other tokens on the base layer of blockchain networks, known as Layer 1 networks, have gathered momentum.
Some important terms –
Blockchain Trilemma: the balancing act between decentralization, security, and scalability within a blockchain infrastructure.
Blockchain Decentralization: it refers to the meaningful distribution of computing power and consensus throughout a network,
Blockchain security: it reflects a blockchain protocol's defenses against malicious actors and network attacks.
Blockchain scalability: it refers to a blockchain network's ability to support high transactional throughput and future growth (capable of accommodating an exponentially growing number of users, transactions, and data).
Layer-1 Scaling Solutions
In the decentralized ecosystem, a Layer-1 network refers to a blockchain, while a Layer-2 protocol is a third-party integration that can be used in conjunction with a Layer-1 blockchain.
Bitcoin, Litecoin, and Ethereum, for example, are Layer-1 blockchains.
Layer-1 scaling solutions augment the base layer of the blockchain protocol itself in order to improve scalability.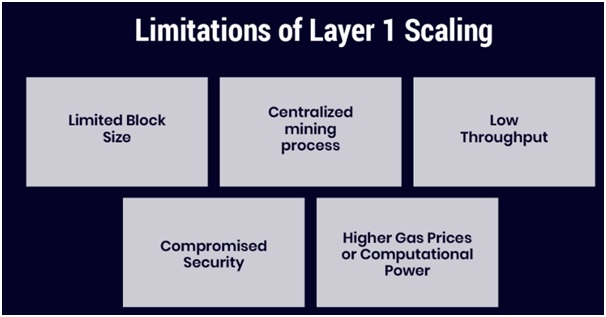 Layer-2 Scaling Solutions
Layer-2 refers to a network or technology that operates on top of an underlying blockchain protocol to improve its scalability and efficiency.
This category of scaling solutions entails shifting a portion of a blockchain protocol's transactional burden to an adjacent system architecture, which then handles the brunt of the network's processing and only subsequently reports back to the main blockchain to finalize its results.
By abstracting the majority of data processing to auxiliary architecture, the base layer blockchain becomes less congested — and ultimately more scalable.
Examples of Layer-2 solutions –
Lightning Network
Nested blockchains
State channels
Sidechains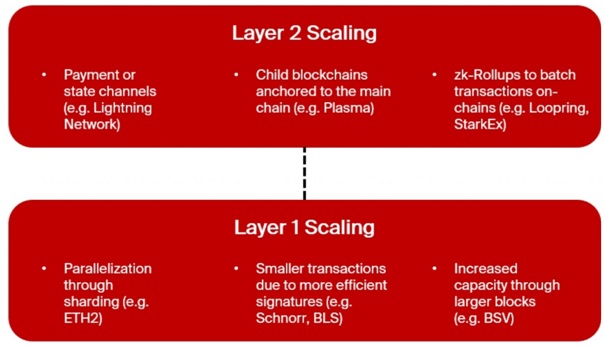 Boosting Blockchain Networks' Scalability
Layer-1 and Layer-2 scaling solutions are two sides of the same crypto coin: They're strategies designed to make blockchain networks faster and more accommodating to a rapidly growing user base.
These strategies are not mutually exclusive either, and many blockchain networks are exploring combinations of Layer-1 and Layer-2 scaling solutions to achieve increased scalability without sacrificing adequate security or decentralization.