Blue Straggler Stars
April 24, 2022

Posted by:

OptimizeIAS Team

Category:

DPN Topics

Blue Straggler Stars
Subject: Science & Tech
Section: Space
Context- Blue stragglers, is a particular type of star seen in clusters and also, sometimes, alone. Indian Institute of Astrophysics, Bengaluru conducted a study on their aberrant behaviour.
Concept-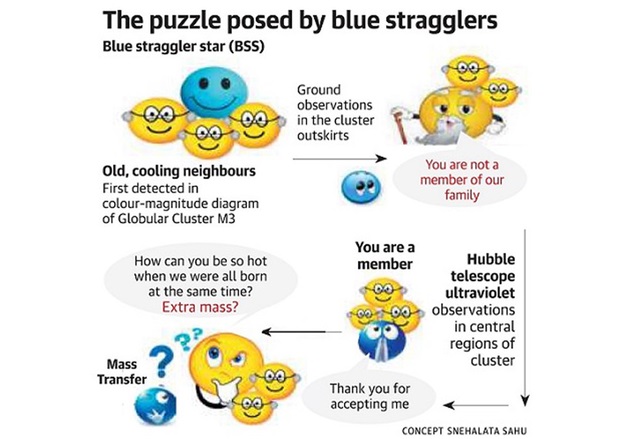 For this, the researchers also made use of the observations by the UVIT instrument (Ultra Violet Imaging Telescope) of ASTROSAT, India's first science observatory in space.
About Blue Straggler Stars:
A blue straggler is a main-sequence star in an open or globular cluster that is more luminous and bluer than stars at the main sequence turnoff point for the cluster.
These are unusually hot and bright stars found in the cores of ancient star clusters known as globulars.
Blue stragglers were first discovered by Allan Sandage in 1953 while performing photometry of the stars in the globular cluster M3.
The Milky Way's largest and brightest globular is Omega Centauri.
Blue straggler stars appear to violate standard theories of stellar evolution.
The puzzle of why a blue straggler is more massive, and energetic, than expected may be resolved in several ways:

One, that these do not belong to the family of stars in the cluster, and hence are not expected to have the group properties. But if they actually belong, the evasive behaviour is due to these stars gaining mass from a binary companion.
Second, the straggler draws matter from the giant companion and grows more massive, hot and blue, and the red giant ends up as a normal or smaller white dwarf.
The third possibility is that the straggler draws matter from a companion star, but that there is a third star that facilitates this process.

The IIAP researchers have shown evidence that supports the second of the hypotheses listed above.