China militarizing South China Sea
March 21, 2022

Posted by:

admin1

Category:

DPN Topics

China militarizing South China Sea
Subject: International Relations
Section: Maps
Context:
According to a top US military commander China has fully militarized at least three of several islands it built in the disputed South China Sea, arming them with anti-ship and anti-aircraft missile systems, laser and jamming equipment and fighter jets in an increasingly aggressive move that threatens all nations operating nearby.
Content:
US Indo-Pacific commander Admiral John C Aquilino said the hostile actions were in stark contrast to the Chinese president Xi Jinping's past assurances that Beijing would not transform the artificial islands in contested waters into military bases. The efforts were part of China's flexing its military muscle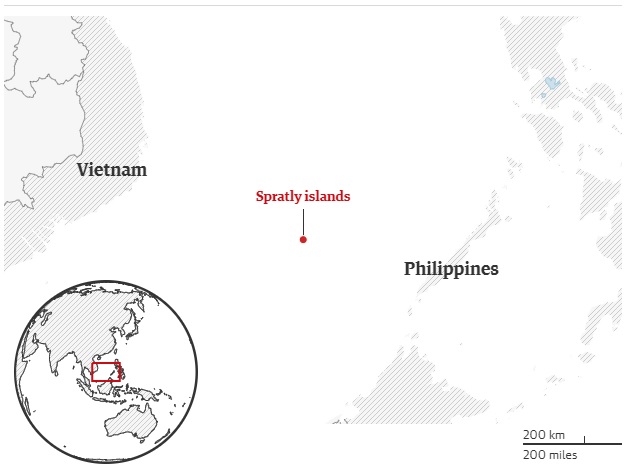 Aquilino said the construction of missile arsenals, aircraft hangars, radar systems and other military facilities on Mischief Reef, Subi Reef and Fiery Cross appeared to have been completed but it remained to be seen if China would pursue the construction of military infrastructure in other areas.
In recent years, satellite imagery has shown China's increased efforts to reclaim land in the South China Sea by physically increasing the size of islands or creating new islands altogether. In addition to piling sand onto existing reefs, China has constructed ports, military installations, and airstrips—particularly in the Paracel and Spratly Islands, where it has twenty and seven outposts, respectively. China has militarized Woody Island by deploying fighter jets, cruise missiles, and a radar system.
China maintains that, under international law, foreign militaries are not able to conduct intelligence-gathering activities, such as reconnaissance flights, in its exclusive economic zone (EEZ). According to the United States, claimant countries, under UN Convention of the Law of the Sea (UNCLOS), should have freedom of navigation through EEZs in the sea and are not required to notify claimants of military activities. In July 2016, the Permanent Court of Arbitration at The Hague issued its ruling on a claim brought against China by the Philippines under UNCLOS, ruling in favor of the Philippines on almost every count. While China is a signatory to the treaty, which established the tribunal, it refuses to accept the court's authority.
Why South China Sea important?
China's sweeping claims of sovereignty over the sea—and the sea's estimated 11 billion barrels of untapped oil and 190 trillion cubic feet of natural gas—have antagonized competing claimants Brunei, Indonesia, Malaysia, the Philippines, Taiwan, and Vietnam. As early as the 1970s, countries began to claim islands and various zones in the South China Sea, such as the Spratly Islands, which possess rich natural resources and fishing areas
More South China sea: https://optimizeias.com/south-china-sea/