China-Pakistan 1963 Agreement
October 28, 2021

Posted by:

OptimizeIAS Team

Category:

DPN Topics

China-Pakistan 1963 Agreement
Subject – IR
Context – Don't use new law to justify LAC moves, India tells China
Concept –
The Sino-Pakistan Agreement (also known as the Sino-Pakistan Frontier Agreement and Sino-Pak Boundary Agreement) is a 1963 document between the governments of Pakistan and China establishing the border between those countries.
With China-­Pakistan 1963 agreement, Pakistan handed over the Shaksgam Valley of Aksai Chin to China.
The agreement is not recognized as legal by India, which also claims sovereignty over part of the land.
Shaksgam Valley
The Shaksgam Valley or the Trans Karakoram Tract is part of Hunza-Gilgit region of Pakistan Occupied Kashmir (POK), and is a disputed territory claimed by India but controlled by Pakistan.
It borders Xinjiang Province of the People's Republic of China (PRC) to the north, the Northern Areas of POK to the south and west, and the Siachen Glacier region to the east.
The Shaksgam Valley was ceded to China by Pakistan in 1963 when both countries signed a boundary agreement to settle their border differences.
The agreement laid the foundation of Karakoram highway which was built jointly by the Chinese and Pakistani engineers in 1970s.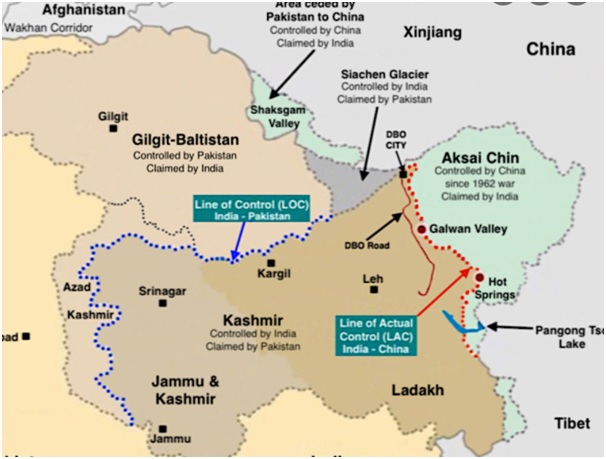 China's Land Boundary Law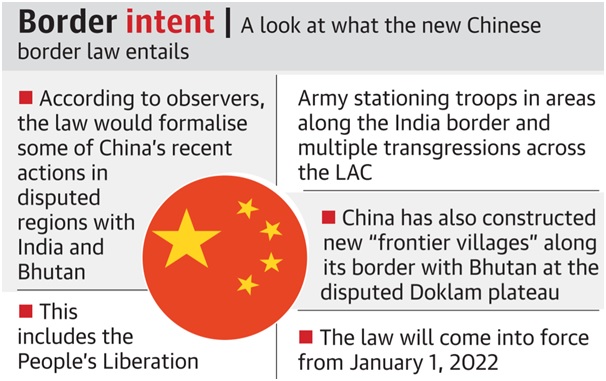 Asserting that sovereignty and territorial integrity of China are "sacred and inviolable", the country's national legislature has adopted a new law on the protection and exploitation of the land border areas, which could have bearing on Beijing's border dispute with India.
The state shall take measures to safeguard territorial integrity and land boundaries and guard against and combat any act that undermines territorial sovereignty and land boundaries
The law also stipulates that the state shall take measures to strengthen border defence, support economic and social development as well as opening-up in border areas, improve public services and infrastructure in such areas, encourage and support people's life and work there, and promote coordination between border defence and social, economic development in border areas.
The state shall, following the principle of equality, mutual trust and friendly consultation, handle land border-related affairs with neighbouring countries through negotiations to properly resolve disputes and longstanding border issues.
India and Bhutan are the two countries with which China is yet to finalise the border agreements, while Beijing resolved the boundary disputes with 12 other neighbours.