Coal mining (Total resources, Production and import)
June 22, 2020

Posted by:

admin1

Category:

DPN Topics

Subject: Economy/Geography
Context:
Government has announced the auction of 41 coal blocks that have a capacity to produce 225 million tonnes of coal per year after removing the end-use restrictions and relaxed prior mining experience as bidding criteria.
Concept:
India imports nearly 250 million tonnes of coal from other countries despite having the world's fourth largest coal reserve.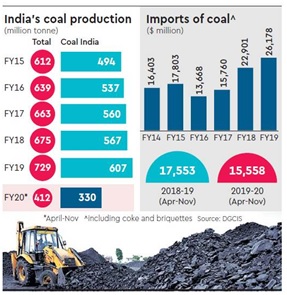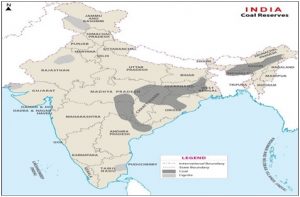 Commercial mining allows the private sector to mine coal commercially without placing any end-use restrictions. The private firms have the option of either gasification of the coal or exporting it.
Further, with 100 per cent foreign direct investment allowed in the coal sector, global companies can also participate in the auctions.
The complete freedom to decide on sale, pricing, and captive utilisation is expected to attract many private sector firms to participate in the auction process.
The government expects these steps will generate employment and reduce India's import bill.
Private sector participation was permitted until the early 1970s. Then government has announced the nationalization of the coal blocks in two phases between 1971 and 1973.
The government is hoping that the involvement of the private sector will increase production and make India self-sufficient in meeting its internal coal requirements.