Coal Reserves In India
March 17, 2022

Posted by:

admin1

Category:

DPN Topics

Coal Reserves In India
Subject: Geography
Section: Economic geography
Concept-
Coal Reserves in India:
India holds 107,727 million tons (MMst) of proven coal reserves as of 2016, ranking 5th in the world and accounting for about 9% of the world's total coal reserves of 1,139,471 million tons (MMst).
India has proven reserves equivalent to 111.5 times its annual consumption.

This means it has about 111 years of Coal left (at current consumption levels and excluding unproven reserves).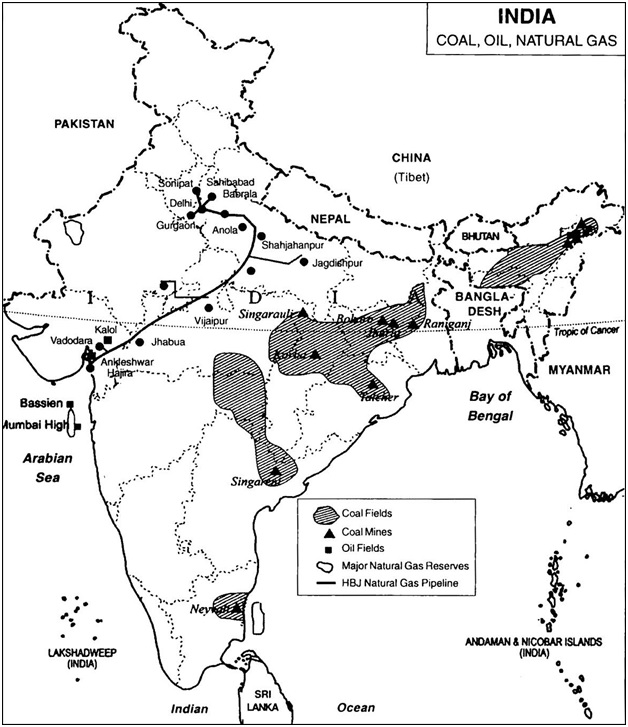 Coal Production & Consumption in India:
India is the second largest producer and consumer of coal after China, mining 716 million metric tons in 2018.
Coal supplies over 40% of energy in India.
Around 30% of coal is imported.
Deucha-Pachami Mines:
Deucha-Pachami-Dewanganj-Harinsinga coal block is the second-largest coal block in the world; it is the largest in India.
It is located in Deucha and Panchamati area under Mohamad bazar community Development Block of Birbhum district, West Bengal.
This coal mine or block belongs to Birbhum coalfield area.
This coal mine is the largest coal mine or coal block in Asia, due to the amount of coal reserves. It is the newest coal mine in West Bengal.
The block has a thick coal seam trapped between equally thick layers of rocks, mostly basalt. It has a great economic value.
The existence of these thick basalt layers, however, makes mining of coal difficult; foreign investment and technology will be hence needed for mining.
Read further