Cobalt
November 22, 2021

Posted by:

OptimizeIAS Team

Category:

DPN Topics

Cobalt
Subject – Geography
Context – A Chinese mining conglomerate has bought a stretch of southeast Congo, called Kisanfu and is racing to retrieve its buried treasure: millions of tons of cobalt. This, holds one of the largest and purest untapped reserves of cobalt in the world.
Concept –
Cobalt is a chemical element with the symbol Co and atomic number 27.
Like nickel, cobalt is found in the Earth's crust only in a chemically combined form, save for small deposits found in alloys of natural meteoric iron.
The free element, produced by reductive smelting, is a hard, lustrous, silver-grey metal.
Cobalt makes up only 0.001% of Earth's crust. Most of the Earth's cobalt is in its core.
It is similar to iron and nickel in its physical properties.
It is found in plants and animals, air, water, soil, rocks.
Cobalt is used in many alloys & super alloys to make parts in aircraft engines, gas turbine, high-speed steels, corrosion resistant alloys, cemented carbides. It is also used in magnets and magnetic recording media.
The radioactive isotopes, cobalt-60, is used in medical treatment and also to irradiate food.
Cobalt is stable in air and unaffected by water, but is slowly attacked by dilute acids.
The metal, typically extracted from copper deposits, has historically been of secondary interest to miners. But demand is set to explode worldwide because it is used in electric car batteries, helping them run longer without a charge.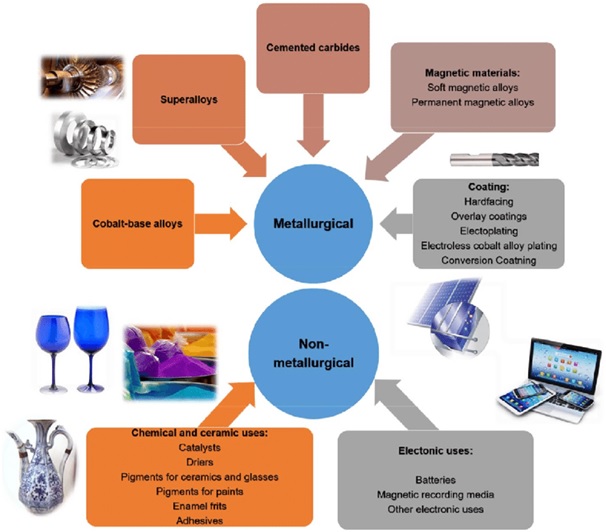 Cobalt Reserves