Concessional Tax Regime
August 15, 2022

Posted by:

OptimizeIAS Team

Category:

DPN Topics

Concessional Tax Regime
Subject : Economy
Section: Fiscal Policy
Context: The government aims to establish a tax regime with no exemptions and deductions.
Details:
The Union Budget 2020-21 introduced a new tax regime.
It gave taxpayers the option to choose between the old regime and the new tax regime.
The intention behind the move was to provide significant relief to individual taxpayers and to simplify the income-tax law.
Outcome- people who have finished their home and education loans are willing to shift to the new tax regime as they have no exemptions to claim.
A similar tax regime for corporate taxpayers was introduced in September 2019 by significantly lowering rates and removing exemptions.

It reduced the base corporate tax for:

 existing companies to 22 percent from 30 per cent
new manufacturing firms, incorporated after October 1, 2019, and starting operations before March 31, 2024, to 15 per cent from 25 per cent.

Companies opting for these new tax rates will have to forego all exemptions and incentives.
Concept:
Old Tax regime:
It is a tax regime with various deductions and exemptions.
Concessional (new) Tax Regime
Assessees willing to forgo deductions and exemptions such as those under sections 80C, 80D, house rental allowance and leave travel allowance could choose to pay tax on their income at a reduced rate.
It requires the taxpayer to forego certain specified deductions. 

These include standard deduction of Rs 50,000, deduction under section 80C of Rs 1.50 lakh and interest on self-occupied property of Rs 2 lakh, deductions which are availed by most taxpayers.
Tax rate under these regime: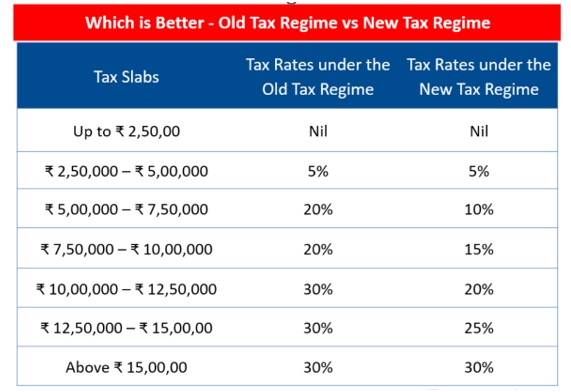 Prelims fact:
Corporation tax is a direct tax placed on a company's net income or profit from its operations.
Corporation tax is payable by both public and private companies registered in India under the Companies Act 1956.
Corporate tax is a tax imposed on the net income of the company, whereas income tax is a type of tax imposed on an individual's income, such as wages and salaries.
Tax Concession: A reduction made by the government in the amount of tax that a particular group of people or type of organization has to pay or a change in the tax system that benefits those people.