Subject: Science and tech
Context:
A group of scientists working at the National Centre for Radio Astrophysics (NCRA), Pune, has recently discovered tiny flashes of light all over the sun
Concept:
These radio lights or signals result from beams of electrons accelerated in the aftermath of a magnetic explosion on the sun.
Though magnetic explosions are not seen, weak radio flashes that have been discovered are 'smoking guns' or the evidence for the same and hence bring closer to explaining the coronal heating problem
Tiny explosions take place all over the Sun all the time but collectively they have sufficient energy to heat the entire corona.
The breakthrough was possible due to availability of data from a new technology instrument, the Murchison Widefield Array, Australia
Structure of sun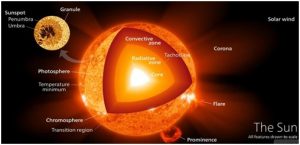 The solar interior, from the inside out, is made up of the core, radiative zone and the convective zone.
The solar atmosphere above that consists of the photosphere, chromosphere, and the corona (solar wind is an outflow of gas from the corona).
The outer layers of the Sun, extending to thousands of km above the disc (photosphere) is termed as the corona.  It has a temperature of more than a million degree Kelvin which is much higher than the solar disc temperature of around 6000K.
How the corona gets heated to such high temperatures is still an unanswered question in solar physics.