Cropping Pattern – GS3
August 15, 2020

Posted by:

admin1

Category:

MMN

1. CROPPING PATTERN
Definition:
Cropping pattern refers to
Proportion of area under different crops at a point of time,
Changes in distribution overtime and
Factors determining these changes
Decoding the definition technically


1.1 Types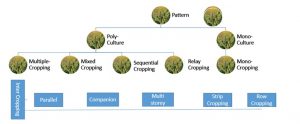 Example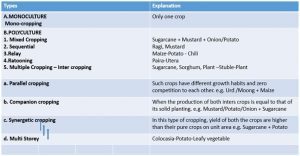 1.2 How cropping pattern is different from Cropping & farming system
Cropping System is a broader term comprising the crops and cropping pattern along with their interaction with other agricultural components such as resources, machinery, technologies, environnent etc.
Cropping system = Cropping pattern + Interaction (input, technology)
Farming system = Cropping system + Interaction (other enterprise)
Click Link for video explanation –https://youtu.be/ZIpIGUWZ7rw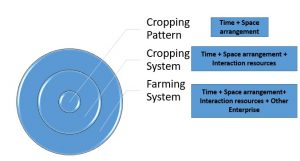 1.3 Factors affecting Cropping Pattern
1. Varied Physiography and topography: Indian subcontinent has diverse soil profile, topography, climate, weather and divided into 127 agro climatic zones (ACZ) as per ICAR. Cropping pattern is definitely being affected by these factors.
North India adapted to wheat cultivation
South India adapted to rice cultivation
2. Economic factors affecting cropping pattern: Farm size, Credit facility, Income, Insurance etc affects cropping pattern say if farm holding is small farmer and income is less farmer will opt for subsistence farming while with large holding and income he will go for capital intensive commercial plantation agriculture
3. Government Policies: Policies like MSP affects the type of crop chosen by farmer. Due to wide coverage of MSP in wheat and rice, farmer prefer rice and wheat over other crops.
4. Market for crops: Price and factor determine type of crop, with advent of e-NAM and other agriculture ordinance-promoting contract farming the choice of crops and pattern may change in coming time.
5. Infrastructure: both forward and backward infrastructure affects cropping pattern of a particular area. Say irrigation facilities are available then 3-4 crops is possible in ayear, while if cold chain infra is developed farmers may be attracted towards horticulture crops.
2. Major Crops
Agronomically major crop classification are:
Cereal crops – Rice, wheat,sorghum
Pulse – Red gram, Bengal Gram
Oilseed – Groundnut, mustard
Fodder crops – Berseem
Fibre crops – Cotton
Plantation crops – Sugarcane
Horticulture crops – Fruits & Vegetable
Let us discuss some of the Major crops
1. Rice –
Rice crop needs a hot and humid climate. It is best suited for regions which have high humidity, prolonged sunshine and an assured supply of water.
Rice is a crop of tropical climate. However, it is also grown successfully in humid to sub-humid regions under subtropical and temperate climate.
Major Rice Producing States – West Bengal, Punjab, Uttar Pradesh, Andhra Pradesh, Chattisgarh, Assam
Varieties of Rice in news "Kalanamak" – Kalanamak is one of the finest quality scented rices of India. It is quite popular in Himalayan Tarai of eastern Uttar Pradesh, India, and is also known as the scented black pearl of Uttar Pradesh.
"Pokalli" – The pokkali variety of rice is known for its saltwater resistance and flourishes in the rice paddies of coastal Alappuzha, Ernakulam and Thrissur districts of Kerala.
At the end of fiscal year 2019, India had approximately 44 million hectares of land area for cultivation of rice.
2. Wheat
The temperature required for wheat during growing season is around 15.5°C. The weather should be warm and moist during the early stage of growth and sunny and dry in the later stages
This is the second most important cereal crop and the main food crop, in north and north-western India.
Major States – UP, Punjab, Madhya Pradesh, Haryana, Rajasthan
3. Millets
The government has renamed jowar, bajra, ragi and other millets as "Nutri Cereals", dispensing with the nomenclature "coarse cereals".
Millets comprising Sorghum (Jowar), Pearl Millet (Bajra), Finger Millet (Ragi/Mandua), Minor Millets — Foxtail Millet (Kangani/Kakun), Proso Millet (Cheena), Kodo Millet (Kodo), Barnyard Millet (Sawa/Sanwa/ Jhangora), Little Millet (Kutki) and two Pseudo Millets (Black-wheat (Kuttu) and Ameranthus (Chaulai) which have high nutritive value are reffered as "Nutri Cereals"
Millets hold great potential in contributing substantially to food and nutritional security of the country and thus they are not only a powerhouse of nutrients, but also are climate resilient crops and possess unique nutritional characteristics.
To popularise the consumption of these nutritious cereals, the government has already decided to include millets in the Public Distribution System (PDS) with the objective of improving nutritional security of the country.
Millets can be cultivated in dry regions. They are suited for Dryland agriculture (DLA) such as Ragi, Sorghum
Major States Karnataka, Rajasthan, Maharastra, Madhya Pradesh, Uttar Pradesh.
4. Maize
Maize (Zea mays L.) is one of the most versatile emerging crop shaving wider adaptability under varied agro-climatic conditions. Globally, maize is known as queen of cereals because it has the highest genetic yield potential among the cereals.
Maize can be cultivated in different types of climates, but the growth, development and yield of maize is found more in the hot regions. It is a hot season crop
It is used both as food and fodder
Major States Karnataka, Madhya Pradesh, Maharastra, Tamil Nadu.
5. Pulses
Pulse crops are cultivated in Kharif, Rabi and Zaid seasons of the Agricultural year. Rabi crops require mild cold climate during sowing period, during vegetative to pod development cold climate and during maturity / harvesting warm climate. Similarly, Kharif pulse crops require warm climate throughout their life from sowing to harvesting. Summer pulses are habitants of warm climate. Seed is required to pass many stages to produce seed like germination, seedling, vegetative, flowering, fruit setting, pod development and grain maturity / harvesting
The lower productivity of pulses is attributed to a paradigm shift in area under cultivation of traditional crops to the cash crops with the impact of technology and income, non-availability of high yielding and good quality seed to the farmers, poor crop management practices like low fertilizer use.
Pulses are poor in harvesting the solar energy and converting it to biological yield.
Major Pulse Producing states Madhya Pradesh, Rajasthan, Maharashtra, Karnataka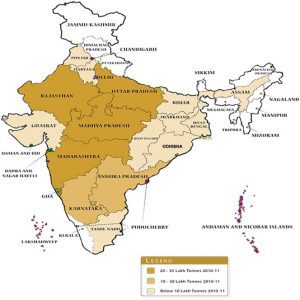 6. Sugarcane
Sugarcane is a tropical plant, therefore, requires a year warm weather to reach maturity. The areas having temperature of 20° to 26°C and an average rainfall of 150 cm are suitable for its cultivation.
Uttar Pradesh and Bihar were top sugar producing states once upon a time. However, they have lost their position to states such as Maharashtra and Tamil Nadu. The sugar industry of India is gradually shifting from north India to peninsular India because of
The tropical climate of Peninsular India results in higher yield per unit hectare of land
Higher sucrose content in peninsular cane
Long crushing season in south. In North India, it lasts from November to February (4 months); while in South it lasts from October to May or even June (nearly 8 months)
7. Oil Seed
Main oil-seeds produced in India are groundnut, mustard, coconut, sesamum (til), soyabean, castor seeds, cotton seeds, linseed and sunflower.
Groundnut is a kharif crop and accounts for about half of the major oilseeds produced in the country.
Major states Gujrat, Madhya Pradesh, Rajasthan, Gujrat, Maharastra, UP
The policy impetus to oilseed production in India came for the first time in 1986 when the government launched Technology Mission on Oilseed. This was a golden period for oilseed production in India when productivity jumped from 670 kg per hectare in the eighties to 835 kg per hectare in the nineties.
To achieve self-sufficiency in edible oils production the government has launched several policy initiatives since the mid-1980s. They mainly include supply of high yielding oilseed cultivars, extension services and subsidised inputs; offering of minimum support prices (MSP); fixation of price band; import controls via canalisation; and promotion of oil palm cultivation.
The outcome of these initiatives, known as "Yellow Revolution", were highly encouraging. Between 1985 and 1994 the growth rate of area, production and yield of oilseeds increased significantly. As a result, the proportion of imported edible oils in total edible oil availability declined from 26.72 per cent in 1985 to 2.17 per cent in 1993, thereby making India almost self-sufficient in edible oil production.
However, after that there has been a slow pace of growth. Today, the major problem in oil seeds production is low productivity.
However, this momentum did not sustain due to two reasons. First, in response to economic liberalisation and Word Trade Organisation commitments since the early-1990s, India gradually liberalised edible oil imports. This has resulted in a significant increase in the import of edible oils.
Faced with cheap imports, farmers reduced the area under oilseeds cultivation which, in turn, caused a dent on edible oils production. Second, the MSP system for oilseeds became ineffective due to inadequacy of MSP in relation to the cost of production and lower procurement by government agencies.
Area under oil seeds in India remains between 22 to 29 million hectares while production of the major oil seeds remains between 20 to 33 million tonnes.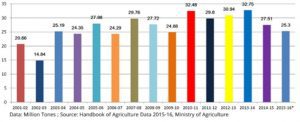 After crude oil, gold, and diamonds, edible oils is India's largest import item.
Steps Needed to regain the momentum, India needs to find ways to increase domestic availability of edible oils.
First, being the world's second largest producer of rice, India has tremendous potential to produce rice bran oil (RBO).
Second, the huge import of edible oil needs to be restricted either by increasing the import tariffs or through a system of fixing an annual import ceiling limit and strict monitoring of imports. Such a strategy might increase domestic production of oilseeds as happened during yellow revolution.
Third, under the Technology Mission on Oilseeds launched in 1986, the strategy of fixing a price band and allowing the domestic prices of oilseeds and edible oils to fluctuate freely within the band has worked successfully to incentivise oilseeds production. Prices were regulated by the government, including through changes in import duty, only when market prices breached the limits to the benefit of either the oilseed growers or consumers. Similar strategy can be adopted for improving oilseeds production.
Fourth,Promoting oil palm cultivation.
Fifth, Provide incentives to private sector participation in processing and value addition in oilseed crops. Also, constraints for low capacity utilization should be addressed.
Sixth,Implement market reforms and policies, such as contract farming and public-private partnership in production and processing.
Finally, appropriate policy support should be provided by the government to remove the bottlenecks faced by the oil seeds sector.
8. Horticulture Crops
Horticulture is the branch of agriculture concerned with cultivation, production and sale of fruits, vegetables, flowers, herbs, ornamental or exotic plants.
The second advance estimates also places total horticulture production in 2019-20 to be at 320.48 million tonnes. This figure displays the growing popularity of horticulture crops in India.
The total horticulture production has increased from 211.2 million tonnes in 2007-08 to 311.71 million tonnes in 2018-19. India is the second largest producer of fruits and vegetables in the world with first rank in the production of Banana, Mango, Lime & Lemon, Papaya and Okra.
The North Eastern region has two important advantages — climate and rainfall — over other places in the country. The untapped potential of North east can be utilized for exotic fruit and vegetable production.
9. Plantation Crops
The term plantation crop refers to those crops which are cultivated on an extensive scale in contiguous area, owned and managed by an individual or a company. The crops include tea, coffee, rubber, cocoa, coconut, arecanut, oil palm, palmyrah and cashew
Top Tea Producing States: Assam > West Bengal > Tamil Nadu.
India is the second largest producer of tea.
Top Coffee Producing States: Karnataka > Kerala > Tamil Nadu.
The Department for Promotion of Industry and Internal Trade, under the Ministry of Commerce and Industry, has recently awarded this tag to — Coorg Arabica coffee from Karnataka, Wayanad Robusta coffee from Kerala, Chikmaglur Arabica from Karnataka, Araku Valley Arabica from Andhra Pradesh, and Bababudangiris Arabica coffee from Karnataka.
Top Rubber Producing States: Kerala > Tamil Nadu > Karnataka.
It is an equatorial crop, but under special conditions, it is also grown in tropical and sub-tropical areas.
3. Change in Cropping Pattern
Due to factors mentioned above the cropping pattern of India has changed after Independence and will change in future due to changing habits, climate and developing technologies.
At the beginning of the present century, nearly 83 percent of the total cultivable land of India was put under food crops and the remaining 17 percent was put under non-food crops. But in 1944-45, there was a change in the cropping pattern in India and area under food crops came down to 80 percent and the area under non-­food crops slightly increased to 20 percent.
Among all the food crops, the largest increase in area since 1950- 51 has already been recorded by wheat cultivation which shows an increase of 132 percent by 1987-88. But in the case of both rice and pulses, the increase in area has been restricted to only 23 percent; Coarse cereals have recorded only marginal increase of 11 percent by 1987-88.
Phase I – Pre Green Revolution Phase
Phase II – Green Revolution Phase
Phase III- Globalization Phase
Phase IV – Horticulture awareness Phase
3.1 Pre Green Revolution Phase – Ship to mouth Phase
During this era, cropping pattern was poorly developed; mono cropping was widely being practiced that too with low level of production and productivity. Cereal like wheat and rice occupied major farms but their output and coverage was scattered and small.After the egregious neglect of agriculture by the Nehruvian focus on big industry, which was transmitted to the states, we hit the wall of foodgrain insufficiency in the 1960s
Proportion of area under cultivation between food crops and non-food crops recorded was 74 : 26 in 1950-51
Features: scattered, subsistence, mono-cropping, cereals with low production and productivity, dependent upon import.
3.2 Green Revolution Phase
With advent of high yielding varieties of crops, development of agriculture infrastructure and announcement of MSP by government encouraged farmers to switch for subsistence farming to intensive farming. Area under Rice and wheat increased owing to better productivity and assured purchase by government by means of MSP. Cereal anxiety led the Centre to offer minimum support prices (MSPs) for the major cereals, which distorted cropping patterns into the "cerealization" of agriculture, as it is called.
Green Revolution also led to changes in the cropping patterns. Rice was introduced to Punjab, Haryana and Uttar Pradesh from traditional east and south India.
Feature: Increase in area under rice and wheat, more than one crop a year, reduction in import.
Issues with rice and wheat Cropping System
1. Ecological Issues
Declining underground water table
Ground water pollution: Excessive use of the fertilizers/insecticides pollutes the underground water quality
Diverse weed flora
Outbreak of disease and insect pest: The green crops with higher dose of N-fertilizers and wet conditions because of frequent irrigations are the paradise for the outbreak of insect-pest and diseases.
2. Agricultural Issues
Degrading soil structure
Declining soil health
Residue management: On farm residue management be the major issue in the prevailing cropping. Among rice and wheat straw residue, wheat residue is used in the animal husbandry sector but the higher silica content in rice straw make it inappropriate to be used in the dairy sector
3. Labour shortage: Rice–wheat cropping system is water-, energy-, capital- and most importantly labour intensive as transplanting, spraying and harvesting of paddy require intense labour. Labour shortage is an emerging issue
4. Multiple nutrient deficiencies
5. Livelihood Issues
Decreased land productivity
High energy requirement: Intensive cultivation of the rice–wheat sequence leads to decline of underground water levels to a serious concern and as a result submersible pumps replacing the centrifugal pumps which lifts up water from the deeper depths but they required more energy for this purpose
Decreased water productivity
Decreased efficiency of water use
6. Climatic Issues
Environmental pollution: Management of the rice stubble is a major challenge. Smoldering is widely practiced by the farmers being easy and quick method of disposing off of rice residues thereby causing air pollution
Global warming: Flaming of farm residues generates ample amount of greenhouse gases and aerosols and other hydrocarbons to the atmosphere affecting the atmospheric composition.
3.3 Globlisation Phase
Globalisation brought in new opportunities for the Agricultural export and at the same time, it also led to competition from other countries due to a cheaper cost of production in other countries. The ratio between food and non food crop during 1990-91 was 77:23. Demand for cash crops increased and cropping pattern changed a little to satisfy the demand for plantation crops like tea, coffee etc.
3.4 Horticulture awareness phase
Post 2000 there was increased awareness for horticulture crops and after launch of National Horticulture mission 2005, it increased multiple fold.
India witnessed the shift in area from food grain towards horticulture crops over last five years (from 2012-13 to 2017-18). The production of Horticulture crops have outpaced the production of food grain since 2012-13 as may be seen at Figure above.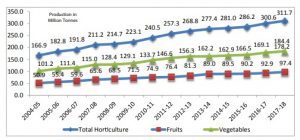 Farmers are more intensively moving towards cultivation of cash/commercial crops such as oilseeds, fruits, vegetables, spices, etc. from the traditional non-cash/non-commercial crops such as cereals and pulses.
4. WAY FORWARD
"MSP has distorted cropping patterns, with excessive focus on the cultivation of wheat, rice and sugarcane in the procurement states at the expense of other crops such as pulses, oilseed and coarse grains," the NITI Ayog said in its Three Year Action Agenda.
There is a need to move towards diversification from cerealization.
With twin focus on Nutritional and Food security, government is now focusing on Horticulture too with schemes like Mission for Integrated development of horticulture (MIDH), Rashtriya Krishi Vikas Yojna (RKVY), Green House Subsidy, promoting processing sector and mega food parks.
Price deficiency payment system will definitely encourage farmers to go for alternative crops instead of rice and wheat.
The cropping pattern needs to be balanced keeping in view the rising population, Nutritional needs, food security, ecological balance and doubling farmers income.
Inputs from
Sangeet Sir
Bsc & Msc Agriculture Science Gold Medal
Priyanka S ( AIR 68) , CSE 2019
Mains Master Notes are conceptualized as one stop solution for CSE Mains. They are well researched articles   with inputs from subject's experts. Please do comment and share your feedback. Also I request you to share these notes with your fellow aspirants.
To access Mains Master Notes of every topic in a scientific and systematic manner.