Cryptocurrency
March 24, 2022

Posted by:

admin1

Category:

DPN Topics

Cryptocurrency
Subject: Economy
Section: Monetary policy
Context: Cryptocurrency being taxes
Concept:
A cryptocurrency or crypto, is a virtual currency secured by cryptography. It is designed to work as a medium of exchange, where individual ownership records are stored in a computerised database using blockchain technology.
The pioneer cryptocurrency, Bitcoin, was traded at just $0.0008 in 2010 and commanded a market price of about $65,000 in April 2021.
Many newer coins have also been introduced since Bitcoin's launch and their cumulative market value touched $2.5 trillion by May 2021.
Defining traits
No intrinsic value
Scarce
Not issued by central banks
Based on blockchain-a decentralized public ledger
Understanding transaction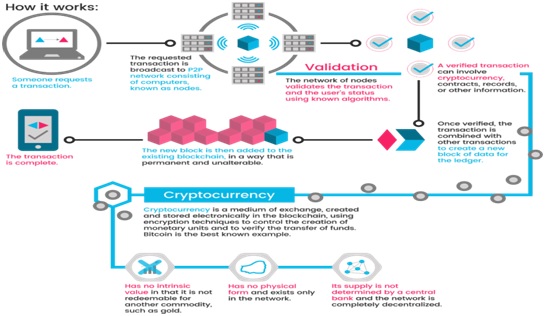 Merits of cryptocurrency
Basic feature of a currency: scarce and acceptability
Corruption Check: As blocks run on a peer-to-peer network, it helps keep corruption in check by tracking the flow of funds and transactions.
Time Effective: Cryptocurrencies can help save money and substantial time for the remitter and the receiver, as it is conducted entirely on the Internet, runs on a mechanism that involves very less transaction fees and is almost instantaneous.
Cost Effective: Intermediaries such as banks, credit card and payment gateways draw almost 3% from the total global economic output of over $100 trillion, as fees for their services.
Integrating blockchain into these sectors could result in hundreds of billions of dollars in savings
Increase digitalisation
Difficult to counterfeit: as based on blockchain technology
Concerns
     1.Financial 
Lack of backing – Such currency don't have an intrinsic value or legal backing Such digital currency may not be accepted as a medium of exchange, store of value or a unit of account — essentially de-recognising the three key functions of money.
Sovereign guarantee: Cryptocurrencies pose risks to consumers.  They do not have any sovereign guarantee and hence are not legal tender.
Market volatility: Their speculative nature also makes them highly volatile.  For instance, the value of Bitcoin fell from USD 20,000 in December 2017 to USD 3,800 in November 2018.
Money laundering: Cryptocurrencies are more vulnerable to criminal activity and money laundering.  They provide greater anonymity than other payment methods since the public keys engaging in a transaction cannot be directly linked to an individual.
Regulatory bypass: A central bank cannot regulate the supply of cryptocurrencies in the economy.  This could pose a risk to the financial stability of the country if their use becomes widespread. It will make monetary policy transmission difficult.
Weaken central bank: disturb the sovereignty of the central bank. When the crypto is introduced, other governmental departments such as IT and telecom will need to be involved for its smooth functioning. This may, initially at least, create coordination and implementation issues.
A spiral effect in the financial system, because a large amount of wealth in terms of debt funds might have gone into their making. Any calamity can hence wipe out a substantial part of the global wealth.
Uncertainty in financial markets: Many public sector and private banks have been hit by a huge number of fraudulent transactions. The situation could worsen when there is an increasing shift to digital currencies without having proper regulation.
Other-
Risk in security: A user loses access to their cryptocurrency if they lose their private key (unlike traditional digital banking accounts, this password cannot be reset).
Malware threats: In some cases, these private keys are stored by technical service providers (cryptocurrency exchanges or wallets), which are prone to malware or hacking.
Power consumption: Since validating transactions is energy-intensive, it may have adverse consequences for the country's energy security (the total electricity use of bitcoin mining, in 2018, was equivalent to that of mid-sized economies such as Switzerland)
Expensive: access to digital currency transactions is expensive because those interested will need to have a computer, tech gadgets and internet connectivity. The Indian diaspora, especially in the Gulf, Australia, Canada and the US, still need to pay a hefty fee for remitting their money home once adoption of digital currency takes effect. This may restrict India receiving huge amounts of remittances from abroad.
Compromising on privacy. While transacting in cash in a retail store, you may not leave any trial whereas with crypto you will. This could make the ordinary citizens feel uncomfortable.
In a developing economy like India where access to the internet and digital literacy are still a challenge, coexistence of cash and crypto will be an unrealistic option making it difficult to understand and penetrate. Thus, could increase income inequality.
Stablecoin
A stablecoin is a cryptocurrency pegged to a reserve asset like a fiat currency, commodity, or other cryptocurrencies. It is a tokenized version of the asset and can be introduced subtly into a blockchain ecosystem to facilitate seamless pass transactions, improved arbitrage, and value exchange.
It is sometimes referred to as a utility token because it allows you to quickly buy and sell on decentralized exchanges that do not accept fiat currencies.
Types
Fiat-collateralized stablecoins
This type of stablecoin is linked to the sovereign legal tenders of countries. Some of the most well-known fiat-collateralized stablecoins, for instance, include Tether and TUSD (True USD).
However, these stablecoins are not created by the central authority. A company issues these tokens by depositing an equal amount of fiat in its reserves. Simply put, the stablecoin's value is based on the belief that the company behind it has the equivalent amount in hand.
Commodity-backed stablecoins
These are stablecoins that are backed by reserved assets other than fiat currencies—by commodities. Real estate, gold, silver, and various other precious metals are examples of commodities. Kitco Gold, for example, is backed by the company's gold reserves, and the token itself is based on the Ethereum-backed ERC-20 blockchain ecosystem
This type of stablecoins is backed by other cryptocurrencies; it is crypto collateralized.
Due to the volatile nature of cryptocurrencies, these stablecoins must be overcompensated in order to be collateralized. Let's look at an example to clarify.
Algorithmic stablecoins
These are primarily non-backed stablecoins in which prices, token numbers, and other variables are manipulated with the help of special algorithms, software, and code in order to better manage supply and demand. This strategy allows the company to maintain the reserve peg in the event of price fluctuations.
Limitations of stablecoins
The value of stablecoins is based on people's trust in the company holding the collateralized reserve asset, and that trust may waver on occasion.
Stablecoins may lose value if the company goes bankrupt.
It is critical for the holders to declare solvency to maintain trust in the coin and its value.
Unless there is a sense of unrest in the fiat or commodity markets, stablecoins aren't meant for trading gains.
Stablecoins vs. CBDC vs. Digital currency
Stablecoins are a type of cryptocurrency usually tied to the dollar or a commodity such as gold.
Central bank digital currencies are digital forms of dollars or other currencies, issued by governments. This would essentially just be a digital twin of the domestic currency: Fully regulated, under a central authority, and with the full faith and backing of the country's central bank. CBDC form is a liability of the central bank.
Digital currency (digital money, electronic money or electronic currency) is any currency, money, or money-like asset that is primarily managed, stored or exchanged on digital computer systems, especially over the internet. Types of digital currencies include cryptocurrency, virtual currency and central bank digital currency. Digital currency may be recorded on a distributed database on the internet, a centralized electronic computer database owned by a company or bank, within digital files or even on a stored-value card.
Digital currencies exhibit properties similar to traditional currencies, but generally do not have a physical form, unlike currencies with printed banknotes or minted coins. This lack of physical form allows nearly instantaneous transactions over the internet and removes the cost associated with distributing notes and coins. Usually not issued by a governmental body, virtual currencies are not considered a legal tender and they enable ownership transfer across governmental borders.