Daily Practice Sheet 4 January 2021
January 4, 2021

Posted by:

admin1

Category:

DPS

Daily Practice Sheet 4 January 2021
By
Santosh Sir
All 6 Prelims qualified
4 CSE Mains qualified
If I can do it, you can too
Daily Prelims Topic
Lithium triangle
Western Disturbance
Conjugate vaccine
OPEC
What is efficacy rate in vaccine?
What are DFI? Why were they closed?
What is compulsory licensing?
Daily Facts
Bharat Biotech has earlier developed vaccines for H1N1, Rotavirus, Japanese Encephalitis, Rabies, Chikungunya, Zika and the world's first tetanus-toxoid conjugated vaccine for Typhoid.
Investments vs Subsidy debate: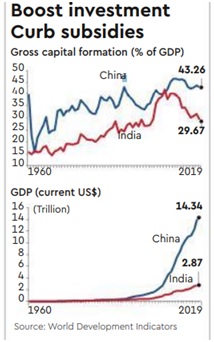 Daily Mains Mantra
NEWSPAPER
GS 1: Society
Discuss the structural causes for pervasive violence targeted against certain groups in rural society in India. Also, suggest measures. [Reference: Indian Express]
GS 2: Polity
GS 2: Governance
What matters is not the quantity of governments but the quality. In this context discuss Good Governance and its impact through examples during Covid-19 pandemic and areas to improve for India in this regard. [Reference: Indian Express]
GS 3: Economy
Approach:
Explain what DFI are in the introduction with emphasis on how they are different from banks.
Then in the body explain their contribution in building the infrastructure.
Then explain why they became unviable using two Narasimham Committee on Financial Sector Reforms in the 1990s. The committee noted that the DFIs may not be viable, since these institutions were raising funds at the current market rates and lending to businesses with long gestation and often high risk of failure with high credit cost.
The last part of the answer examines why the needs to resurrect them in backdrop of banks failing to meet the demand of infrastructure finance and huge NPAs pilling.
GS 3: Science
GS 3: Security
Daily Ethics