Daily Prelims Notes 1 June 2022
June 1, 2022

Posted by:

admin1

Category:

DPN

Daily Prelims Notes
1 June 2022
Table Of Contents
It is a bilateral commission of officials from India and Pakistan, created to implement and manage goals of the Indus Waters Treaty, 1960.
The Commission, according to the treaty, shall meet regularly at least once a year, alternately in India and Pakistan.
The functions of the Commission include:

To study and report to the two Governments on any problem relating to the development of the waters of the rivers.
To solve disputes arising over water sharing.
To arrange technical visits to projects' sites and critical river head works.
To undertake, once in every five years, a general tour of inspection of the Rivers for ascertaining the facts.
To take necessary steps for the implementation of the provisions of the treaty.
Permanent Indus Commission Meeting
Recently, the 118th meeting of the Permanent Indus Commission (PIC) comprising Indus Commissioners of India and Pakistan took place.
The last edition of talks was held in Islamabad on March 1-3, 2022, in which Pakistan had assured India of "all necessary actions" to ensure the free flow of Fazilka drain into the Sutlej river.

Fazilka drain is one of 22 drains and water bodies, where untreated water of Malwa district (Punjab, India) is discharged.
The drain is closed at the borderline of countries, leading to stagnation in the shape of ponds and deterioration of quality of groundwater in the border area.

Pakistan highlighted its objections on India's hydroelectric projects on the Western rivers.
Response to Pakistan's objections on Indian projects, including PakalDul, Kiru and Lower Kalnai, was also sought.

The PakalDul Hydro Electric Project (1000 MW) is proposed on riverMarusudar, a tributary of Chenab river in the Union Territory of Jammu & Kashmir.
Kiru Hydro Electric Project (624 MW) is proposed on River Chenab, located in Kishtwar district of Jammu & Kashmir.
Lower Kalnai project is a hydroelectric power project in the Doda and Kishtwar districts of Jammu and Kashmir.

The Indian side was also urged to communicate advance flood-flow information as per the provisions of the treaty and the practice was in vogue from 1989 until 2018.
According to the provisions of the Indus Waters Treaty, around 33-million-acre feet (MAF) water of the eastern rivers — Sutlej, Beas, and Ravi — is allocated to India for unrestricted use annually, and about 135 MAF of western rivers (Indus, Jhelum, and Chenab) largely to Pakistan.
Under the treaty, India has been given the right to generate hydroelectricity through a run of the river projects on the western rivers subject to specific criteria for design and operation. It also gives the right to Pakistan to raise concerns on the design of Indian hydroelectric projects on the western rivers.
Important provisions in the Treaty
The treaty also allows Pakistan to raise objections over such projects being built by India, if it does not find them to be compliant with the specifications.
India has to share information on the project design or alterations made to it with Pakistan, which is required to respond with objections, if any, within three months of receipt.
Besides, India is allowed to have a minimum storage level on the western rivers – meaning it can store up to 3.75 MAF of water for conservation and flood storage purposes.
The IWT also provides a three step dispute resolution mechanism, under which "questions" on both sides can be resolved at the Permanent Commission, or can also be taken up at the inter-government level.
In case of unresolved questions or "differences" between the countries on water-sharing, such as technical differences, either side can approach the World Bank to appoint a Neutral Expert (NE) to come to a decision.
And eventually, if either party is not satisfied with the NE's decision or in case of "disputes" in the interpretation and extent of the treaty, matters can be referred to a Court of Arbitration.
2. WTO Moratorium on Customs Duties on Electronic Transmissions
Why in the news?
India is set to firmly oppose any further extension of a moratorium on the imposition of customs duties on electronic transmission at WTO's 12th ministerial conference (MC12).
Opposed by Whom?
Recently, a small number of countries—such as India, Indonesia and South Africa—have indicated a desire to end the moratorium and to begin unilaterally imposing tariffs on cross-border data flows.
Why?
Favours developed countries- Though lacking standard definition, electronic transmission generally refers to a "digital good". As digital trade at present is dominated by big tech and developed countries, duty exemption benefits developed countries more.
Loss of revenue for developing countries-as being the net importer of digital goods. In one of the joint statements by India and SA, it was argued that the percentage of customs revenue lost for developing nations is 4.35% while that of the developed countries is a mere 0.24%.
Increasing technology-Especially 3D printing and others have a potential of increasing trade in digital goods.
Concept:
Electronic Transmission:
The WTO Work Programme on Electronic Commerce defines "electronic commerce" as the "production, distribution, marketing, sale or delivery of goods and services by electronic means." While the term is not defined uniformly, it is commonly held to encompass anything from software, emails, and text messages to digital music, movies and videogames.
It is any form of communication that does not directly involve the physical transmission of paper that creates a record that may be retained, retrieved and reviewed by a recipient thereof and that may be directly reproduced in paper form by such a recipient through an automated process.
WTO Moratorium on Customs Duties on Electronic Transmissions:
The WTO e-commerce moratorium, which bans countries from imposing customs duties on electronic transmissions, dates back to 1998 when ministers at the Second Ministerial Conference adopted the Declaration on Global Electronic Commerce, calling for the establishment of a work programme on e-commerce, which was adopted later that year. Since then, at every Ministerial Conference, WTO members have agreed "to maintain the current practice of not imposing customs duties on electronic transmissions." Every two years governments agree to extend the moratorium at the biennial WTO Ministerial Conference.
Due to an aberration in the WTO Ministerial Conference scheduling, the moratorium is due to lapse on 31 December 2019—unless a decision is taken at a WTO General Council meeting in December to extend the moratorium until the 12th WTO Ministerial Conference in Nur-Sultan, Kazakhstan in June 2020.
Impact?
The moratorium has enabled exponential growth in use of the Internet and the flourishing of the digital economy. 
If Lapses?
There is a significant risk that the moratorium will not be renewed this December, leaving governments free to experiment with applying damaging tariffs to cross-border data flows. 
However a number of recent papers have shown that the unilateral imposition of customs duties on electronic transmissions will:
 have distortive effects on growth of the digital economy
 be cost-prohibitive and technologically unfeasible
 likely fall foul of several existing free trade agreements under the most favoured nation  principle
3. SDR and Relative importance of currencies
Why in the news?
Recently, the IMF has announced an updated basket with new currency weights that will come into effect on August 1.
Details:
Based on data for the five-year period 2017- 21, the updated basket assigns higher weights for the US dollar and the Chinese RMB, while that for the pound, the euro, and the yen have been reduced.
The IMF acknowledges that in the future, there may be some disruptive impact on the relative roles of currencies due to developments in fintech, inflation, potential economic and financial fragmentation, sanctions, and others. But, so far, their impact on the SDR composition has been minimal.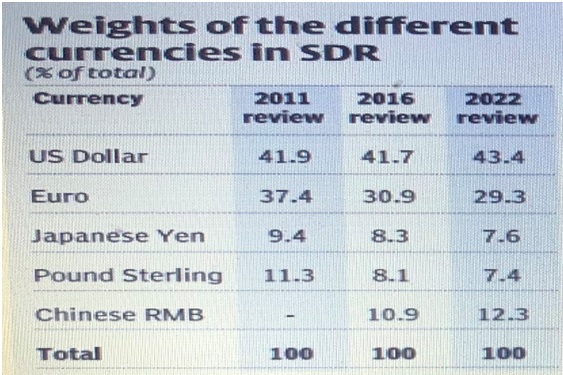 Indicates?
The RMB is now the third most important currency in the IMF's SDR basket — next to the US dollar and the euro.
As the weights of currencies included in the basket should reflect their relative importance in the world's trading and financial system, this is another testimony to China's increasing importance in the global economy.
While the RMB is becoming increasingly important in international trade in goods and services, the dollar continues to be the overwhelming favourite for global financial transactions.
The weights of different currencies in the SDR basket are determined by a formula involving four factors for a currency: These are along their weights:
Volume of exports in that currency (50%)
Three financial indicators weightage of 1/6 each.
Forex reserve holdings denominated in that currency;
Foreign exchange turnover of that currency; and
Sum of international banking liabilities and debt securities denominated in that currency.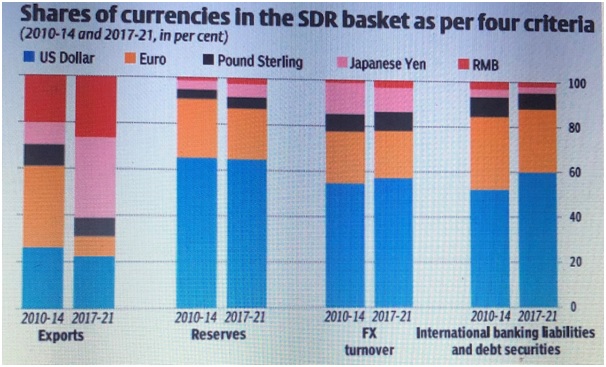 Figure- growth of Chinese RMB in various indicators
For the period 2017-21, rapid export expansion by China led to exports in RMB reaching a share of 22.3 per cent in global exports, which is just below dollar  and euro denominated exports.
But for the financial indicators, China appears to be a much smaller player in the international economy. 

Only 2.2 per cent of global forex reserves were maintained in RMB for 2017-21 compared to 64.8 for the dollar.
Forex transactions and international banking liabilities and debt securities, the shares of RMB-denominated transactions are significantly smaller than the comparable numbers for the dollar
Concept:
The SDR is an international reserve asset, created by the IMF in 1969 to supplement its member countries' official reserves.
The SDR was initially defined as equivalent to 0.888671 grams of fine gold—which, at the time, was also equivalent to one U.S. dollar. After the collapse of the Bretton Woods system, the SDR was redefined as a basket of currencies.
The value of the SDR is based on a basket of five currencies—the U.S. dollar, the euro, the Chinese renminbi, the Japanese yen, and the British pound sterling.
The yuan's entry into the SDR signaled it became one of the five global reserve currencies in 2016, after years of effort by Chinese authorities to promote its global use.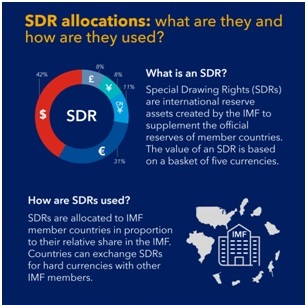 Currencies included in the SDR basket have to meet two criteria: the export criterion and the freely usable criterion. 

A currency meets the export criterion if its issuer is an IMF member or a monetary union that includes IMF members, and is also one of the top five world exporters.
For a currency to be determined "freely usable" by the IMF, it has to be widely used to make payments for international transactions and widely traded in the principal exchange markets. Freely usable currencies can be used in Fund financial transactions.

The SDR serves as the unit of account of the IMF and other international organizations.
The SDR is neither a currency nor a claim on the IMF. Rather, it is a potential claim on the freely usable currencies of IMF members. SDRs can be exchanged for these currencies.
The SDR basket is reviewed every five years, or earlier if warranted, to ensure that the basket reflects the relative importance of currencies in the world's trading and financial systems.
The actual weights of currencies in the basket fluctuate as cross-exchange rates among the basket currencies move. The value of the SDR is determined daily based on market exchange rates.
SDR allocation:
The Articles of Agreement, determine that under certain conditions the IMF may allocate SDRs to members participating in the SDR Department.
A general allocation of SDRs must be consistent with the objective of meeting the long-term global need to supplement existing reserve assets.  The allocation is distributed to member countries in proportion to their quota shares at the Fund.
A special one-time allocation in 2009 enabled countries that joined the IMF after 1981 (i.e., after previous allocations) to participate in the SDR system on an equitable basis.
Participating members and prescribed holders can buy and sell SDRs in the voluntary market. If required, the IMF can also designate members to buy SDRs from other participants
The India Meteorological Department (IMD) updated the forecast for 2022 southwest monsoon to 103 per cent of the Long Period Average (LPA), from 99 per cent of LPA predicted in April as La Niña conditions are expected to prevail during the entire stretch of the four-month monsoon season.
La Niña is considered positive for Indian monsoon.
Monsoon in core rain-fed areas that are home to bulk of Kharif pulses and oilseeds, is likely to be 106% of LPA.
The LPA for the seasonal rainfall for the country as whole from 1971 to 2010 is 87 centimeter (cm).
Monsoon seasonal rainfall is likely to be well distributed spatially, with most parts of the country expected to receive 'normal' to 'above normal' rainfall, except some parts of East-Central, East, and Northeast India and extreme Southwest Peninsular India, where it is likely to be 'below normal'.
The impact of a negative Indian Ocean Dipole on monsoon as predicted in the second-stage forecast, might act as a barrier which explains an overall forecast of rains being 'above normal'.
This could have a positive impact on the retail inflation rate that has galloped to a 95-month high in April at 7.8 percent, and spur economic growth.
5. A tool to spot killer Asteroids
Researchers have built an algorithm called Tracklet-less Heliocentric Orbit Recovery, or THOR that can scan old astronomical images for unnoticed space rocks, helping to detect objects that could one day imperil Earth.
B612 Foundation, a nonprofit group, announced the discovery of more than 100 asteroids.
What is remarkable is that B612 did not build a new telescope or even make new observations with existing telescopes.
Instead, researchers financed by B612 applied cutting-edge computational might to years-old images — 412,000 of them in the digital archives at the National Optical-Infrared Astronomy Research Laboratory, or NOIRLab — to sift asteroids out of the 68 billion dots of cosmic light captured in the images.
Today, of the estimated 25,000 near-Earth asteroids at least 460 feet in diameter, only about 40 percent of them have been found.
The other 60 percent — about 15,000 space rocks, each with the potential of unleashing the energy equivalent to hundreds of million of tons of TNT in a collision with Earth — remain undetected.
Process to identify Asteroids
Typically, asteroids are discovered when the same part of the sky is photographed multiple times during the course of one night.
As objects that are much closer, within the solar system, move quickly, and their positions shift over the course of the night.
Astronomers call a series of observations of a single moving object during a single night a "tracklet."
A tracklet provides an indication of the object's motion, pointing astronomers to where they might look for it on another night.
The algorithm is currently configured to only find main belt asteroids, those with orbits between Mars and Jupiter, and not near-Earth asteroids, the ones that could collide with our planet.
Identifying near-Earth asteroids is more difficult because they move faster.
Different observations of the same asteroid can be separated farther in time and distance, and the algorithm needs to perform more number crunching to make the connections.
THOR not only has the ability to discover new asteroids in old data, but it could also transform future observations as well.
6. Rajya Sabha elections set to be a thriller
Concept:
A third of Members of Parliament in the Rajya Sabha (which is a permanent House and is not subject to dissolution), from each State retire once in two years and polls are held to fill up the vacancies.
Only elected members of the State Legislative Assemblies can vote in a Rajya Sabha election.
In addition, vacancies that arise due to resignation, death or disqualification are filled up through bypolls after which those elected serve out the remainder of their predecessors' term.
Voting is by single transferable vote, as the election is held on the principle of proportional representation.
The Rajya Sabha polls have a system of open ballot, but it is a limited form of openness.
As a measure to check rampant crossvoting, which was taken to mean that the vote had been purchased by corrupt means, the system of each party MLA showing his or her marked ballots to the party's authorised agent, before they are put into the ballot box, has been introduced.
Showing a marked ballot to anyone other than one's own party's authorised agent will render the vote invalid. Not showing the ballot to the authorised agent will also mean that the vote cannot be counted.
And independent candidates are barred from showing their ballots to anyone.
The Supreme Court, while declining to interfere with the open ballot system, ruled that not voting for the party candidate will not attract disqualification under the anti-defection law.
In 2018, the Supreme Court of India struck down the provision, holding that the 'none of the above' option is only for general elections held on the basis of universal adult suffrage, and cannot be applied to indirect elections based on proportional representation.
7. China unveils stimulus policies to support virus-hit economy
Context: China's Cabinet unveiled a package of 33 measures covering fiscal, financial, investment and industrial policies on Tuesday to revive a pandemic-ravaged economy, saying it will inspect how provincial governments implement them.
Concept:
What is stimulus?
Economic stimulus is action by the government to encourage private sector economic activity by engaging in targeted, expansionary monetary or fiscal policy based on the ideas of Keynesian economics.
Economic stimulus is commonly employed during times of recession.
Policy tools often used to implement economic stimulus include lowering interest rates, increasing government spending, and quantitative easing, to name a few.
Context:
India's push for electric vehicles (EVs) was renewed when phase-II of the Faster Adoption and Manufacturing of (Hybrid and) Electric (FAME) Vehicles scheme in India, with an outlay of ₹10,000 crore, was approved in 2019.
Content:
FAME India is a part of the National Electric Mobility Mission Plan. Main thrust of FAME is to encourage electric vehicles by providing subsidies.
The FAME India Scheme is aimed at incentivising all vehicle segments.
Two phases of the scheme:
Phase I: started in 2015 and was completed on 31st March, 2019
Phase II: started from April, 2019, will be completed by 31st March, 2022
The scheme covers Hybrid & Electric technologies like Mild Hybrid, Strong Hybrid, Plug in Hybrid & Battery Electric Vehicles.
Monitoring Authority: Department of Heavy Industries, the Ministry of Heavy Industries and Public Enterprises.
Fame India Scheme has four focus Areas:
Technology development
Demand Creation
Pilot Projects
Charging Infrastructure
Objectives of FAME Scheme:
Encourage faster adoption of electric and hybrid vehicles by way of offering upfront Incentive on purchase of Electric vehicles.
Establish a necessary charging Infrastructure for electric vehicles.
To address the issue of environmental pollution and fuel security.
Salient Features of Phase II:
Emphasis on electrification of the public transportation that includes shared transport.
This phase aims to support, through subsidies, approximately 7000 e-Buses, 5 lakh e-3 Wheelers, 55000 e-4 Wheeler Passenger Cars and 10 lakh e-2 Wheelers.
In 3-Wheel (W) and 4-Wheel (W) segment incentives will be applicable mainly to vehicles used for public transport or registered for commercial purposes.
In the 2-Wheel (W) segment, the focus will be on the private vehicles.
To encourage advanced technologies, the benefits of incentives will be extended to only those vehicles which are fitted with advanced batteries like a Lithium Ion battery and other new technology batteries.
The scheme proposes for establishment of charging infrastructure, whereby about 2700 charging stations will be established in metros, other million plus cities, smart cities and cities of Hilly states across the country so that there will be availability of at least one charging station in a grid of 3 km x 3 km.
Establishment of Charging stations are also proposed on major highways connecting major city clusters.
On such highways, charging stations will be established on both sides of the road at an interval of about 25 km each.
9. India's economy grew at 8.7 per cent in 2021-22
Context:
India's economy grew at 8.7 percent in 2021-22 against the 6.6per cent contraction in 2020-21.At 4.1 per cent, the growth in the
January-March (Q4) of FY22 was the lowest among four quarters but higher on a yearly basis. According to NSO data, India's real GDP expanded to ₹147.36-lakh crore from ₹135.58-lakhcrore in 2020-21.The government said real GDP
(Gross Domestic Product) has recovered to cross the pre-pandemic level
Highlights:
The estimate rules out the risk of stagflation.
Stagflation:
It is a seemingly contradictory condition described by slow economic growth and relatively high unemployment, or economic stagnation, which is at the same time accompanied by rising prices (i.e. inflation).
Stagflation can also be alternatively defined as a period of inflation combined with a decline in gross domestic product (GDP).
Typically, inflation rises when the economy is growing fast. That's because people are earning more and more money and are capable of paying higher prices for the same quantity of goods.
When the economy stalls, inflation tends to dip as well – again because there is less money now chasing the same quantity of goods.
When does stagflation occur?
Stagflation is said to happen when an economy faces stagnant growth as well as persistently high inflation.
That's because with stalled economic growth, unemployment tends to rise and existing incomes do not rise fast enough and yet, people have to contend with rising inflation.
So people find themselves pressurized from both sides as their purchasing power is reduced.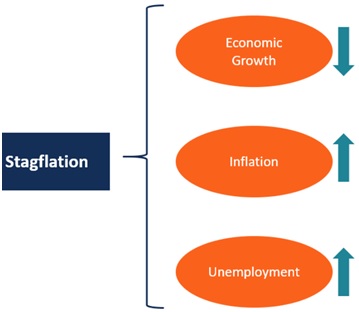 Listed global factors that can impact growth
high prices of commodities
significant import
dependency such as crude and vegetable oils, fertilisers, and metals
the tightening monetary
policy across major economies
supply chain bottlenecks
delays and shortages of key inputs
potential recessionary trends in some countries
Gross domestic product (GDP) is the single standard indicator used across the globe to indicate the health of a nation's economy: one single number that represents the monetary value of all the finished goods and services produced within a country's borders in a specific period.
India's GDP is calculated with two different methods, one based on economic activity (at factor cost), and the second on expenditure (at market prices).

The factor cost method assesses the performance of eight different industries.
The expenditure-based method indicates how different areas of the economy are performing, such as trade, investments, and personal consumption.

Further calculations are made to arrive at nominal GDP (using the current market price) and real GDP (inflation-adjusted). Among the four released numbers, the GDP at factor cost is the most commonly followed figure and reported in the media.
The Central Statistics Office under the Ministry of Statistics and Program Implementation is responsible for macroeconomic data gathering and statistical record keeping.

Its processes involve conducting an annual survey of industries and compilation of various indexes such as the Industrial Production Index (IPI) and the Consumer Price Index (CPI).
The Central Statistics Office coordinates with various federal and state government agencies and departments to collect and compile the data required to calculate the GDP and other statistics.
Similarly, production-related data used for calculating IPI is sourced from the Industrial Statistics Unit of the Department of Industrial Policy and Promotion under the Ministry of Commerce and Industry.
All the required data points are collected and aggregated at the Central Statistics Office and used to arrive at GDP numbers.
The Factor Cost Figure
The factor cost figure is calculated by collecting data for the net change in value for each sector during a particular time period.
The following eight industry sectors are considered in this cost:

Agriculture, forestry, and fishing
Mining and quarrying
Manufacturing
Electricity, gas, water supply, and other utility services
Construction
Trade, hotels, transport, communication, and broadcasting
Financial, real estate, and professional services
Public administration, defense, and other services.
The Expenditure Figure
The expenditure (at market prices) method involves summing the domestic expenditure on final goods and services across various streams during a particular time period.
It includes consideration of expenses towards household consumption, net investments (i.e., capital formation), government costs, and net trade (exports minus imports).
The GDP numbers from the two methods may not match precisely, but they are close. The expenditure approach offers good insight into which parts contribute most to the Indian economy.
Real GDP = Nominal GDP — Inflation Rate

However, from the perspective of the common people, real GDP is what matters. The difference between the real and nominal GDP shows the levels of inflation in the year.
NSO
The National Sample Survey Office (NSSO) merged with the Central Statistical Office (CSO) to form the National Statistical Office (NSO). On 23rd May 2019, the Government of India has approved the merger of NSSO and CSO.
The National Sample Survey Office (NSSO), formerly called the National Sample Survey Organisation was the largest organization in India conducting periodic socio-economic surveys.
Earlier known as the Central Statistics Organisation of India, CSO is responsible for the coordination of statistical activities in India, and evolving and maintaining statistical standards.
NSO is headed by the Ministry of Statistics and Programme Implementation (MOSPI).