Daily Prelims Notes 10 August 2021
August 10, 2021

Posted by:

admin1

Category:

DPN

Daily Prelims Notes
10 August 2021
Table Of Contents
1. IPCC's SIXTH ASSESSMENT REPORT
Subject: Environment
About the Report:
The IPCC's Sixth Assessment Report is titled, "Climate Change 2021:The Physical Science Basis".
This has been published after the 5th report of 2014.
According to the authors of AR6 report, warming of Indian Ocean will result in a rise in sea levels causing more frequent and severe coastal flooding across low-level areas.
It will also result in intense and frequent heat waves and humid heat stress in the 21st century in South Asia.
The planet was irrevocably headed towards warming by 1.5 degrees Celsius over pre-industrial times in the next two decades. Report highlights, even if the temperature is limited to 1.5 degree Celsius from pre-industrial levels, extreme weather events will be witnessed.
Heatwaves, heavy rainfall events, and melting of glaciers is going to happen frequently, impacting countries like India.
Report warned developed countries to undertake immediate, deep emission cuts and decarbonisation.
The report recommended that countries strive to achieve net zero emissions — no additional greenhouse gases are emitted — by 2050.
Human influence is the main driver of hot weather extremes (which have become more frequent and intense since the 1950s).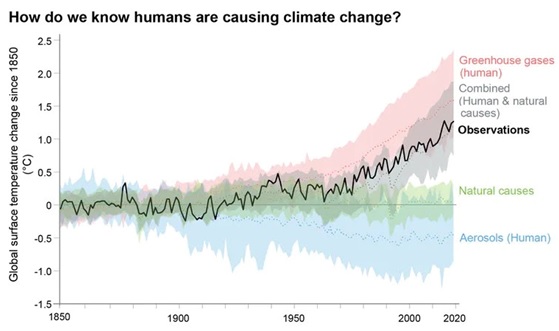 Other key takeaways of the report:
Carbon dioxide (CO2) concentrations are the highest in at least two million years. Humans have emitted 2,400 billion tonnes of CO2 since the late 1800s. In fact, emissions have grown far more rapidly than expected in 1988, when the IPCC was established.
The last decade was hotter than any period of time in the past 125,000 years. Global surface temperature was 1.09°C higher in the decade between 2011-2020 than between 1850-1900
Sea-level rise has tripled compared with 1901-1971.
The Arctic Sea ice is the lowest it has been in 1,000 years.
Every additional 0.5 degree of warming will increase hot extremes, extreme precipitation and drought. Additional warming will also weaken the Earth's carbon sinks present in plants, soils, and the ocean.
 Indian Scenario as per IPCC AR6
India is the third largest emitter of carbon in the world.
India will witness increased heat waves and flooding, which will be the irreversible effects of climate change.
The current overall global warming trends are likely to lead to an increase in annual mean precipitation over India, with more severe rain expected over southern India in the coming decades.
Changes in monsoon precipitation are also expected, with both annual and summer monsoon precipitation projected to increase. The presence of aerosols and particulate matter due to human activity have influenced rainfall events in the Indian subcontinent.
In the Indian Ocean, the sea temperature is heating at a higher rate than other areas, and therefore may influence other regions.
Coastal areas will see continued sea-level rise throughout the 21st century, resulting in coastal erosion and more frequent and severe flooding in low-lying areas.
For India, it would increase pressure to agree to a net-zero target, a deadline by which it should be able to bring down its emissions to a level that equals the absorptions made by its carbon sinks, like forests.
IPCC on Volcanic Eruptions:
Before the end of the century, there will be at least one large volcanic eruption, the scientists predicted based on their study of ancient climates and historical evidence.
Such an eruption will reduce global surface temperature for several years, decrease land precipitation, alter monsoon circulation and modify extreme precipitation, at both global and regional scales.
Large volcanic eruptions shoot aerosols (small particles) into the upper atmosphere. These reflect sunlight and induce a long-term cooling effect on the surface.
Volcanoes are one of the two natural drivers that influence the Earth's climate in the long-term. The other is the variation in solar irradiance.
The albedo effect (increased reflection of sunlight) produced by the aerosols have shown to partially offset the warming in an atmosphere dense with greenhouse gases, according to some models.
 IPCC on Pollution:
Intergovernmental Panel on Climate Change (IPCC)'s latest report certified that Air pollutants continue their meteoric rise across India and other parts of south Asia.
The concentrations of lethal air pollutants such as sulphur dioxide (SO2), nitrogen dioxide (NO2), ammonia (NH3), ozone (O3) and Particulate Matter 2.5 are at their highest in south Asia, when compared to other parts of the world.
Short Lived Climate Forcers (SLCF):  SLFCs are different from greenhouse gases like carbon dioxide, the effect of which on the climate endures till centuries. But the effects of these compounds are short-term. SLCPs include black carbon, methane, tropospheric ozone, and hydrofluorocarbons (HFCs) and are commonly associated with refrigeration, diesel-fueled vehicles, and solid-fuel cooking fires.
They have a warming or cooling effect on the climate.
The report by the IPCC noted that a major geographical shift had taken place in SLCFs from the 1950s to the 1980s. During this period, North America and Europe had dominated SLFC emissions. However, starting from the 1990s, Asia became the leading emitter due to strong economic growth in many of its countries.
The major sources of PM2.5 in India were biomass and coal fuel-based cooking and heating, with secondary contributions from energy and industry.
The only SLCF that India showed a decrease in was black carbon.
IPCC climate report: Profound changes are underway in Earth's oceans and ice
One example of a system that might undergo abrupt changes is the large-scale pattern of ocean circulation known as the Atlantic Meridional Overturning Circulation, or AMOC, of which the Gulf Stream is part.
Paleoclimate evidence tells us that AMOC has changed rapidly in the past, and we expect that AMOC will weaken over this century.
If AMOC were to collapse, it would make Europe warm more slowly, increase sea level rise along the US Atlantic coast, and shift storm tracks and monsoons. However, most evidence indicates that such a collapse will not happen in this century.
IPCC on 1.5 Degree Warming:
This is the first time that the IPCC has said that the 1.5 degree warming was inevitable even in the best case scenario.
Even if emissions are brought to net-zero by 2050, there will be an 'overshoot' of the 1.5°C limit by 0.1°C
The average surface temperature of the Earth will cross 1.5 degrees Celsius in the next 20 years, and 2°C by the middle of the century without sharp reduction of emissions, warned the latest report by IPCC
The threshold of2°C will be "exceeded during the 21st century.
The IPCC said that a global net-zero by 2050 was the minimum required to keep the temperature rise to 1.5 degree Celsius. Without India, this would not be possible. Even China, the world's biggest emitter, has a net-zero goal for 2060.
Previous Assessment Reports:
The five previous assessment reports that have come out since the IPCC was established in 1988 have formed the basis of international climate change negotiations   and the actions that governments across the world have been taking in the last three decades to restrict the rise of global temperatures.
The First Assessment Report led to the setting up of the UN Framework Convention on Climate Change (UNFCCC).
The Second Assessment Report was the basis for the 1997 Kyoto Protocol.
The second and third parts of the report, dealing with the expected impacts of climate change, and the actions required to prevent the worst impacts, are slated to come out next year.
The fourth assessment report, which came out in 2007, won the IPCC the Nobel Peace Prize.
 The Fifth Assessment Report, which came out in 2014, guided the Paris Agreement.
In the immediate future, the IPCC report could serve as the most important warning towards the rapidly closing window of opportunity to halt the rise in temperatures to unacceptable levels, and propel the governments to take more urgent actions.
About Intergovernmental Panel on Climate Change (IPCC):
The Intergovernmental Panel on Climate Change (IPCC) is the international body for assessing the science related to climate change.
It was set up in 1988 by the World Meteorological Organization (WMO) and United Nations Environment Programme (UNEP) to provide policymakers with regular assessments of the scientific basis of climate change, its impacts and future risks, and options for adaptation and mitigation.
The IPCC does not conduct its own research.
IPCC reports are neutral, policy-relevant but not policy-prescriptive.
2. Neera & coconut sap chiller
Subject: Geography
Context: An invention by the Kasaragod-based Central Plantation Crops Research Institute (CPCRI) is helping farmers to get quality sap. 'Coconut sap chiller', CPCRI's invention of collecting neera from coconut spadix under cool condition using ice box, has been granted a patent by Intellectual Property of India.
Concept:
One of the major uses of palm trees is the tapping of sap from it to be sold as a beverage. In the traditional method, the sap from coconut trees – known as neera – is collected in open earthen pots, leading to its contamination and its fermentation
Neera, also called palm nectar, is a sap extracted from the inflorescence of various species of toddy palms and used as a drink. Neera extraction is generally performed before sunrise. It is sweet, translucent in colour.
It is susceptible to natural fermentation at ambient temperature within a few hours of extraction. Once fermented, neera becomes toddy.
Neera is widely consumed in India, Sri Lanka, Africa, Malaysia, Indonesia, Thailand, and Myanmar. Neera is not the juice made from palm fruit.  it is also called as palm wine in india.
Neera requires neither mechanical crushing, as in the case of sugarcane, nor leaching, like beet-root; it is obtained by slicing the spathes of the coconut, sago, and Palmyra (Borassusflabellifer L.) palm, and scraping the tendermost part, just below the crown.
Neera is rich in carbohydrates, highly alcoholic mostly sucrose, and has a nearly neutral pH. The chemical percentage composition of neera varies, depending on such factors as place, type of palm, mode and season of collection.
In Maharashtra and Gujarat, neera is made available through various outlets known as "Neera Vikri Kendra" (Neera sale centre).
In the above two states the neera is extracted from date palm and pulmyrah trees. In the state like Karnataka where there are abundant Coconut trees the Neera is being taped from coconut trees .
The Khadi and Village Industries Commission (KVIC) promotes neera as a health drink.
The Central Food Technological Research Institute developed a technology to preserve neera for two months, and the government plans to promote neera as an energy drink with medicinal value, packaged in sachets and bottles.
In Tamil Nadu, neera which is called as "Padaneer" in Tamil, is traditionally extracted and sold which is also called as kallu.
Neera syrup is used as a drink in Ayurveda.
3. Rising cost in tea industry
Subject: Geography
Context :  A majority of the bulk tea producing companies which operate estates in North India (Assam and West Bengal), are likely to witness a contraction in margins during the current fiscal on the back of an increased cost of production due to wage hike and drop in prices.
Concept:
The tea industry in North India, which registered 12-13 per cent decline in production last year, had its costs rising by ₹35- 40 a kg. However, the average price of tea increased by ₹60- 65 a kg last year
Tea
Tea is a beverage made from the Camellia sinesis plant. It is the world's most consumed drink, after water.
It is believed that tea originated in northeast India, north Myanmar and southwest China, but the exact place where the plant first grew is not known. There is evidence that tea was consumed in China 5,000 years ago.
Economy:
Tea production and processing constitutes a main source of livelihoods and subsistence for millions in developing and least developed countries.
It is a labour-intensive sector, providing jobs, especially in remote and economically disadvantaged areas.
Tea can play a significant role in rural development, poverty reduction and food security in developing countries, being one of the most important cash crops.
Plantation condition:
Tea is a tropical and sub-tropical plant and grows well in moderately hot and humid climates.
The ideal temperature for its growth is 20°-30°C and temperatures above 35°C and below 10°C are harmful for the bush.
It requires 150-300 cm annual rainfall which should be well distributed throughout the year.
The most suitable soil for tea cultivation is slightly acidic soil (without calcium) with porous sub-soil which permits a free percolation of water.
The major tea-producing states in India are: Assam, West Bengal, Tamil Nadu, Kerala, Tripura, Arunachal Pradesh, Himachal Pradesh, Karnataka, Sikkim, Nagaland, Uttarakhand, Manipur, Mizoram, Meghalaya, Bihar, Orissa.
4. UN Security Council adopts first-ever outcome document on maritime security under India's presidency
Subject: International Relations
Context The UNSC adopted a 'Presidential (India's) Statement' which reaffirmed that the United Nations Convention on the Law of the Sea (UNCLOS) establishes the legal framework for maritime activities
Concept:
UNCLOS
The United Nations Convention on the Law of the Sea (UNCLOS) is an international treaty which was adopted and signed in 1982.
It replaced the four Geneva Conventions of April, 1958, which respectively concerned the territorial sea and the contiguous zone, the continental shelf, the high seas, fishing and conservation of living resources on the high seas.
The Convention has created three new institutions on the international scene :
the International Tribunal for the Law of the Sea
the International Seabed Authority
the Commission on the Limits of the Continental Shelf
UNCLOS as the currently prevailing law of the sea is binding completely.
There are 17 parts, 320 articles and nine annexes to UNCLOS
The law of the sea provides for full rights to nations for a 200-mile zone from their shoreline. The sea and oceanic bed extending this area is regarded to be Exclusive Economic Zone (EEZ) and any country can use these waters for their economic utilization.
The U.S. has not accepted UNCLOS because of opposition from Republicans in the Senate, where treaties must be approved by a two-thirds' vote.
5. National Edible Oil Mission – Oil Palm (NMEO-OP)
Subject: Geography
Context:  Terming the government's decision to launch a ₹11,000 crore National Edible Oil Mission – Oil Palm (NMEO-OP) as a long-delayed one, the representatives from the edible oil sector have urged the Centre to speed up the process of its implementation to bring down India's dependence on imported edible oils.
Concept:
Current situation
India's import bill of edible oils will top ₹1.20-lakh crore this year from ₹75,000 crore last year. According to SEA, the country has 3 lakh hectares of land under oil palm cultivation, producing around 2.80 lakh tonnes of crude palm oil (CPO) a year.
There is a potential to bring 1.9 million hectares of land. It had urged the government to target additional 5 lakh hectares in the next five years
India currently depends on imports for nearly two thirds of edible oil used in the country. "Palm oil accounts for nearly 55 per cent of edible oil imported by India
National Edible Oil Mission – Oil Palm (NMEO-OP)
This is a giant step for oil palm development in the country and towards 'Atmanirbhar Bharat' in edible oil
Prime Minister Narendra Modi on Monday launched a ₹11,000 crore National Edible Oil Mission-Oil Palm (NMEO-OP) to make India self-reliant in edible oils
The NMEO proposal would aim to reduce import dependence from 60% to 45% by 2024-25, by increasing domestic edible oil production from 10.5 million tonnes to 18 million tonnes, a 70% growth target.
It projected a 55% growth in oilseed production, to 47.8 million tonnes
The government will ensure that farmers get all needed facilities, from quality seeds to technology. Along with promoting the cultivation of oil palm, this mission will also expand the cultivation of our other traditional oilseed crops
The NMEO-OP's predecessor was the National Mission on Oil Seeds and Oil Palm, which was launched at the end of the UPA government's tenure and later merged with the National Food Security Mission.
Laying out its achievements, oilseed production had grown 35% from 27.5 million tonnes in 2014-15 to 37.3 million tonnes by 2020-21. Although oilseed acreage rose only 8.6% over that six year period, yields rose more than 20%
Oil Seed
India is one of the major oilseeds grower and importer of edible oils. India's vegetable oil economy is world's fourth largest after USA, China & Brazil. The oilseed accounts for 13% of the Gross Cropped Area, 3% of the Gross National Product and 10% value of all agricultural commodities.
The diverse agro-ecological conditions in the country are favourable for growing 9 annual oilseed crops, which include 7 edible oilseeds (groundnut, rapeseed & mustard, soybean, sunflower, sesame, safflower and niger) and two non-edible oilseeds (castor and linseed).
Oilseeds cultivation is undertaken across the country in about 27 million hectares mainly on marginal lands, of which 72% is confined to rainfed farming.
Main oil-seeds produced in India are groundnut, mustard, coconut, sesamum (til), Soyabean, castor seeds, cotton seeds, linseed and sunflower.
Groundnut is a kharif crop and accounts for about half of the major oilseeds produced in the country.
Major states Gujrat, Madhya Pradesh, Rajasthan, Gujrat, Maharastra, UP
The policy impetus to oilseed production in India came for the first time in 1986 when the government launched Technology Mission on Oilseed. This was a golden period for oilseed production in India when productivity jumped from 670 kg per hectare in the eighties to 835 kg per hectare in the nineties.
To achieve self-sufficiency in edible oils production the government has launched several policy initiatives since the mid-1980s. They mainly include supply of high yielding oilseed cultivars, extension services and subsidised inputs; offering of minimum support prices (MSP); fixation of price band; import controls via canalisation; and promotion of oil palm cultivation.
The outcome of these initiatives, known as "Yellow Revolution", were highly encouraging. Between 1985 and 1994 the growth rate of area, production and yield of oilseeds increased significantly. As a result, the proportion of imported edible oils in total edible oil availability declined from 26.72 per cent in 1985 to 2.17 per cent in 1993, thereby making India almost self-sufficient in edible oil production
Oilseed crops are the second most important determinant of the agricultural economy, next only to cereals within the segment of field crops.