Daily Prelims Notes 11 May 2022
May 11, 2022

Posted by:

OptimizeIAS Team

Category:

DPN

Daily Prelims Notes
11 May 2022
Table Of Contents
Subject: Economy
Section: Inflation
Context:
Even though the RBI's mandate is with respect to CPI inflation, policymakers cannot ignore the behaviour of other price indices.
Details:
The Wholesale Price Index (WPI) inflation had remained in double digits since April 2021.
The GDP implicit price deflator-based inflation rate for 2021-22 is 9.6%.
Cause:
Cost push-Policy initiatives during COVID lockdowns based on keynesian multiplier–

Expansionary fiscal policy increased public expenditure of production could not rise due lockdown induced supply chain disruption.
As V.K.R.V. Rao earlier pointed out in the 1950s,that the Keynesian multiplier did not work when there were supply constraints as in developing countries.
Due to supply restriction output could not rise in real terms but in nominal terms (rise in monetary value/prices)
Liquidity Overhung-Ineffective accommodative monetary policy which led liquidity overhung-
Uncertainty and lack of investment appetite led to slow growth in credit and at a lower rate of interest. This further led to slower growth in money multiplier and ample liquidity for government borrowing.
Increased borrowing vis a vis low demand for bonds led to the excess liquidity.
Validity of phillips curve- may explain the possible trade off between growth and price
Measures required:
Contract liquidity-Rise in CRR, SLR, HTM Limit, Operation twist etc..
Supply chain diversification-increase alternative food options
Reduce excise on crude oil
Concept:
A Keynesian multiplier is a theory that states the economy will flourish the more the government spends.
Keynes noted that the government spending could add to aggregate demand and that this fiscal stimulus would create a "multiplier effect" through increases in consumer demand. Regardless of the type of government spending, it will lead to cycles of economic prosperity and increased employment, raising gross domestic product (GDP) by a larger amount. So $1 billion in government spending will raise a country's GDP by more than the amount spent.
The Phillips curve is a graphic representation of the inverse relationship between unemployment and inflation. According to the hypothesis, the lower the unemployment rate, the higher the rate of inflation, and vice versa.
As a result, high levels of employment can only be obtained when inflation is low.
The GDP deflator, also called implicit price deflator, is a measure of inflation. It is the ratio of the value of goods and services an economy produces in a particular year at current prices to that of prices that prevailed during the base year.
This ratio helps show the extent to which the increase in gross domestic product has happened on account of higher prices rather than increase in output.
Since the deflator covers the entire range of goods and services produced in the economy — as against the limited commodity baskets for the wholesale or consumer price indices — it is seen as a more comprehensive measure of inflation
GDP GDP price deflator measures the difference between real GDP and nominal GDP. Nominal GDP differs from real GDP as the former doesn't include inflation, while the latter does.As a result, nominal GDP will most often be higher than real GDP in an expanding economy.
GDP price deflator = (nominal GDP ÷ real GDP) x 100
Subject: Economy
Section: Inflation
Context:
The expert committee on minimum wages, headed by statistician and economist SP Mukherjee, has finalized a methodology to calculate the minimum wage based on nutritional requirements and consumption expenditure.
Details:
The total monthly consumption expenditure in households, the total intake of calories, level of total expenditure corresponding to the recommended calorie intake in terms of interpolation of the results of the 68th round of NSSO survey on- 'Household Consumer Expenditure' and 'Employment and Unemployment' which was held in 2011-12 will be taken into account.
Minimum Wages Act in 1948
India introduced the Minimum Wages Act in 1948, giving both the Central government and State government jurisdiction in fixing wages. 
The act is legally non-binding, but statutory.
Payment of wages below the minimum wage rate amounts to forced labour.
Wage boards are set up to review the industry's capacity to pay and fix minimum wages such that they at least cover a family of four requirements of calories, shelter, clothing, education, medical assistance, and entertainment.
Under the law, wage rates in scheduled employment differ across states, sectors, skills, regions and occupations owing to differences in costs of living, regional industries' capacity to pay, consumption patterns, etc. Hence, there is no single uniform minimum wage rate across the country and the structure has become overly complex. 
Fixation of Floor Wage:
The Code on Wages, 2020 mentions the concept of a floor wage, which empowers the central government to fix floor wages taking into account the minimum living standards of workers.
The floor wage is a baseline wage below which minimum wages cannot be fixed by state governments.
The Wage Code permits the fixation of different floor level wages for different geographical areas.
Also, the wage rules do not outline the exact criteria and methods for fixation of floor wage rates by the Central Government.
Subject: Economy
Section: External sector
Context:
On Monday, during intra-day trade, the Indian rupee hit an all-time low exchange rate of 77.6 against the US dollar.
Exchange rate:
Meaning?
The Rupees Exchange Rate vis-a-vis particular currency, say the US dollar, tells us how many rupees are required to buy a US dollar.
Changes in exchange rate implies?
If the rupee's exchange rate "falls"-depreciates, it implies that buying American goods would become costlier. At the same time, Indian exporters may benefit because their goods now are cheaper to the American customers.
Determination of the ER:
the exchange rate is decided by the supply and demand for rupees and dollars
Imagine that in the beginning, one rupee was equal to one dollar. After a year, Indians demand more dollars in comparison to Americans demand the rupee. In such a case,the exchange rate will fall or weaken for rupee and rise or strengthen for dollar.
Determination of the ER in India:
India follows a managed float i.e. the exchange rate is not fully determined by the market. From time to time, the RBI intervenes in the foreign exchange (forex) market to ensure that the rupee price does not fluctuate too much or that it doesn't rise or fall too much all at once.
Example:
One, crude oil prices go up sharply, the fallout would be that India would need more dollars to buy crude oil in the international market. That, in turn, would weaken the rupee because India's demand for dollars would have gone up while the world's demand for the rupee stayed the same.
This is where RBI comes in. To soften the rupee's fall, the RBI would sell in the market some of the dollars it has in its forex reserves in return of purchasing rupee. This will soak up a lot of rupees from the market,thus moderating the demand-supply gap between rupee and dollars.
Between April and December, the situation was the opposite. There was a $90 billion surplus on the capital account—meaning net $90 billion came into the country on such transactions—and a $26.6 billion deficit in the current account — meaning net-net $26.6 went out of the country on such trades.
Left unaddressed, the excess $63.5 billion would have led to a rise in the rupee's exchange rate. To moderate, the RBI bought this excess amount of dollars (by paying rupees in the market) and added it to its forex reserves.
Is a falling the exchange rate necessarily a bad thing?
Indeed, the exchange is often taken as a marker of the relative strength of an economy and relative size of forex denotes a country's ability to pay its external debts.
Most Developing Economies tend to run deficits on their trade and current accounts, which could lead to a rise in  India's Exports—unless they import raw materials, which would become costlier.
4. Genetic differences among Elephants
Context: Corridors with high human activities may not ease elephant connectivity, study
More about the study:
In India, where a large extent of elephants lie outside protected areas, elephants occur in the country's north-western, east-central, north-eastern and southern regions with the latter two holding about 80% of the elephant population.
A study suggests that these four populations are genetically different from each other which is expected since they are geographically separated over more than 2000 kilometres.
Genetic differences within populations, could be as a result of limited genetic connectivity caused by rampant development and infrastructure barriers.
Factors such as geographic distance, habitat characteristics such as quality of forest, resource distribution such as best quality and quantity of food, availability of water and mates, and mate choice can limit gene flow
The presence of natural barriers such as rivers or human-made barriers such as highways, concrete walls and electric fences can also result in genetic differentiation among populations
Development that leads to forest loss and fragmentation affects elephant movement across landscapes and hinders genetic connectivity.
Small populations in disconnected habitat patches suffer from loss of genetic diversity which could wipe out the entire populations from these small patches.
Maintenance of corridors

In the wake of splintered habitats, the preservation of critical habitat patches and strips of suitable habitats (corridors) that link them is indispensable for the long-term sustenance of species. Managing corridors at a fine scale while addressing socio-ecological aspects is crucial for animals to move and persist in a landscape. 
Subject: History
Section: Art and Culture
Context: After prayers were held at the ruins of the eighth-century Martand Sun Temple in Jammu and Kashmir's Anantnag last week, the Archaeological Survey of India (ASI) has expressed its concern to the district administration.
More about issue:
Puja was conducted on the temple complex of Martand Sun Temple twice last week first by a group of devotees and then in the presence of J&K Lieutenant-Governor Manoj Sinha.
It was a violation of ASI norms since the temple is considered a non-living monument.
ASI rules that disallow worship at some monuments:
No religious rituals can be conducted at non-living monuments where there has been no continuity of worship when it became an ASI-protected site.
No protected monument shall be used for the purpose of holding any meeting, reception, party, conference or entertainment except under and in accordance with a permission in writing granted by the Central Government
While religious rituals are allowed at some other sites – living ASI monument like the Taj Mahal in Agra, where namaz is held every Friday.
About Archaeological Survey of India
https://optimizeias.com/protection-of-ancient-monuments-archaeological-sites/
AboutMartand Sun Temple
The Martand Sun Temple also known as PandouLaidan is a Hindu temple dedicated to Surya, located five miles from Anantnag in the Indian union territory of Jammu and Kashmir.
The Martand Sun Temple was built by the third ruler of the Karkota Dynasty, LalitadityaMuktapida, in the 8th century CE.
It is now in ruins, as it was destroyed by the orders of Muslim ruler Sikandar Shah Miri.
From the ruins and related archaeological findings, it can be said it was an excellent specimen of Kashmiri architecture, which had blended the Gandharan, Gupta and Chinese forms of architecture.
The Archaeological Survey of India has declared the Martand Sun Temple as a site of national importance in Jammu and Kashmir.

at the time the ASI took over the temple ruins in the 20th century for conservation, no puja or Hindu ritual was being held there.

The temple appears in the list of centrally protected monuments as Kartanda (Sun Temple).
Subject: Geography
Section: Climatology
Context:
Cyclone Asani, formed in the Bay of Bengal, is likely to intensify into a severe cyclonic storm in coming days.
The name 'Asani' was given by Sri Lanka. Asani or 'wrath' in Sinhalese will be the first cyclonic storm of the season.
Why name cyclones?
According to the World Meteorological Organisation (WMO), an agency under the United Nations, there can be more than one cyclone at a time in a particular geographical location or around the globe and the systems can last for a week or more.
Therefore, each tropical storm is given a name to avoid confusion, in facilitating disaster risk awareness, management and mitigation.
Usually, short and easy-to-pronounce names are helpful in effectively giving out detailed storm information between hundreds of scattered stations, coastal bases and ships at sea. The process also reduced errors.
In the beginning, storms were named arbitrarily. Later, meteorologists decided to name storms from a list for a more organised and efficient system.
With Cyclone Asani — a name given by Sri Lanka that means 'wrath' in Sinhalese — formed in the Bay of Bengal on Sunday morning and hurtling towards the east coast, the same question pops up again.
How are cyclones named?
There are six Regional Specialised Meteorological Centres (RSMCs) worldwide and five regional Tropical Cyclone Warning Centres, which are mandated for issuing advisories and naming of cyclonic storms.
The India Meteorological Department (IMD) is one of the six Regional Specialised Meteorological Centres (RSMCs) that is tasked with giving a title to a cyclone that forms over the northern Indian Ocean when it has reached a maximum sustained surface wind speed of 62 kmph or more.
The naming of cyclones in the Bay of Bengal and Arabian Sea started in September 2004. The IMD provides cyclone and storm surge advisories to 13 countries across the north Indian Ocean.
If the storm's wind speed reaches or crosses this mark, it is then classified into a hurricane/cyclone/typhoon.
The list is arranged according to the names, given by alphabetically-arranged countries, that are neutral to gender, politics, religious beliefs and cultures. Once a name is used, it will not be repeated again.
The word, which can have a maximum of eight letters, should not be offensive to any member country or hurt the sentiments of any group of population.
The most recent list released in 2020 has 169 names, including 13 names each from 13 countries. Earlier, eight countries had given 64 names.
Names from India that have been used include Gati (speed), Megh (cloud), Akash (sky). Other designations that have been used earlier included Ogni, Helen and Fani from Bangladesh; and Laila, Nargis and Bulbul from Pakistan.
The cyclone that will form after Asani will be called Sitrang, a name given by Thailand. Earlier, WMO had retired 'Ida' from the future list of names as the storm was a destructive and deadly hurricane.
Regardless of the name, the intensity of cyclones varies. For instance, Cyclone Gulab made landfall in September 2021, splashing heavy rains along with strong winds over north coastal Andhra Pradesh and adjoining south coastal Odisha, before weakening into a deep depression. But Cyclone Amphan that made landfall in May 2020 left as many as 80 people dead and caused havoc in parts of Odisha and West Bengal.
What are tropical cyclones?
A tropical cyclone is an intense circular storm that originates over warm tropical oceans and is characterized by low atmospheric pressure, high winds, and heavy rain.
A characteristic feature of tropical cyclones is the eye, a central region of clear skies, warm temperatures, and low atmospheric pressure.
Storms of this type are called hurricanes in the North Atlantic and eastern Pacific and typhoons in South-East Asia and China. They are called tropical cyclones in the southwest Pacific and Indian Ocean region and Willy-willies in north-western
Storms rotate counter-clockwise in the northern hemisphere and clockwise in the southern
The conditions favourable for the formation and intensification of tropical storms are:

Large sea surface with temperature higher than 27° C.
Presence of the Coriolis force.
Small variations in the vertical wind speed.
A pre-existing weak low-pressure area or low-level-cyclonic circulation.
Upper divergence above the sea level system.
Subject : Geography
Section:  Economic geography
INDIA'S POPULATION remains young, with more than one-fourth aged under 15 years and less than an eighth over 60.
There has been only a slight dip in the young population's share in the last five years: Between the National Family Health Survey-4 (2015-16) and NFHS-5 (2019-21), released last week, the under-15 population has declined by 2 percentage points, from 29%to 27%, while the over-60 population has increased by as many points, from 10% to 12%.
Over half the population (52%) is below 30, compared to 55.5% in NFHS-4. The NFHS divides the population into 5-year age groups from 0-4 years to 75-79, while those over 80 are counted in a single age group. The age pyramid shows India's population is young, which, NFHS-5 notes, is typical of developing countries with low life expectancy.
The pyramid also shows that fertility has decreased considerably in the last 5 years.
The NFHS defines a household as a person or group of related or unrelated persons who live together in the same dwelling unit(s), who acknowledge one adult male or female as the head of the household, who share the same house keeping arrangements, and who are considered a single unit.
The average household size has decreased slightly between 2015-16 and 2019- 21 (from 4.6 persons to 4.4).
Just over one one sixth of households (18%) have female heads, up from 15% in NFHS-4.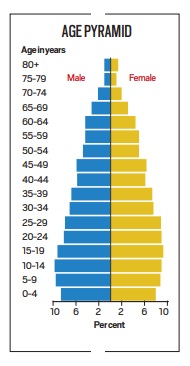 Subject: Governance
Section: Corporate Governance
Context: A new law — Digital India Act — is in works, which would incorporate all aspects covering cyber security, social media, digital services, personal data protection, etc, sources in the government said.
Concept:
The government plans to further tighten intermediary guidelines for social media firms like Twitter, Facebook, Google, WhatsApp, and over-the-top (OTT) players like Netflix, Amazon, etc.
Currently, Section 79 of the IT Act provides an intermediary status to social media companies. This status provides them exemptions and certain immunity from liabilities for any third-party content and data hosted by them. It's only when these firms fail to remove or block any content as directed by the government that they are liable to face penal action, which may see their executives being jailed also.
The upcoming guidelines aim to dilute the immunity granted to them from legal liabilities for hosting third-party content. In such a scenario, such firms, commonly referred to as intermediaries, may face higher legal risks.
It is said that the government feels that safe harbour provisions under which intermediaries are exempt from legal liabilities is changing globally and India should not be behind. However, no fixed timeline or newer provisions replacing the existing ones have still been finalised.
9. State of the World's Birds Report
Subject: Environment
Section: Biodiversity
Context: The State of the World's Birds, an annual review of environmental resources led by the Manchester Metropolitan University gives an overview of the changes in the knowledge of avian biodiversity and the extent to which it is imperilled.
Concept:
Key Findings of the Study:
The report revealed that the population of 48% of the 10,994 surviving species of birds is declining
While 4,295 or 39% of the species have stable trends, about 7% or 778 species have increasing population trends. The trend of 37 species is unknown.
The study draws from BirdLife International's latest assessment of all birds for the International Union for Conservation of Nature's Red List that shows 1,481 or 5% species are currently threatened with global extinction.
The bird species are non-randomly threatened across the avian tree of life, with richness of threatened species disproportionately high among families such as parrots, pheasants and allies, albatrosses and allies, rails, cranes, cracids, grebes, megapodes, and pigeons.
The more threatened bird species(86.4%) are found in tropical than in temperate latitudes (31.7%), with hotspots for threatened species concentrated in the tropical Andes, southeast Brazil, eastern Himalayas, eastern Madagascar, and South East Asian Islands.
Significance of Birds:
Birds are global taxon with one or more species occupying all habitats across the Earth's terrestrial surface including urban environments.
They contribute toward many ecosystem services that either directly or indirectly benefit humanity. These include provisioning, regulating, cultural, and supporting services.
The functional role of birds within ecosystems as pollinators, seed-dispersers, ecosystem engineers, scavengers and predators not only facilitate accrual and maintenance of biodiversity but also support human endeavours such as sustainable agriculture via pest control besides aiding other animals to multiply.
For instance, coral reef fish productivity has been shown to increase as seabird colonies recovered following rat eradication in the Chagos archipelago.
Wild birds and products derived from them are also economically importantas food (meat, eggs). Approximately 45% of all extant bird species are used in some way by people, primarily as pets (37%) and for food (14%).
The cultural role of birds is perhaps more important than any other taxonomic group, the study says. Beyond symbolic and artistic values, bird watching is a global pastime practised by millions of people. Garden bird-feeding is valued at $5-6 billion per year and growing by 4% annually.
Threats to Avian Biodiversity:
land cover and land-use change, continued growth of human populations and of per capita rates of consumption, habitat fragmentation and degradation, especially in the tropics; hunting and trapping illegally in the Mediterranean region, invasive alien species and disease, infrastructure, energy demands and pollution; agrochemical and pharmaceutical usage, global trade teleconnections and climate change.
Can the avian loss be stemmed?
Yes, if biodiversity loss is addressed and efforts are done to achieve more effective and sustainable conservation outcomes, linking birds to human well-being, sustainability, climate resilience, and environmental justice.
Subject: Defence
Section: Biotech
Context: RPG based on the German Panzerfaust anti-tank weapon
Concept: A weapon of Soviet origin. The initials in Russian stand for rucknoypeotivotankovvygranaromyot, which roughly translates into "handheld anti-tank grenade launcher".
It is a portable, shoulder-fired weapon that is easy to operate and can cause widespread damage whether it is targeted at personnel, armoured vehicles or buildings. There are different versions that have been designed based on how they are intended to be used, with varying warhead capacities, effective ranges and penetration levels.
Types of RPGs (current, past and under development) include:
Anti-personnel explosives. RPG-7: Reloadable RPG launcher, TBG-7V thermobaric rocket and OG-7V fragmentation grenade. RPG-27 "Tavolga": One-shot disposable RPG launcher, RShG-1 thermobaric rockets.
Anti-tank explosives. RPG-1. RPG-2.
Bunker buster. RMG.
Origins:
The origins of the RPG's use date back to conflicts around the world beginning with the First World War. Various such handheld weapons have been developed by western military powers, but the most prolific of these has been the RPG, which has been used in almost every major insurgency or terrorism- affected region around the world.
Soviet-origin RPGs have been used extensively in the Vietnam conflict as well as in conflicts in Afghanistan, Somalia, Syria Iraq, and even Jammu and Kashmir. Security forces in Kashmir have in the past recovered RPGs from terrorists they have killed, and have also found evidence of the use of RPGs.
How does a rocket-propelled grenade work?
The abrupt acceleration of the grenade leaving the launcher triggers a piezoelectric fuzethat ignites the primer (pyro-retarding gunpowder mixture). This then ignites the squib of nitro, thereby activating the rocket propulsion system (sustainer motor) to carry the grenade the rest of its trajectory.
The RPG-7, whose designation stands for RuchnoyProtivotankoviyGranatomet—or "hand-held anti-tank grenade launcher"—is a recoilless, muzzle-loaded, shoulder-fired anti-tank weapon that fires a fin-stabilized rocket with a shaped charge warhead. The Chinese license-built version is called the Type 65 RPG.
The RPG-7 anti-tank grenade launcher is robust, simple and lethal. It is also extremely popular. The RPG-7 is the result of many years of revisions and modifications. The "original" RPG — based on the German Panzerfaust anti-tank weapon – was eventually followed by the RPG-2, the RPG-3 and so on.
The RPG-4 had passed field trials in 1961, test findings of a newer model, the RPG-7, were released that same year, but with much improved firing range and armor piercing capabilities.
So in 1961 it was the RPG-7, not the RPG-4, which the Soviet Armed forces adopted for actual use.
The RPG-7 is used by the armies of over forty different countries and is also used, reportedly, by a range of terrorist organizations in the Middle East and Latin Americas.
Firing an RPG-7
The RPG operator or an artillary assistant takes a propelling charge (booster, in image below) and screws it onto the end of a warhead.
Basically, this is a stabilizing pipe that has four stabilizing fins that are folded around it with two additional fins at its rear end.
A cardboard container encases the back end of the stabilizing pipe. Inside the cardboard container, a squib of nitroglycerin powder is wrapped around the stabilizing pipe and a primer or charge of gunpowder is stuffed into the end of the stabilizing pipe.
The RPG operator or artillary person then takes this assembled artillery and loads it into the front end of the RPG launcher so that it lines up with the trigger mechanism.
After the RPG operator pulls the trigger, this is what happens:
There are several types of grenades that can be used in the RPG-7.
Point initiating, base-detonating (PIBD) piezoelectric fuze: they are impact grenades. And, many others have back-up time delay systems, so that if they have not reached a target in a certain amount of time (something like four and a half seconds) the grenade will self-destruct.
The most commonly launched grenades are a High Explosive(HE) or High Explosive Anti-Tank (HEAT)
Impact grenades must be unarmed until they are actually fired because any accidental contact might set them off. Since they are usually shot from a launcher, they must have an automatic arming system.
the arming system is triggered by the propellant explosion that drives the grenade out of the launcher.
the grenade's acceleration or rotation during its flight arms the detonator.
As for the back-up timed delay, the same fuze mechanism that sets off the rocket would set this off. The spark ignites a slow-burning material in the fuze. In about four seconds, the delay material burns all the way through. The end of the delay element is connected to the detonator. The burning material at the end of the delay ignites the material in the detonator, thereby exploding the warhead.
Nicknamed 'Netto', RPG-22 is a one-shot disposable Soviet anti-tank rocket launcher that propels a 72.5 mm fin-stabilised projectile that can be prepared to fire in around 10 seconds, and can penetrate 400 mm of armour, 1.2 metres of brick or 1 metre of reinforced concrete.
The smoothbore container is made from two fibreglass parts; a main tube containing the rocket, and a telescoping forward extension, which slides over the barrel.
In transport mode, both ends of the barrel are closed by plastic covers, which open when the weapon is extended. The firing mechanism is manually cocked by raising the rear sight. Lowering the rear sight de-cocks the weapon if there is no target.
On firing, there is a backblast danger area behind the weapon, of at least 15 metres. The solid propellant motor completely burns out while the rocket is still in the barrel tube, accelerating it to about 133 metres per second. The weapon has simple pop-up sights graduated to ranges of 50, 150 and 250 metres.
To keep training costs down, a reusable RPG-22 is available that fires a 30 mm subcalibre projectile, weighing 350g, to operational ranges. Handling is identical to that of the full calibre version, with the exception of the discharge noise and backblast.
On the evening of 20 September 2000, the MI6 Building in London (the headquarters of the British Secret Intelligence Service) was attacked by unapprehended forces using an RPG-22 anti-tank rocket, causing superficial damage.
11. Bharat Bio consortium gets $19 m to develop 'variant-proof' vaccine
Subject :Science and Technology
Section: Biotech
Context: An adjuvant subunit vaccine, designed to provide broad protection against all known SARS-CoV-2 variants
Concept: The Coalition for Epidemic Preparedness Innovations (CEPI) was launched at Davos in 2017 as the result of a consensus that a coordinated, international, and intergovernmental plan was needed to develop and deploy new vaccines to prevent future epidemics.
It is an innovative global partnership between public, private, philanthropic, and civil society organizations working to accelerate the development of vaccines against emerging infectious diseases and enable equitable access to these vaccines for affected populations during outbreaks.
An adjuvanted subunit: Subunit vaccines are well-established as a reliable and safe platform effective against a variety of infectious diseases such as hepatitis B, diphtheria, pertussis, shingles and human papillomavirus.
What is an adjuvant and why is it added to a vaccine?
An adjuvant is an ingredient used in some vaccines that helps create a stronger immune response in people receiving the vaccine. In other words, adjuvants help vaccines work better. Some vaccines that are made from weakened or killed germs contain naturally occurring adjuvants and help the body produce a strong protective immune response. However, most vaccines developed today include just small components of germs, such as their proteins, rather than the entire virus or bacteria. Adjuvants help the body to produce an immune response strong enough to protect the person from the disease he or she is being vaccinated against. Adjuvanted vaccines can cause more local reactions (such as redness, swelling, and pain at the injection site) and more systemic reactions (such as fever, chills and body aches) than non-adjuvanted vaccines.
Adjuvants have been used safely in vaccines for decades.
Aluminum salts, such as aluminum hydroxide, aluminum phosphate, and aluminum potassium sulfate have been used safely in vaccines for more than 70 years. Aluminum salts were initially used in the 1930s, 1940s, and 1950s with diphtheria and tetanus vaccines after it was found they strengthened the body's immune response to these vaccines.
Newer adjuvants have been developed to target specific components of the body's immune response, so that protection against disease is stronger and lasts longer.
Several different adjuvants are used
Several different adjuvants are used in U.S. vaccines.
Adjuvant
Composition
Vaccines
Aluminum
One or more of the following: amorphous aluminum hydroxyphosphate sulfate (AAHS), aluminum hydroxide, aluminum phosphate,
potassium aluminum sulfate (Alum)
Anthrax, DT, DTaP (Daptacel), DTaP (Infanrix), DTaP-IPV (Kinrix), DTaP-IPV (Quadracel), DTaP-HepB-IPV (Pediarix), DTaP –IPV/Hib (Pentacel), Hep A (Havrix), Hep A (Vaqta), Hep B (Engerix-B), Hep B (Recombivax), HepA/Hep B (Twinrix), HIB (PedvaxHIB), HPV (Gardasil 9), Japanese encephalitis (Ixiaro), MenB (Bexsero, Trumenba), Pneumococcal (Prevnar 13), Td (Tenivac), Td (Mass Biologics), Tdap (Adacel), Tdap (Boostrix)
AS04
Monophosphoryl lipid A (MPL) + aluminum salt
Cervarix
MF59
Oil in water emulsion composed of squalene
Fluad
AS01B
Monophosphoryl lipid A (MPL) and QS-21, a natural compound extracted from the Chilean soapbark tree, combined in a liposomal formulation
Shingrix
CpG 1018
Cytosine phosphoguanine (CpG), a synthetic form of DNA that mimics bacterial and viral genetic material
Heplisav-B
No adjuvant
ActHIB, chickenpox, live zoster (Zostavax), measles, mumps & rubella (MMR), meningococcal (Menactra, Menveo), rotavirus, seasonal influenza (except Fluad), single antigen polio (IPOL), yellow fever
Access to vaccines
Under the terms of the funding agreement, the consortium partners have agreed to achieve equitable access to the output of this project.
As repeated waves of Covid infection remind us, we will be living alongside the virus for many years to come. The threat of a new variant emerging that might evade the protection of our current vaccines is real.