Daily Prelims Notes 11 October 2021
October 11, 2021

Posted by:

admin1

Category:

DPN

Daily Prelims Notes
11 October 2021
Table Of Contents
Subject – Science and Tech
Context – The Indian Space Association (ISpA) was formally launched Monday by Prime Minister Narendra Modi
Concept –
It is an industry body representing the various stakeholders in the Indian space domain with members comprising the Indian Space Research Organisation (ISRO), Bharti Airtel, OneWeb, Tata Group's Nelco, L&T, MapMyIndia among others.
Along the lines of the US, now several private sector companies both global and domestic have taken interest in India's space domain, with space-based communication networks coming to the fore.
How are space-based communications network growing?
Several Indian and international companies have bet on satellite communications as the next frontier to provide internet connectivity at the retail level.
This includes SpaceX's StarLink, Sunil Bharti Mittal's OneWeb, Amazon's Project Kuiper, US satellite maker Hughes Communications, etc.
OneWeb, for example, is building its initial constellation of 648 low-earth orbit satellites and has already put 322 satellites into orbit.

Its services are expected to begin this year to the Arctic region including Alaska, Canada, and the UK.
By late 2022, OneWeb will offer its high-speed, low latency connectivity services in India and the rest of the world.
Why is satellite internet important?
Industry experts suggest that satellite internet will be essential for broadband inclusion in remote areas and sparsely populated locations where terrestrial networks have not reached.
As of now, however, satellite communications remains limited to use by corporates and institutions that use it for emergency use, critical trans-continental communications and for connecting to remote areas with no connectivity.
As of August this year, India had only 3 lakh satellite communications customers, compared with 45 lakh in the US and 21 lakh in the European Union.
To know more about Indian Space Association (ISpA), please click here.
Indian National Space Promotion and Authorisation Centre (IN-SPACe)
IN-SPACE will be a separate vertical within the Department of Space (DoS) that will make independent decisions for permitting and regulating activities of the private sector.
It will have its own legal, technological, activity promotion and monitoring directorates and its Board will comprise members from the private industry, academia and government of India
It will act as a national nodal agency for hand-holding and promoting private industry in the space sector and will even help private players build facilities within DoS premises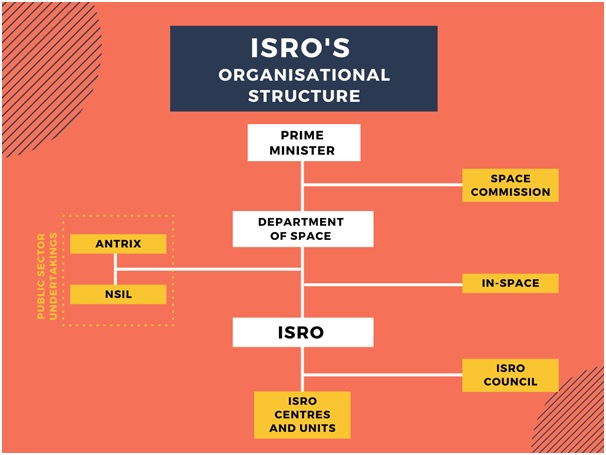 New Space India Limited
NSIL is a Central Public Sector Enterprise of the Government of India.
It was established in 2019 under the administrative control of the Department of Space.
Headquarter: Bengaluru
NSIL is the commercial arm of Indian Space Research Organisation (ISRO) with the primary responsibility of enabling Indian industries to take up high technology space related activities and is also responsible for promotion and commercial exploitation of the products and services emanating from the space industry.

The new company will also look after the production and marketing of space-based products and services, including launch and application, developed by ISRO centres and the constituent units of the Department of Space and marketing spin-off technologies and products and services both in India and abroad.

The functions of NSIL will involve:

small satellite technology transfer to industry,
manufacturing of Small Satellite Launch Vehicle (SSLV) — a product which is being developed by the ISRO — in collaboration with the private sector and
production of Polar Satellite Launch Vehicle (PSLV).

NSIL differs from ISRO's existing commercial arm Antrix Corporation:

Antrix will handle ISRO's commercial deals for satellites and launch vehicles with foreign customers.
NSIL will deal with capacity building of local industry for space manufacturing.
Subject – Economy
Context – Rating agency Moody's changed India's sovereign rating "outlook" from "negative" to "stable".
Concept –
Rating agency Moody's changed India's sovereign rating "outlook" from "negative" to "stable".

Moody's hasn't changed India's ratings as a bond issuer; that continues to be the lowest investment grade (Baa3).
But the "outlook" has improved.

Of the three big rating agencies — Standard & Poor's, Moody's and Fitch, all of which place India in the lowest investment grade — only Fitch still retains a negative outlook.
These ratings inform global investors how safe would it be for them to lend money to the Indian government — and, by extension, to the Indian businesses.

A low rating, as India has, implies investors would ask for greater rewards (or charge higher interest rates) to compensate for the higher risk of lending to the Indian government or an Indian firm.

The "outlook", on the other hand, essentially refers to the chances of a country's rating getting worse or better.

A negative outlook last year meant that India's rating was expected to worsen further.
A "stable" outlook, thus, is an improvement and suggests that the Indian government's finances are improving. This improvement is also seen to reflect the improving condition of the underlying economy.

However, for its part, Fitch Ratings cut India's economic growth forecast to 8.7 per cent for the current fiscal while maintaining the negative outlook on India's bond issuance.

There was some good news from Fitch as well as it raised India's GDP growth projection for FY23, that is, next financial year, to 10 per cent.
To know about Moody's 'stable' rating to India, please click here.
World Economic Outlook – by IMF
The IMF releases this report twice every year — in April and October — as well as regular "updates" on these outlooks.
Subject – Science and Tech
Context – NASA is set to launch 'Lucy' next week
Concept –
NASA is set to launch 'Lucy' next week, its first mission to explore the Jupiter Trojan asteroids.

These asteroids are believed to be the remnants of the early solar system, and studying them will help scientists understand its origins and evolution, and why it looks the way it does.

The solar-powered mission is estimated to be over 12 years long, during the course of which the spacecraft will visit eight asteroids covering a distance of about 6.3 billion km to deepen the understanding of the "young solar system".
The mission is named after 'Lucy', a 3.2 million-year-old ancestor who belonged to a species of hominins (which include humans and their ancestors).
The spacecraft's first encounter will be with an asteroid that lies in the main belt that can be found between Mars and Jupiter.

This asteroid is named 'Donald Johnson' after the paleoanthropologist who discovered the fossilised remains of 'Lucy'.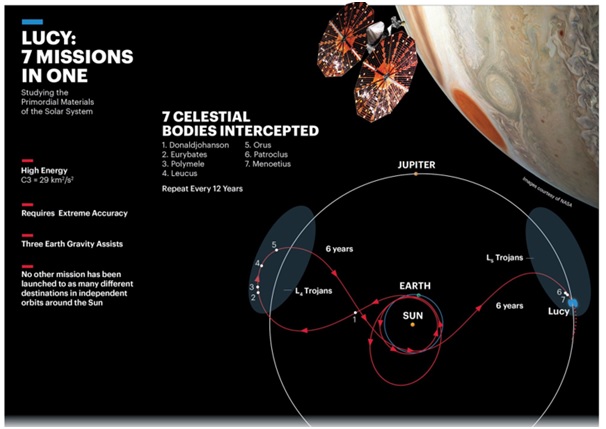 Aim of this mission –
NASA says that as per some planet formation and evolution models, the Trojan asteroids are believed to be formed from the same material that led to the formation of planets nearly 4 billion years ago when the solar system was formed.
Therefore, the mission is designed to understand the composition of the diverse asteroids that are a part of the Trojan asteroid swarms, to determine the mass and densities of the materials and to look for and study the satellites and rings that may orbit the Trojan asteroids.
Where and what are the Trojan asteroids?
Asteroids are divided into three categories.
First, those found in the main asteroid belt, between Mars and Jupiter. This region is estimated to contain somewhere between 1.1-1.9 million asteroids.
The second group is that of trojans (the name comes from Greek mythology), which are asteroids that share an orbit with a larger planet.

NASA reports the presence of Jupiter, Neptune and Mars trojans. In 2011, they reported an Earth trojan as well.
The Jupiter asteroids can be found in what are referred to as "swarms" that lead and follow the planet Jupiter along its orbit around the Sun. 'Lucy' will reach the first swarm of these asteroids that precede Jupiter by August 2027.

The third classification of asteroids is under Near-Earth Asteroids (NEA), which has orbits that pass close to the Earth.

Those that cross the Earth's orbit are called Earth-crossers.
More than 10,000 such asteroids are known, of which over 1,400 are classified as potentially hazardous asteroids (PHAs).
4. Indian meteorite that helped study Earth's formation
Subject – Science and Tech
Context – On May 22, 2012, a large meteor shower occurred near the town of Katol in Nagpur.
Concept –
On May 22, 2012, a large meteor shower occurred near the town of Katol in Nagpur. The next day, researchers from the Geological Survey of India collected about 30 meteorite fragments with the largest weighing around a kilogram.
Initial studies revealed that the host rock was mainly composed of olivine, an olive-green mineral.

Olivine is the most abundant phase in our Earth's upper mantle.
Our Earth is composed of different layers including the outer crust, followed by the mantle and then the inner core.

You can reach the upper mantle if you drill for about 410 kilometers.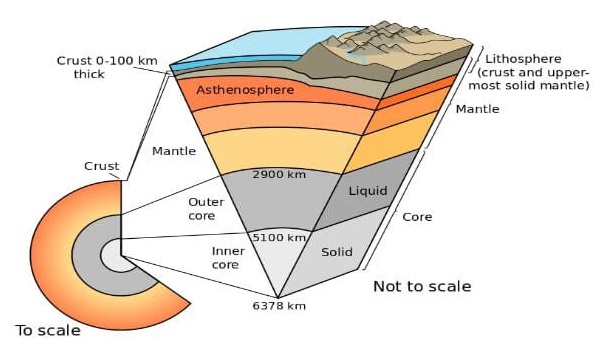 Now, by studying the composition of these meteorite fragments, researchers have unravelled the composition expected to be present in the Earth's lower mantle which is at about 660 km deep.
How to study a meteorite?
The researchers took a small sample of the meteorite and examined it using special microscopy techniques.
The mineralogy was determined using a laser micro-Raman spectrometer.
These techniques helped the team identify, characterize the crystal structure of the meteorite and determine its chemical composition and texture.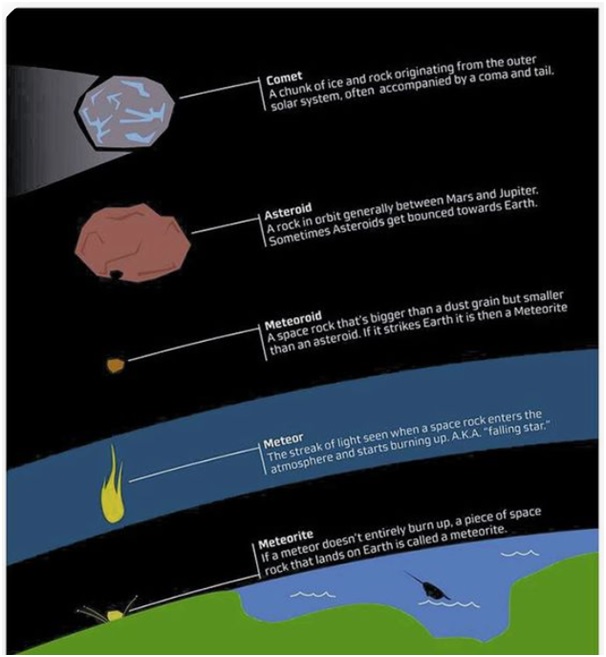 What does the new study show?
The paper published this month in PNAS reports the first natural occurrence of a mineral called bridgmanite.

The mineral was named in 2014 after Prof. Percy W. Bridgman, recipient of the 1946 Nobel Prize in Physics.

Various computational and experimental studies have shown that about 80% of the Earth's lower mantle is made up of bridgmanite.
The bridgmanite in the meteorite was found to be formed at pressures of about 23 to 25 gigapascals generated by the shock event.

The high temperature and pressure in our Earth's interior have changed over billions of years causing crystallisation, melting, remelting of the different minerals before they reached their current state.
Evolution of Earth
The inner planets or terrestrial planets or rocky planets Mercury, Venus, Earth, and Mars are formed by accretion or by rocky pieces coming together and forming a planet by increased pressure and high temperature caused by radioactive elements and gravitational forces.
Our Earth was an ocean of magma before the elements crystallised and stabilised and the different layers such as core, mantle were formed. The heavier elements like iron went to the core while the lighter silicates stayed in the mantle.
Subject – Polity
Context – Ashish Mishra sent to 14­day judicial custody
Concept –
The word 'custody' means apprehending someone for protective care.
The words "custody" and "arrest" are not synonymous. It is true that in every arrest there is custody but vice versa is not true.
Arrest directly curtails personal liberty of an individual. It strikes at his freedom.
Police Custody –
When following to the receipt of an information/complaint/report by police about a crime, an officer of police arrests the suspect involved in the crime reported, to prevent him from committing the offensive acts further, such officer brings that suspect to police station, it's called Police Custody.
It is actually the custody of a suspect with the police in a jail at the police station, to detain the suspect. During this detention, the police officer in charge of the case, may interrogate the suspect and this detention is not supposed to be longer than 24 hours.
The officer in charge of the case is required to produce the suspect before the appropriate judge within 24 hours, these 24 hours exclude the time of necessary journey from the police station to the court.
Judicial Custody –
Police Custody means that police has the physical custody of the accused while Judicial Custody means an accused is in the custody of the concerned Magistrate.
In former, the accused is lodged in police station lockup while in latter, it is the jail.
When Police takes a person into custody, the Cr.P.C kicks-in and they were produced him/her before a Magistrate within 24 hours of the arrest.
What happens after Judicial Custody?
A person may be held in the custody of the police or in judicial custody.
The first thing that happens to a suspect on arrest is that he is taken into police custody, following which he is taken before a magistrate and he may either be remanded to judicial custody or be sent back into police custody.
What is the difference between Police Custody and Judicial Custody in Criminal Procedure code?
When a person accused of a cognizable offence is arrested and detained by the police and produced within 24 hours(excluding travelling time from the place of arrest),or he himself surrenders before the nearest Magistrate.
Then the Magistrate can either release him on bail or he can either send him to judicial custody or to police custody.
If the accused is juvenile, his age is to be ascertained and if he finds that he is juvenile, then he be directed to be produced before Juvenile Justice Board.
A suspect under Police Custody or Judicial Custody is assumed to be a suspect.

A suspect becomes a criminal only after the court finds him/her guilty and convicts him/her for the crime reported of.

These types of custodies are preventive measures.
A police officer in charge of a suspect may treat the suspect arbitrarily.
In case of arrests by police and pending the investigation, the lawyer of a suspect generally prays for Bail or Judicial Custody.

In Judicial Custody, suspect becomes responsibility of Court.

During Judicial Custody, the police officer in charge of the case is not allowed to interrogate the suspect.

However, the court may allow the interrogations to be conducted if it opines the interrogation being necessary under the facts produced before the court.
Laws Of Custody In India
The provisions for holding a person in custody for the purpose of furthering investigation, in India are governed by Section 167 of the Code of Criminal Procedure.

Section 167 of the Code allows that a person may be held in the custody of the police for a period of 15 days on the orders of a Magistrate.

A Judicial Magistrate may remand a person to any form of custody extending up to 15 days and an executive magistrate may order for a period of custody extending up to 7 days.
A person may be held in the custody of the police or in judicial custody.
Police custody may extend only up to a period of 15 days from the date custody begins but judicial custody may extend to a period of 90 days for a crime which entails a punishment of death, life imprisonment or period of imprisonment exceeding 10 years and 60 days for all other crimes if the Magistrate is convinced that sufficient reasons exists, following which the accused or suspect must be released on bail.
If a person is transferred from police to judicial custody the number of days served in police custody is deducted from the total time remanded to judicial custody.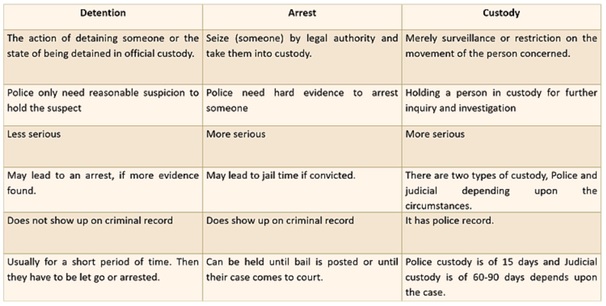 Subject – Governance
Context – First 'PM­WANI' project launched
Concept –
To know more about the scheme, please click here.
BharatNet Project
It is the world's largest rural broadband connectivity programme using Optical fibre. And also a flagship mission implemented by Bharat Broadband Network Ltd. (BBNL).

BBNL is a Special Purpose Vehicle (SPV) set up by the Government of India under the Companies Act, 1956 with an authorized capital of Rs 1000 crore.

It is a highly scalable network infrastructure accessible on a non-discriminatory basis, to provide on demand, affordable broadband connectivity of 2 Mbps to 20 Mbps for all households and on demand capacity to all institutions, to realise the vision of Digital India, in partnership with States and the private sector.
It is being implemented by the Department of Telecommunication under the Ministry of Communications.
The entire project is being funded by Universal service Obligation Fund (USOF), which was set up for improving telecom services in rural and remote areas of the country.
National Optical Fibre Network (NOFN) which was launched in October 2011 was renamed as Bharat Net Project in 2015.

NOFN was envisaged as an information superhighway through the creation of a robust middle-mile infrastructure for reaching broadband connectivity to Gram Panchayats.
National Broadband Mission
The Ministry of Communications launched 'National Broadband Mission' that will facilitate universal and equitable access to broadband services across the country, especially in rural and remote areas, in 2019.
The Mission is part of the National Digital Communications Policy, 2018.
The vision of the Mission is to fast-track growth of digital communications infrastructure, bridge the digital divide, facilitate digital empowerment and inclusion, and provide affordable and universal access of broadband for all.
Key Features

Broadband access to all villages by 2022.
Significantly improve quality of services for mobile and internet.
Develop a Broadband Readiness Index (BRI) to measure the availability of digital communications infrastructure and conducive policy ecosystem within a State/UT.
Creation of a digital fiber map of the Digital Communications network and infrastructure, including Optical Fiber Cables and Towers, across the country.
Laying of incremental 30 lakhs route km of Optical Fiber Cable and increase in tower density from 0.42 to 1.0 tower per thousand of population by 2024.
The Centre will work with States and UTs for having consistent policies pertaining to expansion of digital infrastructure including for Right of Way (RoW) approvals required for laying of optical fibre cable.
Investment from stakeholders of Rs 7 Lakh Crore including Rs 70,000 crore from Universal Service Obligation Fund (USOF).
7. Central Information Commission (CIC)
Subject – Polity
Context – CIC favours disclosure of Bucher files
Concept –
To know about CIC, please click here.
Subject – IR
Context – Iran makes 20% more enriched uranium
Concept –
The nuclear deal known as the Joint Comprehensive Plan of Action, or JCPOA, promises Iran economic incentives in exchange for limits on its nuclear programme, and is meant to prevent Tehran from developing a nuclear bomb.
Tehran insists its programme is peaceful.
The U.S. unilaterally pulled out of the deal in 2018 under then-President Donald Trump, but Britain, France, Germany, China and Russia have tried to preserve the accord.
Under the terms of the nuclear deal, Iran was prohibited from enriching uranium above 3.67% with the exception of its research reactor activities. Enriched uranium above 90% can be used in a nuclear weapon.
Scientists estimate that at least 170 kg of enriched uranium is needed to make a bomb.
Iran has produced more than 120 kg of 20% enriched uranium, the country's nuclear chief said, far more than what the UN nuclear watchdog reported last month.