Daily Prelims Notes 12 October 2021
October 12, 2021

Posted by:

admin1

Category:

DPN

Daily Prelims Notes
12 October 2021
Table Of Contents
Subject – Economy
Context – States sound the alarm on coal crisis
Concept –
According to the latest coal stock data of the 135 plants with over 165 GW of installed generation capacity monitored by the Central Electricity Authority (CEA), as many as 70 plants are categorised as "supercritical" or having less than four days of fuel on October 10 compared to 64 a week ago on October 3 against a normative requirement of 14 days reserve.
Most of the country's power is generated from coal, with State-owned Coal India meeting 80-85 per cent of the coal needs, while the rest are met through imports.
With Coal India setting the nation's coal prices and keeping prices steady since 2020 despite international prices soaring, it remained in power plants' interests to resort to domestic coal supplies.
However, heavy rain and flooding have led to a halt in coal mining domestically, along with transportation problems, creating a supply issue.
Compared to the government's recommendation to stock at least two weeks of coal supplies at power plants, 107 out of 135 power plants only had 8 days or less (most had 3-4 days) of coal left as of October 5, hinting at an imminent power crunch,
To know more about coal crisis, please click here.
National Thermal Power Corporation Limited
NTPC Limited, formerly known as National Thermal Power Corporation Limited, is an Indian statutory corporation. It engaged in generation of electricity and allied activities.
It is a statutory corporation incorporated under the Companies Act 1956 and is under the jurisdiction of Ministry of Power, Government of India.
The headquarters of the company is situated at New Delhi.
NTPC's core function is the generation and distribution of electricity to State Electricity Boards in India.
The body also undertakes consultancy and turnkey project contracts that involve engineering, project management, construction management, and operation and management of power plants.
The body has also ventured into oil and gas exploration and coal mining activities.
It is the largest power company in India with an electric power generating capacity of 62,086 MW.
Although the company has approx. 16% of the total national capacity, it contributes to over 25% of total power generation due to its focus on operating its power plants at higher efficiency levels (approx. 80.2% against the national PLF rate of 64.5%).

NTPC currently produces 25 billion units of electricity per month.

NTPC currently operates 55 power stations (24 Coal, 7 combined cycle gas/liquid fuel, 2 Hydro, 1 Wind, and 11 solar projects).

Further, it has 9 coal and 1 gas station, owned by joint ventures or subsidiaries.

It was founded by Government of India in 1975, which now holds 74% of its equity shares on 30 June 2016(after divestment of its stake in 2004, 2010, 2013, 2014, 2016, & 2017)
In May 2010, NTPC was conferred Maharatna status by the Union Government of India, one of the only four companies to be awarded this status.

It is ranked 400th in the Forbes Global 2000 for 2016.

Few Recent Initiatives:

Creation of public charging infrastructure in various cities and battery charging and swapping stations for electric 3-wheelers have been commissioned.
Providing electric buses to state/city transport undertakings. For example, e-bus solutions for Andaman and Nicobar Administration are under implementation.
Launch of its new project involving hydrogen Fuel Cell Electric Vehicles (FCEV) to run in Delhi and Leh.
Coal India Limited (CIL)
Coal India Limited (CIL) is an Indian government-owned coal mining and refining corporation.
It is under the ownership of Ministry of Coal, Government of India headquartered in Kolkata, West Bengal, India.
It is the largest coal-producing company in the world and a Maharatna public sector undertaking.
It is also the fifth largest employer in India.
The company contributes around 82% to the total coal production in India.
CIL is owned primarily by the Union Government of India which controls its operations through the Ministry of Coal.
CIL ranks 8th among the top 20 firms responsible for a third of all global carbon emissions.
While government-owned Coal India had 40 million tonnes (mt) stocks to replenish utilities, it also had 7.2 mt of inventories that can meet the country's requirement for four days.
(India holds the fifth largest coal reserves in the world.
India is the third largest importer of coal in the world).
2. FDI caps in different industry
Subject – Economy
Context – '49% FDI cap for Air India to stay'
Concept –
| | |
| --- | --- |
| Private Airlines | 100% FDI |
| Foreign Airlines | 49% FDI cap |
| Foreign investments in Air India | 49% FDI cap |
| Indian Nationals investment (including NRI) in Air India | 100% FDI |
Foreign investment(s) in Air India Ltd, including that of foreign airline(s), shall not exceed 49 per cent either directly or indirectly except in case of those NRIs, who are Indian nationals, where foreign investment(s) is permitted up to 100 per cent under the automatic route.
Also, substantial ownership and effective control of Air India will continue to be vested in Indian nationals as stipulated in Aircraft Rules, 1937.
The strategic disinvestment has three specific clauses:

One, there will be equity lock-in for one year.
Two, the successful bidder will have to ensure business continuity for at least three years.
And three, no brand/logo can be sold within the first five years and, even after that, it can be sold to an Indian entity only.
Equity lock-in period
A lock-up period is a window of time when investors are not allowed to redeem or sell shares of a particular investment.
Lock-up periods are used to preserve liquidity and maintain market stability.
3. Nobel Prize for Economics 2021
Subject – Economy
Context – Nobel Prize for economics goes to 3 US-based economists
Concept –
Three US-based economists won the 2021 Nobel prize for economics for pioneering research on the labour market impact of minimum wage, immigration and education, and for creating the scientific framework to allow conclusions to be drawn from such studies that can't use traditional methodology.
Canadian-born David Card of the University of California at Berkeley was awarded one half of the prize, while the other half was shared by Joshua Angrist from the Massachusetts Institute of Technology and Dutch born Guido Imbens, 58, from Stanford University.
Card worked on research that used restaurants in New Jersey and in eastern Pennsylvania to measure the effects of increasing the minimum wage.

He and his late research partner Alan Krueger found that an increase in the hourly minimum wage did not affect employment, challenging conventional wisdom, which held that an increase in minimum wage will lead to less hiring.
Card's work also challenged another commonly held idea that immigrants depress wages for native-born workers. He found that incomes of the native-born can benefit from new immigration, while it is earlier immigrants who are at risk of being negatively affected.

Angrist and Imbens won their half of the award for working out the methodological issues that enable economists to draw solid conclusions about cause and effect even where they cannot carry out studies according to strict scientific methods.
Unlike the other Nobel prizes, the economics award wasn't established in the will of Alfred Nobel, but by the Swedish central bank in his memory in 1968, with the first winner selected a year later.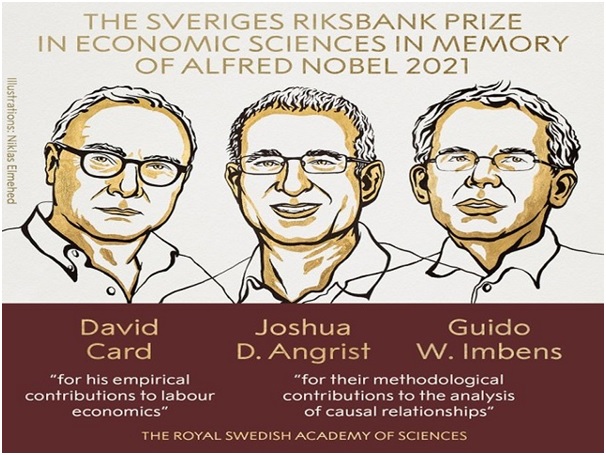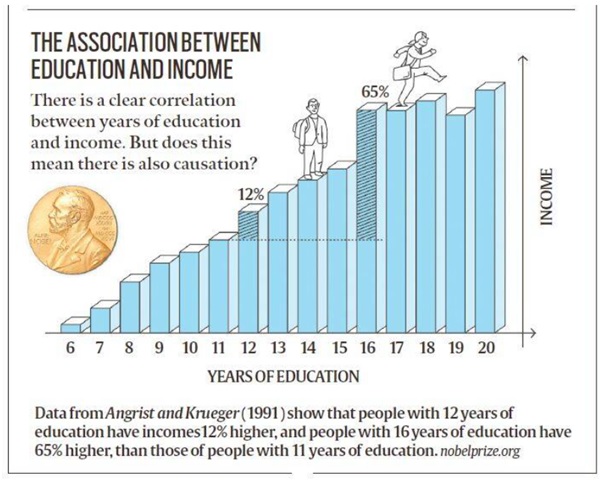 Subject – IR
Context – Adani Ports and Special Economic Zone's decision to stop handling export-import containerised cargo originating from Iran, Pakistan, and Afghanistan, till further notice.
Concept –
To know about Golden Crescent, please click here.
5. Tariff Authority for Major Ports (TAMP)
Subject – Economy
Context – TAMP asks DP World to file proposal on new charges at Vallarpadam terminal
Concept –
The Tariff Authority for Major Ports, the rate regulator for major ports, has asked DP World-run India Gateway Terminal Pvt Ltd to file a proposal before it to levy new charges on direct port delivery and en-bloc movement of containers, a matter that has roiled the export-import trade in Cochin Port.
India Gateway Terminal, the entity that runs the International Container Trans-shipment Terminal at Vallarpadam in Cochin Port Trust, had issued a trade notice seeking to levy ₹800 for a 20-foot container and ₹1,200 for a 40-foot container.
About TAMP –
Tariff Authority for Major Ports (TAMP) is a multi-member statutory body with a mandate to fix tariffs levied by major port trusts under the control of Union Government and private terminals therein.
It is mandated not only to fix the rates but also the conditionality's governing application of the rates.
Section 47-50 of the Major Port Trust Act, 1963 provides the legal backing for TAMP.
The Board of Port Authority, formed under the Major Ports Authority Bill 2020, will now fix tariffs, which will act as a reference during bidding for public-private-partnership (PPP) projects.
To know about The Major Port Authorities Act 2020, please click here.
Subject – Economy
Context – Rubber Board bets big on medicinal plants
Concept –
Intercropping of medicinal plants in rubber plantations has gained momentum with leading ayurvedic medicine manufacturing companies coming forward to take up the project by supplying necessary planting materials.
Through the project, the Board aims to improve the livelihood security of rubber growers and ensure continued supply of medicinal plants to the needs of the ayurvedic industry.
Rubber Research Institute of India (RRII) has conducted several experiments to evaluate the performance of medicinal plants in mature rubber plantations.

Light requiring medicinal plants such as Thechi (IxoraCoccinea), kattarvazha (Aloe Vera), Orila (DesmodiumGangeticum), Moovila (PserdarthisViscida), Neela Amari can be cultivated with rubber
About Rubber Board –
The Rubber Board is a statutory body constituted by the Government of India, under the Rubber Act 1947, for the overall development of the rubber industry in the country.

The Ministry of Commerce & Industry, Government of India, established the Rubber Board in 1947 to strengthen the development of the rubber industry by offering financial assistance, consolatory and regulatory services.

Head Office is in Kottayam, Kerala.
The Rubber Research Institute of India (RRII) established in 1955 is located on a hillock in the eastern suburb of Puthuppally, Kottayam, eight kilometres from the town.

There are nine research disciplines, seven Regional Research Stations, two Hevean Breeding Sub-stations and a Central Experimental Station attached to the RRII.
The Institute is headed by the Director (Research).

Foreign Direct Investment (FDI): 100% FDI in plantations of rubber, coffee, tea, cardamom, palm oil tree and olive oil tree.
Rubber –
India is currently the sixth largest producer of NR in the world with one of the highest productivity(694,000 tonnes in 2017-18).
Traditional rubber-growing states comprising Kerala and Tamil Nadu account for 81% of production.

Major non-traditional rubber growing regions are the North Eastern states of Tripura, Assam and Meghalaya, Odisha, Karnataka, Maharashtra and West Bengal.

Due to the major spike in the rubber consumption and deficit in the NR production in India, around 40% of NR is imported from other major rubber producing countries such as Malaysia, Indonesia and China.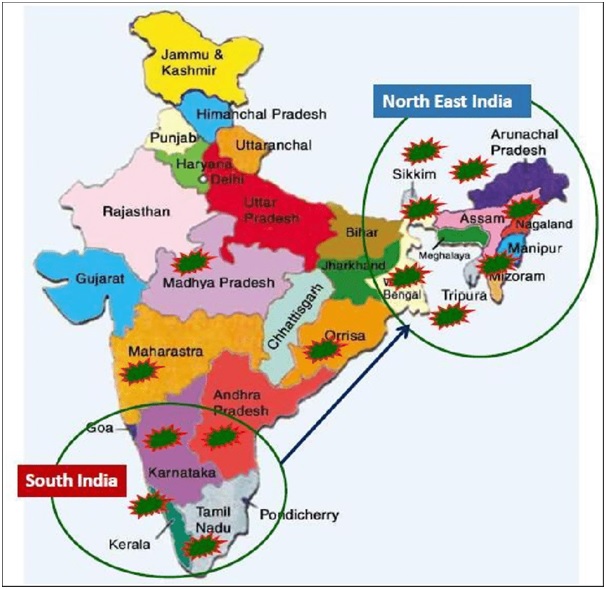 Conditions required for the growth of Rubber tree
Rubber is made from the latex of a tree called HeveaBrasiliensis, The British established the first rubber plantation in India in 1902 on the banks of the river Periyar in Kerala.
Rubber is a tropical tree.
It requires high temperature throughout the year – ranging between 20°-35°C or average monthly mean of 27°C. Less than 20°C temperature is detrimental.
Similarly, rubber also requires heavy rainfall.The rainfall should be well-distributed throughout the year.
Rubber trees can grow in a wide range of soils, including clay, sand and loam. They can tolerate both acidic and alkaline soils, but need good drainage.
National Rubber policy
The National Rubber Policy includes several provisions to support the Natural Rubber (NR) production sector and the entire rubber industry value chain.
The Policy covers new planting and replanting of rubber, support for growers, processing and marketing of natural rubber, labour shortage, grower forums, external trade, Centre-State integrated strategies, research, training, rubber product manufacturing and export, climate change concerns and carbon market
National Rubber Policy is based on the short term and long term strategies identified by the Task Force constituted on the rubber sector for mitigating problems faced by rubber growers in the country.
The Task Force held extensive consultations with various stakeholders of rubber sector.
The policy is expected to benefit natural rubber growers and promote the natural rubber production sector.
Developmental and research activities for supporting Natural Rubber sector for the welfare of growers are carried out through Rubber Board by implementing the scheme Sustainable and Inclusive Development of Natural Rubber Sector in the Medium Term Framework (MTF).
The developmental activities include financial and technical assistance for planting, supply of quality planting materials, support for grower forums, training and skill development programme.
To know about GM rubber, please click here.
Subject – Environment
Context – Roots Foundation to sensitise farmers on stubble burning
Concept –
Stubble burning in northern India has long been a major cause of air pollution, but efforts to stop it fail every year.
Untreated rice straw takes 4-8 weeks to disintegrate which is too long for the average farmer to wait to be able to sow the winter wheat crop.

The other option is to employ farm labour, who will cut the stalk and pile it into bundles, but that's expensive and unaffordable for more than 95% of the farmers.
To know about stubble burning, please click here.
To know about Pusa Decomposer, please click here.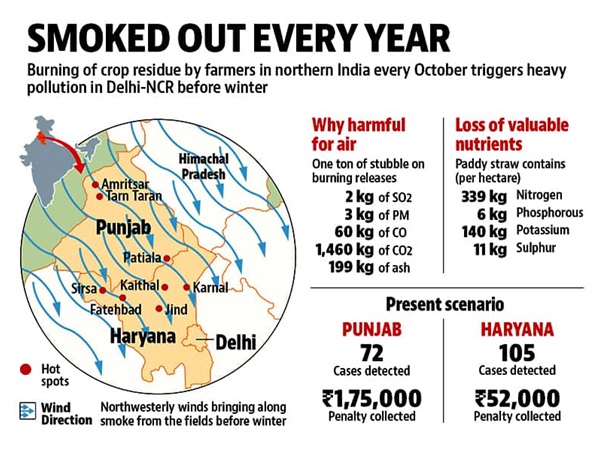 Solutions to the burning problem
In 2014, the Union government released the National Policy for Management of Crop Residue. Since then, crop residue management has helped make the soil more fertile, thereby resulting in savings of Rs 2,000/hectare from the farmer's manure cost.
Farmers can also manage crop residues effectively by employing agricultural machines like:

Happy Seeder(used for sowing of crop in standing stubble)
Rotavator (used for land preparation and incorporation of crop stubble in the soil)
Zero till seed drill (used for land preparations directly sowing of seeds in the previous crop stubble)
Baler (used for collection of straw and making bales of the paddy stubble)
Paddy Straw Chopper (cutting of paddy stubble for easily mixing with the soil)
Reaper Binder (used for harvesting paddy stubble and making into bundles)
Subject – IR
Context – India, China commander talks end in impasse.
Concept –
Southeast of Galwan Valley,Hot Springs lies in the Chang Chenmo river valley, close to Kongka La, a pass that marks the Line of Actual Control.

In 1962, China attacked Hot Springs even though it was not among the sectors that saw heavy fighting.

The PLA has traditionally had a major base east of Kongka La. The pass also marks the border between two of China's most sensitive provinces — Xinjiang to the north and Tibet to the south.

Kongka La lies west of China's G219 highway which connects Xinjiang and Tibet.

In the run-up to the 1962 war, an incident at Kongka La made the Indian government hand over the responsibility of the border in Ladakh to the Army.
To learn about Gogra mapping, please click here.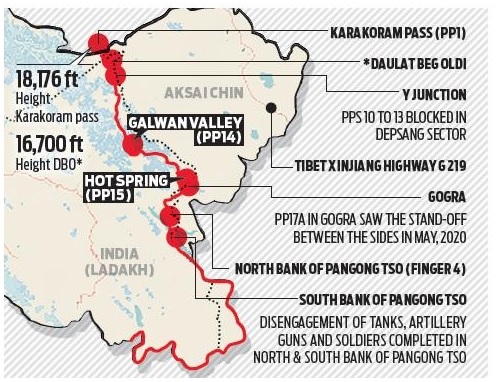 9. Public Accounts Committee(PAC) of Parliament
Subject – Polity
Context – Centennial celebration of the creation of the Public Accounts Committee (PAC) of Parliament
Concept –
The PAC is the oldest parliamentary committee in the Indian legislative affairs and has been crucial in upholding the principle of accountability as it exercises oversight of public expenditure.
The Public Accounts Committee examines the value for money of Government projects, programmes and service delivery.

Drawing on the work of the National Audit Office the Committee holds government officials to account for the economy, efficiency and effectiveness of public spending.

This Committee scrutinises the value for money—the economy, efficiency and effectiveness—of public spending and generally holds the government and its civil servants to account for the delivery of public services.
As delivery models for public services have changed, so the reach of the Committee, in following the taxpayer's pound, has spread beyond government departments to also examine public bodies and private companies providing public services.
Public Accounts Committee was introduced in 1921 after its first mention in the Government of India Act, 1919 also called Montford Reforms. It is existing in the Indian Constitution since then.
PAC is one of the parliamentary committees that examine the annual audit reports of CAG which the President lays before the Parliament of India. Those three reports submitted by CAG are:

Audit report on appropriation accounts
Audit report on finance accounts
Audit report on public undertakings

The Public Accounts Committee examines public expenditure. That public expenditure is not only examined from a legal and formal point of view to discover technical irregularities but also from the point of view of the economy, prudence, wisdom, and propriety.

The sole purpose to do this is to bring out cases of waste, loss, corruption, extravagance, inefficiency, and nugatory expenses.

The financial committee has 22 members. All the members are taken from the Indian Parliament. Out of 22 members, 15 are elected from Lok Sabha (Lower House) and 7 members are elected from Rajya Sabha (Upper House.)
The members of the committee are elected annually by the Parliament from amongst its members.

The principle of Proportional Representation (PR) by means of Single Transferable Vote (STV.)
This election method gives equal representation to all the members of the Parliament.

Every member elected by the Parliament from both Lok Sabha and Rajya Sabha are a part of the committee for a year. After a year, a new election takes place and members are changed or re-elected.
What the Committee does not do
The Committee looks at how rather than why public money has been spent and does not examine the merits of Government policy. That role is performed by the relevant Departmental Select Committee.
The Committee does not look at the spending of individual local authorities, police forces or other local bodies. That role is performed by the relevant local auditor and/or elected scrutiny body.
The Committee cannot assist in resolving individual cases. That is the role of constituency MPs.
It can keep a tab on the expenses only after they are incurred. It has no power to limit expenses.
It cannot intervene in matters of day-to-day administration.
It is not vested with the power of disallowance of expenditures by the departments.
Being only an executive body; it cannot issue an order. Only the Parliament can take a final decision on its findings.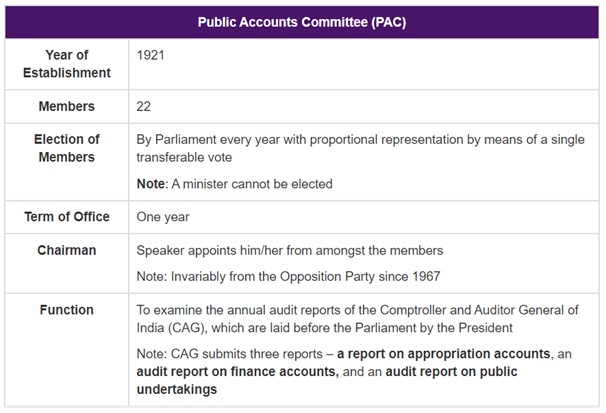 10. National Green Tribunal (NGT)
Subject – Environment
Context – NGT need not 'wait for Godot' to save environment, says SC
Concept –
The Supreme Court has declared the National Green Tribunal's (NGT) position as a "unique" forum endowed with suomotu powers to take up environmental issues across the country.
The court said the NGT need not wait for the "metaphorical Godot" to knock on its portal to flex its considerable muscles to save the environment.

"The exercise of power by the NGT is not circumscribed by the receipt of applications. When substantial questions relating to the environment arise and the issue is civil in nature and those relate to the Act, the NGT, in our opinion, even in the absence of an application, can self-ignite action either towards amelioration or towards prevention of harm."

NGT was not simply adjudicatory in nature. The tribunal has to perform equally vital roles that were preventative, ameliorative or remedial in nature.
The judgment described the NGT "as a complimentary, competent, specialised forum to deal with all environmental multidisciplinary issues both as original and also as an appellate authority, which complex issues were hitherto dealt with by the High Courts and the Supreme Court".
To know more about NGT, please click here.
11. Right to Information (RTI)
Subject – Governance
Context – Over 2 lakh RTI pleas pending
Concept –
Sixteen years after the RTI Act came into force on October 12, 2005, it is a tool for citizens to demand accountability in governance, with an estimated 40 lakh to 60 lakh RTI requests being filed every year.
When a request for information is denied by a government body, however, appeals are filed in the Central and State Information Commissions, which act as transparency watchdogs under the law.
To know about RTI Act, please click here.
To know about Chief Information Commissioner(CIC), please click here.
To know about State Information Commission, please click here.
12. International Energy Agency (IEA)
Subject – IR
Context – 'India invited to become full­time IEA member'
Concept –
International Energy Agency (IEA) has invited India, the world's third-largest energy consumer, to become its full-time member — a proposal, if accepted, will require New Delhi to raise strategic oil reserves to 90 days' requirement.

India's current strategic oil reserves equal 9.5 days of its requirement.

In March 2017, India became an associate member of the agency.
To become member a candidate country must demonstrate that it has:

Crude oil and/or product reserves equivalent to 90 days of the previous year's net imports, to which the government has immediate access (even if it does not own them directly) and could be used to address disruptions to global oil supply.
A demand restraint programme to reduce national oil consumption by up to 10%.
Legislation and organisation to operate the Co-ordinated Emergency Response Measures (CERM) on a national basis.
Legislation and measures to ensure that all oil companies under its jurisdiction report information upon request.
Measures in place to ensure the capability of contributing its share of an IEA collective action.

Headquarters (Secretariat): Paris, France.
To know more about IEA, please click here.