Daily Prelims Notes 13 November 2022
November 13, 2022

Posted by:

OptimizeIAS Team

Category:

DPN

Daily Prelims Notes
13 November 2022
Table Of Contents
Context:
The Jharkhand assembly has unanimously passed a bill of the Hemant Soren government to increase the reservation in government jobs and education institutions for Other Backward Communities in the state from 14% to 27%. The bill also increased reservation for Scheduled Tribes from 26% to 28% and SCs from 10% to 12%. With this, the percentage of total reservation in Jharkhand will be 77%, including 10% for economically weaker sections (EWS) among forward castes, unless the new law is struck down.
The state government has also recommended that the bills should be considered under the Ninth Schedule 9 of the Indian Constitution, to give it protection against legal scrutiny.
However, a 9-judge Constitution bench headed by CJI YK Sabharwal had ruled in 2007 that all laws placed under the Ninth Schedule after April 24, 1973, can be challenged in court if they violated Fundamental Rights. The verdict came in a case that challenged the TN quotas. ( IR Coelho case)
Ninth Schedule
The Ninth Schedule contains a list of central and state laws which cannot be challenged in courts. Currently, 284 such laws are shielded from judicial review. Most of the laws protected under the Schedule concern agriculture/land issues.
The Schedule contains a list of central and state laws which cannot be challenged in courts and was added by the Constitution (First Amendment) Act, 1951.
The first Amendment added 13 laws to the Schedule. Subsequent amendments in various years have taken the number of protected laws to 284 currently.
It was created by the new Article 31B, which along with Article 31A was brought in by the government to protect laws related to agrarian reform and for abolishing the Zamindari system.
While Article 31A extends protection to 'classes' of laws, Article 31B shields specific laws or enactments.
While most of the laws protected under the Schedule concern agriculture/land issues, the list includes other subjects.
Article 31B also has a retrospective operation which means that if laws are inserted in the Ninth Schedule after they are declared unconstitutional, they are considered to have been in the Schedule since their commencement, and thus valid.
Although Article 31B excludes judicial review, the apex court has said in the past that even laws under the Ninth Schedule would be open to scrutiny if they violated Fundamental Rights or the basic structure of the Constitution
2. Personalized cell 'editing' used to treat cancer patients: study
Subject :Science and Tech
Context-
Scientists have, for the first time, used CRISPR technology to insert genes that allow immune cells to attack cancer cells, potentially leaving normal cells unharmed and increasing the effectiveness of immunotherapy.
About the research findings-
The CRISPR gene editing technique has been previously used in humans to remove specific genes to allow the immune system to be more activated against cancer.
The research used CRISPR to insert new ones in immune cells efficiently redirecting them to recognise mutations in the patient's own cancer cells.
When infused back into patients, these CRISPR-engineered immune cells preferentially traffic to cancer and become the most represented immune cells there.
The human immune system has specific receptors on immune cells that can specifically recognise cancer cells and differentiate them from normal cells.
Key constraint-
Immune cells are different for every patient, so finding an efficient way to isolate them and insert them back into immune cells to generate a personalised cell therapy to treat cancer is key to making the approach feasible on a large scale.
The generation of a personalised cell treatment for cancer would not have been feasible without the newly developed ability to use the CRISPR technique to replace the immune receptors in clinical-grade cell preparations in a single step.
How do researchers resolve those problems-
The researchers found an efficient way to isolate these immune receptors from a patient's own blood.
After isolation, the immune receptors are used to redirect immune cells to recognise cancer using CRISPR gene editing.
What is the CRISPR gene editing technique?
CRISPR–Cas9 is a unique technology that enables geneticists and medical researchers to edit parts of the genome by removing, adding or altering sections of the DNA.
It is currently the simplest, most versatile and most precise method of genetic manipulation and is therefore causing a buzz in the science world.
CRISPR (Clustered regularly interspaced short palindromic repeats) is a family of DNA sequences found in the genomes of prokaryotic organisms such as bacteria and archaea.
Cas-9 is an enzyme.
How does it work?
The CRISPR-Cas9 system consists of two key molecules that introduce a change in the DNA. These are:
an enzyme called Cas9. This acts as a pair of 'molecular scissors' that can cut the two strands of DNA at a specific location in the genome so that bits of DNA can then be added or removed.
a piece of RNA called guide RNA (gRNA). This consists of a small piece of pre-designed RNA sequence (about 20 bases long) located within a longer RNA scaffold. The scaffold part binds to DNA and the pre-designed sequence 'guides' Cas9 to the right part of the genome. This makes sure that the Cas9 enzyme cuts at the right point in the genome.
The guide RNA is designed to find and bind to a specific sequence in the DNA. The guide RNA has RNA bases that are complementary to those of the target DNA sequence in the genome. This means that, at least in theory, the guide RNA will only bind to the target sequence and no other regions of the genome.
The Cas9 follows the guide RNA to the same location in the DNA sequence and makes a cut across both strands of the DNA.
At this stage, the cell recognises that the DNA is damaged and tries to repair it.
Scientists can use DNA repair machinery to introduce changes to one or more genes. in the genome of a cell of interest.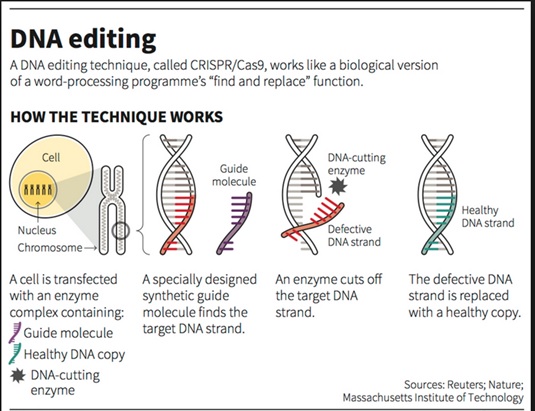 3. Substantial per-symptomatic monkeypox spread found
Context-
Scientists have found evidence to show that the monkeypox virus can spread from an infected person up to four days before they even start exhibiting symptoms of the disease, a new study has claimed.
What the research says-
The researchers behind the study estimated that 53% of the transmission of monkeypox occurred in this pre-symptomatic phase, meaning that many infections cannot be prevented by asking individuals to isolate after they notice their symptoms.
Pre-symptomatic transmission would have important implications for infection control globally.
First evidence-
This work represents the first evidence to support Pre-symptomatic transmission, which was earlier speculated.
The two main measures to prove Pre-symptomatic transmission is –
Serial interval – the time from symptom onset in the primary case patient to symptom onset in the secondary contact – and
Incubation period – the time from exposure to onset of symptoms.
The findings are based on routine surveillance and contact-tracing data for 2,746 individuals who tested positive for the monkeypox virus in the U. K.
Their average age was 38 years and 95 per cent of them reported being gay, bisexual, or men who have sex with men.
Based on these results, the researchers say an isolation period of 16 to 23 days would be required to detect 95 per cent of people with a potential infection.
Important implications-
These findings have important implications for isolation and contact-tracing policies.
The backward contact-tracing strategies should account for a pre-symptomatic infectious period when trying to find the contacts of confirmed cases.
Need for Vaccine and Vaccine equity-
Researchers based in the U.S., U.K., and Nigeria argued that pre-exposure vaccination and vaccine equity are urgently needed worldwide.
Vaccination is likely to be more cost-effective than managing the consequences of preventable infections, including hospital admissions, loss of income during isolation, and long-term complications.
What is Monkeypox?
Monkeypox is a viral zoonotic disease with symptoms similar to smallpox, although with less clinical severity.
The infection was first discovered in 1958 following two outbreaks of a pox-like disease in colonies of monkeys kept for research — which led to the name 'monkeypox'.
Symptoms:
Infected people break out in a rash that looks a lot like chicken pox. But the fever, malaise, and headache from Monkeypox are usually more severe than in chickenpox infection.
In the early stage of the disease, Monkeypox can be distinguished from smallpox because the lymph gland gets enlarged.
Transmission:
Primary infection is through direct contact with the blood, bodily fluids, or cutaneous or mucosal lesions of an infected animal. Eating inadequately cooked meat of infected animals is also a risk factor.
Human-to-human transmission can result from close contact with infected respiratory tract secretions, skin lesions of an infected person or objects recently contaminated by patient fluids or lesion materials.
Transmission can also occur by inoculation or via the placenta (congenital monkeypox).
Vulnerability:
It spreads rapidly and can cause one out of ten deaths if infected.
Treatment and Vaccine:
There is no specific treatment or vaccine available for Monkeypox infection,
But the European Union has recommended a Small Pox Vaccine, Imvanex to treat monkeypox after the WHO declared monkeypox a global health emergency.
4. Recharging groundwater by water-harvesting measures
Subject: Geography
What is an Aquifer-
An aquifer is a body of porous rock or sediment saturated with groundwater.
Groundwater enters an aquifer as precipitation seeps through the soil. It can move through the aquifer and resurface through springs and wells.
India and Groundwater-
India is the largest user of groundwater in the world, extracting groundwater to 253 billion cubic meters (bcm) per year.
It is about 25% of the global groundwater extraction.
Out of the total of 6584 assessment units, 1034 have been categorized as 'Over-exploited', 253 as 'Critical', 681 as 'Semi-Critical' and 4520 as 'Safe'.
The remaining 96 assessment units have been classified as 'Saline' due to the non-availability of fresh groundwater due to salinity problems.
Availability of Water:
India has about 1123 billion m3 of water resources available, out of which 690 bcm is surface water and the rest 433 bcm is groundwater.
Out of the total groundwater available, 90% of it is used for irrigation purposes which is mainly for agricultural purposes.
The remaining 10% accounts for domestic and industrial purposes combined.
Water Crisis in India:
According to the Composite Water Management Index (CWMI) report released by the NITI Aayog in 2018, 21 major cities (Delhi, Bengaluru, Chennai, Hyderabad and others) are racing to reach zero groundwater levels by 2020, affecting access for 100 million people.
The CWMI report also states that by 2030, the country's water demand is projected to be twice the available supply, implying severe water scarcity for hundreds of millions of people and an eventual 6% loss in the country's GDP.
Maharashtra and nearly half the country is facing an acute water shortage.
Besides Maharashtra, Tamil Nadu, Karnataka, and Rajasthan, parts of Gujarat, Punjab and Haryana are facing a water shortage of unprecedented levels.
How to harvest the rainwater-
Catchment– Used to collect and store the captured rainwater.
Conveyance system – It is used to transport the harvested water from the catchment to the recharge zone.
Flush– It is used to flush out the first spell of rain.
Filter – Used for filtering the collected rainwater and removing pollutants.
Tanks and recharge structures: Used to store the filtered water which is ready to use.
The process of rainwater harvesting involves the collection and storage of rainwater with the help of artificially designed systems that run off naturally or man-made catchment areas like- the rooftop, compounds, rock surfaces, hill slopes, artificially repaired impervious or semi-pervious land surfaces.
Several factors play a vital role in the amount of water harvested are:
The quantum of runoff
Features of the catchments
Impact on the environment
Availability of the technology
The capacity of the storage tanks
Types of the roof, its slope and its materials
The frequency,  quantity  and quality of the rainfall
 The speed and ease with which the rainwater penetrates through the subsoil to recharge the groundwater.
What are the Initiatives Taken by the Government?
Central Government:
It is promoting the concept of conjunctive use of surface and groundwater based on the village/gram panchayat level water security plan prepared in a scientific manner through the participation of communities/stakeholders.
Atal Bhujal Yojana (Atal Jal):

It is a Rs. 6000 crore Central Sector Scheme with World Bank assistance, for sustainable management of groundwater resources with community participation.

Jal Shakti Abhiyan (JSA):

It was launched in 2019 in 256 water-stressed districts in the country to improve water availability including groundwater conditions in these areas.
It has a special emphasis on the creation of recharge structures, rejuvenation of traditional water bodies, intensive afforestation etc.

Aquifer Mapping and Management Programme:

The CGWB has taken up Aquifer Mapping and Management Programme.
The program is aimed to delineate aquifer disposition and their characterization for the preparation of aquifer/area-specific groundwater management plans with community participation.

Atal Mission for Rejuvenation and Urban Transformation (AMRUT):

The Mission focuses on the development of basic urban infrastructure in the AMRUT cities, such as water supply, sewerage & septage management, stormwater drainage, green spaces & parks, and non-motorized urban transport.
State Government:
Mukhyamantri Jal Swavlamban Abhiyan' in Rajasthan,
'Jalyukt Shibar' in Maharashtra,
'Sujalam Sufalam Abhiyan' in Gujarat,
'Mission Kakatiya' in Telangana,
Neeru Chettu' in Andhra Pradesh,
Jal Jeevan Hariyali in Bihar,
'Jal Hi Jeevan' in Haryana,
Kudimaramath scheme in Tamil Nadu.
5. Land; sea use changes are drivers of biodiversity loss
Subject : Environment
Context-
A new analysis of studies published since 2005 concludes that land and sea use change has been the dominant anthropogenic driver of global biodiversity loss.
Direct exploitation of natural resources is the second most dominant driver on land, but the most important one for the oceans.
The many factors-
The Asia Pacific region lost 45 per cent of its vertebrate population in four-and-half decades, while the global average is 68 per cent.
Five major reasons behind the biodiversity loss across the planet-
Changes in land and sea use (habitat loss and degradation),
Overexploitation of species,
Invasive species and disease,
Pollution and
Climate change.
In the Asia Pacific region including India, habitat loss was the biggest trigger followed by species overexploitation and invasive species and disease.
The WWF factsheet stated that almost a third of Indian wetlands have been affected by the combined pressure of urbanisation, agricultural activities and pollution.
Habitat fragmentation and pollution, especially from pesticides and insecticides, are playing havoc with the biodiversity status of the country.
It also put up data to highlight how forest land has been diverted and has been affecting biodiversity.
About 43 per cent of forest land recommended for diversion in 2019 falls in ecologically sensitive wildlife habitats.
6. Why are talks on 1.5°C at a cliff edge at COP27?
Subject :Environment
Context-
Scientific reports from the UN point to the extremely narrow window available to close the emissions gap and prevent the rise in average temperature beyond 1.5°C.
Why is the 1.5°C goal seeming unattainable?
The UNEP's Emissions Gap Report 2022 says, even if all the conditional Nationally Determined Contributions (NDCs) followed by targets to reduce emissions to net zero are implemented, global warming is projected to rise to 1.8°C with a 66% probability.
The report also points out that global annual emissions during 2021 at 52.8 Gigatonnes (GtCO2e), represents a slight increase compared to 2019, the pre-COVID year.
Key tipping points are the potential Greenland ice sheet collapse, West Antarctic ice sheet collapse, thawing of the boreal permafrost, and tropical coral reef die offs, all of which are expected to happen at 1.5°C.
Tipping points represent moments that cascade into irreversible changes, with a domino effect on other elements such as monsoons and heat waves.
What do scientific reports say on the fallout?
The COP27 is described as the 'Implementation CoP'.
Official reports of the Intergovernmental Panel on Climate Change (IPCC) highlights the nations whose national pledges fall well short of the reductions needed.
The latest Sixth Assessment Report (SAR) of the IPCC says that biodiversity loss, Arctic ice loss, threat to coastal settlements and infrastructure will all be experienced, while conflicts, migration of affected people and urban challenges to energy and water access could also arise.
Beyond 2040 and until the end of the century, at 2°C rise in global average temperature, up to 20% decline in snowmelt water for irrigation, diminished water for farming and human settlements due to glacier mass loss, and a two-fold increase in flood damage could happen, while up to 18% of species on land could go extinct.
In tropical regions, there can be an increase in the frequency and intensity of extreme weather events such as cyclones.
What is the focus of negotiations at COP27?
Countries most affected by the effects of a changing climate have been seeking loss and damage payments from the richer industrialised nations, who have contributed the bulk of CO2 in the atmosphere.
The emissions background is explained as follows:
CO2 level at the Mauna Loa observatory in Hawaii stood at 416.22 parts per million (ppm) on November 11.
The level was 315 ppm in 1958 and the pre-industrial revolution level was 280 ppm.
The emerging economies and small climate-affected countries argue that they were not responsible for this stock of CO2, and many want a massive loss and damage fund created, separate from the $100 bn per year agreed to under the Paris Agreement.
7. Carbon Capture Utilisation and Storage (CCUS)
Subject :Environment
Carbon Capture, Utilization, and Storage (CCUS) encompass methods and technologies to remove CO2 from the flue gas and from the atmosphere, followed by recycling the CO2 for utilization and determining safe and permanent storage options.
CO2 captured using CCUS technologies is converted into fuel (methane and methanol), refrigerants and building materials.
The captured gas is used directly in fire extinguishers, pharma, food and beverage industries as well as the agricultural sector.
CCUS technologies can play an important role in meeting net zero targets, including as one of the few solutions to tackle emissions from heavy industry and to remove carbon from the atmosphere.
CCUS is considered an important tool to help countries halve their emissions by 2030 and reach net zero by 2050.
These goals are crucial to meet the Paris Agreement targets for restricting global warming to 2 degrees Celsius (°C), and preferable to 1.5°C, over pre-industrial levels.
CCUS technologies also provide the foundation for carbon removal or "negative emissions" when the CO2 comes from bio-based processes or directly from the atmosphere.
There are around 35 commercial facilities applying CCUS to industrial processes, fuel transformation and power generation.
CCUS facilities currently capture almost 45 Mt CO2 globally, but this needs to increase.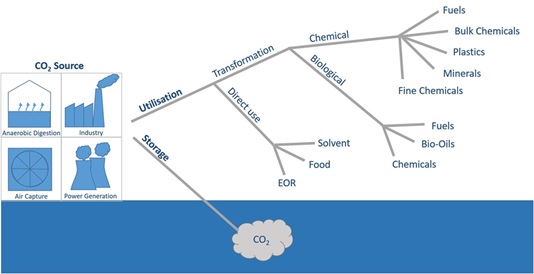 Carbon Avoidance-
Carbon avoidance involves measures aimed at preventing carbon from being released into the atmosphere.
Carbon avoidance can occur either via carbon offsets or via direct carbon reduction measures.
Many human activities carry a significant carbon footprint, but particularly intense are the industrial burning of fossil fuels, and the destruction of natural carbon sinks such as forests.
Carbon avoidance projects aim to curb these emissions by targeting these activities and capturing the emission they create, or preventing the activities altogether.
The impact of carbon avoidance on emissions-
Carbon avoidance via offsets does not work at the core issue of reducing overall CO2 emissions. Carbon avoidance via direct carbon reduction measures does work at the core issue of reducing overall CO2 emissions.
The effectiveness of carbon avoidance via carbon offsets depends on the type of project and if the project is realized, additional, permanent, meets certain key criteria and project standards, and does not engage in greenwashing. Carbon avoidance via direct carbon reduction measures is effective because it cuts emissions at their source.
The main benefits of carbon avoidance
Carbon avoidance aids in climate change mitigation, improves air quality, and protects ecosystems.
The main drawbacks of carbon avoidance
Carbon offset limitations and global reliance on fossil fuels are drawbacks to carbon avoidance measures.
8. Next door to Delhi, a 'bank' to store the country's digitised biological data
Subject :Polity
Context-
The government has for the first time set up a digitised repository where Indian researchers will store biological data from publicly funded research, reducing their dependency on American and European data banks.
About 'Indian Biological Data Bank'-
It has come up at the Regional Centre for Biotechnology in Faridabad.
It will be stored on a four-petabyte [A petabyte equals 10,00,000 gigabytes (GB)] supercomputer called 'Brahm'.
The government has mandated that data from all publicly funded research should be stored in this central repository.
The bio-bank, which costs about Rs 85 crore to set up, currently accepts nucleotide sequences — the digitised genetic makeup of humans, plants, animals, and microbes.
The biobank also has a backup data 'Disaster Recovery' site at National Informatics Centre (NIC)-Bhubaneshwar.
Types of data stored in the Bio-Bank-
The database currently offers two mechanisms for data submission to researchers.
One, open access where the data uploaded can be immediately used by other researchers from across the country and two, controlled access where the data will not be openly shared for a number of years before being opened up to all.
There are now 200 billion base pair data in the bio-bank, including 200 human genomes sequenced under the '1,000 Genome Project', which is an international effort to map the genetic variations in people.
The project will also focus on populations that are predisposed to certain diseases.
The database contains-

most of the 2.6 lakh Sars-Cov-2 genomes sequenced by the Indian Sars-CoV-2 Genomic Consortium (INSACOG).

The government learnt from this data that the Omicron sub-variant BA.2.75 was being overtaken by a recombinant variant XBB — which is a combination of two Omicron sub-lineages, BJ.1 and BA.2.75.

25,000 sequences of mycobacterium tuberculosis that another national consortium is trying to sequence.
Genomic sequences of crops such as rice, onion, tomatoes and mustard, among others.
With genomes of humans, animals, and microbes present in the same database, it will also help researchers in studying zoonotic diseases.

Although the database currently only accepts such genomic sequences, it is likely to expand later to the storage of protein sequences – strings of amino acids that join together to form various proteins found in these organisms – and imaging data such as copies of Ultrasound and MRI.
Significance-
Such databases have traditionally played a key role in determining the genetic basis of various diseases and finding targets for vaccines and therapeutics.
It will provide a platform for researchers to securely store their data within the country
It will also provide access to a large database of indigenous sequences for analyses.
At present, most Indian researchers depend on the European Molecular Biology Laboratory (EMBL) and National Center for Biotechnology Information databases for storing biological data.
There are other smaller datasets available with some institutes, but those are not accessible to all.
The Indian phenotype is very different and solutions based on others' data might not be optimal.
Moreover, India can even provide our data to Western countries.
Subject :Polity
Srijan Portal-
Pursuant to Atmanirbhar Bharat's announcement, the Department of Defence Production has developed an indigenization portal, srijandefence.gov.in, as 'opportunities for Make in India' in Defence, which will give information on items that can be taken up for indigenization by the private sector. 
On this portal, DPSUs/OFB/SHQs can display their items which they have been importing or are going to import which the Indian Industry can design, develop and manufacture as per their capability or through a joint venture with OEMs.
The Indian Industry will be able to show their interest. The concerned DPSUs/OFB/SHQs, based on their requirement of the items and their guidelines & procedures will interact with the Indian industry for indigenization.
SRIJAN is a 'one-stop shop' online portal that provides access to the vendors to take up items that can be taken up for indigenization.
It will help industry partners to play an active role in the goal of self-reliance in the defence sector.
It will give information on items that can be taken up for indigenization by the private sector.
There are over 3000 unique items with a value of over ₹10,000 Crore that are available through the portal.
Defence Indigenization in India-
A significant beginning in defence indigenisation was made in 1983 when the government sanctioned the Integrated Guided Missile Development Programme (IGMDP) to develop five missile systems:
Prithvi (surface-to-surface)
Akash (surface-to-air)
Trishul (the naval version of Prithvi)
Nag (anti-tank)
Agni Ballistic missiles with different ranges, i.e. Agni (1,2,3,4,5)
In 1990 Self Reliance Review Committee (SRRV) under A.P.J. Abdul Kalam, had formulated a 10-year self-reliance plan under which, the self-reliance index (SRI), (defined as the percentage share of indigenous content in total procurement expenditure), was to be increased from 30% in 1992-1993 to 70 % by 2005.
This target has not been achieved till today.
The indigenous efforts were not adequate to meet the requirements of the armed forces, this resulted in the shift of focus towards co-development and co-production in partnership with foreign companies.
A beginning was made in 1998, when India and Russia signed an inter-governmental agreement to jointly produce Brahmos supersonic cruise missile.
Apart from Russia, India has also partnered with other countries such as Israel and France for a number of projects.
Government Initiatives-
Defence Procurement Policy:

Based on the recommendations of the Dhirendra Singh committee, Defence Procurement Procedure 2016 (replaced DPP 2013) added an additional category "Buy (Indian-IDDM)"e Indigenously Designed, Developed and Manufactured, as the most preferred way of defence goods acquisition.
DPP allowed the Defence Acquisition Council to take a "fast-track" route to acquire weapons, something which was limited to only the armed forces till now.

E-Biz Portal:

The process of applying for an Industrial License (IL) and Industrial Entrepreneur Memorandum (IEM) has been made completely online on ebiz portal.
The restriction of annual capacity in the industrial license for the defence sector has been removed.

Outsourcing and Vendor Development Guidelines:

For DPSUs (defence public sector undertaking) and OFB (ordnance factory board) to promote the participation of the private sector, particularly SMEs (small manufacturing enterprises) for defence manufacturing.
The guidelines mandate that each DPSU and OFB to have a short-term and long-term outsourcing and vendor development plan to gradually increase outsourcing from the private sector including
The guidelines also include vendor development for import substitution.

Uniform custom duty:

In order to establish a level-playing field between Indian private sector and the public sector, all Indian industries (public and private) are subjected to the same kind of excise and custom duty levies.

The FDI policy:

Composite foreign investment up to 49% is allowed through the Government route (FIPB) and beyond 49% with the approval of the Cabinet Committee on Security (CCS) on a case-to-case basis.
Restrictions such as the single largest Indian shareholder to hold at least 51% equity and complete restriction on Foreign Institutional Investor (FII) have been removed to facilitate investment in the sector.
Preference to 'Buy (Indian)', 'Buy & Make (Indian)' & 'Make' categories of acquisition over 'Buy (Global)' category, thereby giving preference to the Indian industry in procurement.
10. Can vaccine distribution be made fairer?
Subject : Science  and tech
Context-
The Global Dashboard for Vaccine Equity has put out recent data that justifies the vexatious core of the vaccine distribution programme: Only one in four people has been vaccinated with at least one dose in low and middle-income countries as of November 9, 2022. In comparison, in high-income countries, three in four people have gotten at least one dose of the vaccine.
What is the Global Dashboard?
The Global Dashboard for Vaccine Equity is a joint effort by the United Nations Development Programme (UNDP), the World Health Organization (WHO) and the University of Oxford with cooperation across the UN system.
It combines the latest data on the global roll-out of COVID-19 vaccines with the most recent socio-economic information.
It provides new, actionable insights and possibilities for policymakers to look into the implications of vaccine inequity for socioeconomic recovery, jobs and welfare.
What is vaccine equity?
Everyone in the world has the same access to vaccines.
While the availability of drugs across the world continues to remain iniquitous, disadvantaging large swathes of people in low and middle-income countries, it was hoped that the urgency of a pandemic might erase these differences, offering equal access to all. But that was not to be.
Vaccine Inequality-
During the COVID-19 pandemic, vaccine production was insufficient to meet global demand. Many wealthy countries procure vaccine doses through exclusive bilateral deals for their domestic populations (vaccine nationalism), and manufacturing countries, such as India, imposed temporary export bans.
These events catalysed the global vaccine inequity that is still evident today.
Vaccine Apartheid-
WHO Director-General Tedros Adhanom Ghebreyesus gave this term for widening gaps in global vaccine equity have led to a two-track pandemic with booster COVID-19 vaccinations proliferating in high-income countries (HICs) and first doses not yet reaching all populations in low-income countries (LICs).
Low-income countries need to increase their health expenditure by 30-60% while High-income countries have to increase theirs by only 0.8%.
Efforts taken to reduce vaccine inequity-
Efforts were initiated to waive the intellectual property protection for the COVID-19 range of therapeutics and vaccines, in order to ensure that affordability alone doesn't determine availability.
A waiver in the TRIPS agreement was proposed as a radical way to overcome the anticipated shortfalls. However, that did not come through.
COVAX-

COVID-19 Vaccine Delivery Partnership (COVAX), a collective international effort with 'One Country Team', 'One Plan', and 'One Budget' which was launched by WHO, UNICEF, and GAVI and the World Bank, to intensify country readiness and delivery support.
It aimed at accelerating COVID-19 vaccination coverage in 34 low-coverage countries, along with their governments.
COVAX has helped many countries access vaccines since its launch in January 2022, low-income countries (LICs) particularly continue to have difficulties in achieving a step change in vaccination rates.
Gavi, the Vaccine Alliance
Created in 2000, Gavi is an international organisation – a global Vaccine Alliance, bringing together public and private sectors with the shared goal of creating equal access to new and underused vaccines for children living in the world's poorest countries.
Its core partners include the WHO, UNICEF, the World Bank and the Bill & Melinda Gates Foundation.
In June 2019, the Gavi Board approved a new five-year strategy ('Gavi 5.0') with a vision to 'leave no-one behind with immunisation' and a mission to save lives and protect people's health by increasing equitable and sustainable use of vaccines.
Coalition for Epidemic Preparedness Innovations
CEPI is a global partnership launched in 2017 to develop vaccines to stop future epidemics.
CEPI was founded in Davos (Switzerland) by the governments of Norway and India, the Bill & Melinda Gates Foundation, the Wellcome Trust, and the World Economic Forum.
11. Governor and Chief Minister: The conflict
Subject :Polity
Issue : recently we have seen the difference of opinion regarding many things between chief minister and the governor leading to sometimes major constitutional crisis.
Governor:
Article 155. Appointment of Governor: The Governor of a State shall be appointed by the President by warrant under his hand and seal.
How is the Governor related to the States?
The governor acts as the nominal head whereas the real power lies with the Chief Minister of the state.
While the President of India is "elected", the governor is "selected" by the incumbent central government.
Governor is the constitutional head of the state as well as the vital link between the Union and State government.
What are the discretionary powers of the Governor?
Article 163– There shall be a Council of Ministers with the Chief Minister at the head to aid and advise the Governor in the exercise of his functions, except the discretion granted by the Constitution.
If any question arises whether a matter is within the Governor's discretion or not, the Governor's decision shall be final.
The discretionary power of the Governor is wider than that of the President as he enjoys both the constitutional as well as situational discretionary power unlike the President who enjoys only situationary discretion.
Constitutional discretionary powers
Article 167– The Governor can seek information from the chief minister about state administrative and legislative matters
Article 200– The Governor can reserve a Bill for President's consideration
Article 356– The Governor can recommend the President to impose President's rule on failure of constitutional machinery
The Governor is not bound to act on the aid and advice of CM and council of ministers while performing his duties as the administrator of a neighbouring union territory (in case of additional charge).
Sixth schedule– The Governor may determine the amount payable to an autonomous Tribal District Council as royalty from mineral exploration licences by the governments of Sixth Schedule areas (Assam, Meghalaya, Tripura, and Mizoram)
Situational discretionary powers
During Hung Assembly– The Governor can appoint chief minister when no party has a clear-cut majority
No-confidence– The Governor can dismiss the council of ministers when it cannot prove the confidence of the state legislative assembly
The Governor can dissolve the state legislative assembly when the council of ministers lose their majority
Appointment of caretaker government– The Governor can appoint the care taker government for a temporary period until a regular government is elected or formed.
Special provisions with respect to States– The President may provide special responsibility for the Governor to form separate development boards for Vidarbha, Marathwada, Saurashtra and Kutch, as per Article 371.
Has any efforts been taken to solve the conflict between governor and Chief minister ?
The Administrative Reforms Commission (1968)
President's rule- It recommended that the report of the governor regarding the President's rule has to be objective and also the governor should exercise his own judgment in this regard.
Rajamannar Committee (1971)
Role of Governor- The Rajamannar Committee stressed that the Governor of the state should not consider himself as an agent of the centre but play his role as the constitutional head of the State.
Sarkaria Commission recommendations- 1983
Hung assembly- It provided the order of preference the Governor should follow in selecting a CM in such a situation
An alliance of parties that was formed prior to the elections.
The single largest party staking a claim to form the government with the support of others, including independents.
A post-electoral coalition of parties, with all the partners in the coalition joining the government.
A post-electoral alliance of parties, with some of the parties in the alliance forming a government and the remaining parties, including independents, supporting the government from outside.
Appointment of Governor– CM should be consulted in the Governor's appointment.
Dismissal of Council of Ministers- The Governor cannot dismiss the Council of ministers when it commands a majority.
S.R. Bommai Judgment (1994)
President's rule- The Supreme Court classified the instances of failure of constitutional machinery into four heads- Political crises, Internal subversion, Physical breakdown, Non-compliance with constitutional directions of the Union Executive
The verdict allows the Supreme Court to investigate claims of malafide in the Governor's report.
Punchhi Commission recommendations (2007)
The Punchhi Commission on Centre-State Relations said that the governor should invite the leader of "a pre-poll alliance commanding the largest number" or the "largest single party" to form the government in case no party or pre-poll coalition has a clear majority.
12. Higher Education Commission of India (HECI)
Subject :Polity
It will subsume the University Grants Commission (UGC) and All India Council for Technical Education (AICTE), is likely to have extensive penal powers, with the government considering to authorise it to impose fine of up to Rs 5 crore and also proceed against the heads of institutions found to have committed violations.
the UGC, which is the apex regulatory body on higher education (non-technical), can impose a maximum fine of Rs 1,000 for violations, including setting up of fake universities, under an Act which was drawn up in 1956
HECI Bill is being drafted by the Ministry of Education for tabling during the Winter Session of Parliament.
HECI will have the proposed 15-member body apart from the chairperson and the vice-chairperson, it is likely to include a vice-chancellor of a central university, higher education secretary, finance secretary, a legal expert, and a reputed individual from the industry.
It is also likely to stipulate the presence of at least one state university vice-chancellor and two professors from the state higher education councils.
The 2018 draft Bill had no provision for representation from the states in the commission, which was criticised by many.
the new Bill has a clause, like its old version, which gives the Centre powers to remove the chairperson, vice-chairperson or any other member of the commission even on grounds of "moral turpitude", However the new bill also added that the removals can be effected only after an inquiry by a sitting Supreme Court Judge.
The provisions in the Bill are being aligned with the National Education Policy, 2020, which had recommended that medical and legal education be kept out of the proposed HECI's ambit under which general, technical, teacher, vocational and other professional education will come.
The commission will have four independent verticals — National Higher Education Regulatory Council, National Accreditation Council, Higher Education Grants Council and General Education Council, which will be headed by one president each.
the HECI will be entrusted with developing an integrated roadmap for the future of higher education in India and transforming existing higher education institutions into large multidisciplinary units and research universities.
The National Higher Education Regulatory Council :
shall handle action against institutions that do not meet accreditation standards and violate other norms, monitor financial, administrative impropriety, and tackle grievances of stakeholders.
The National Accreditation Council :
will develop the process of accreditation.
The Higher Education Grants Council
will develop a transparent criteria for funding the higher educational institutions, take charge of grants, scholarships etc.
Subject :Polity
The 2021 Census of India, also the 16th Indian Census, is intended to be carried out in 2023. In April 2019, a data user conference was held and it was announced that 330,000 enumerators would be enlisted and that they would be encouraged to use their own smart phones, although a paper option will also be available, which the enumerators will then need to submit electronically.
The 15th Indian Census taken in 2011, attempted to estimate the population based on Socio-Economic and Caste Status for the first time since 1931. However, as the enumeration was based on recording the respondents' declaration, it led to creation of hundreds of thousands of caste/subcaste categories.
For the 16th Indian census, the government is instead considering enumeration based on a list of educationally or socially disadvantaged castes (known as Other Backward Class) reported by each state. However, in February 2020, the Indian government rejected the demand for OBC data as part of the 2021 census.
History
The first Census in India was conducted during a span of 8 years, starting from 1865 and ending in 1872. This was done non-synchronously in various parts of India. As the process reached its final point in 1872, this year has been labelled as the first Indian population census year. However, in India, the first synchronous population census was held in the year 1881.
The last Census in India was held in 2011. This happened to be the 15th Indian Census. This included two phases, namely, the house listing and the population enumeration. According to the 2011 census, Uttar Pradesh was found to be the most populated state in India. It had a population count of 199,812,341, covering 16.51% of the overall Indian population.
In this Census, Sikkim was found to be the least populated state in India, with a population count of 610,577, covering 0.05% of the overall Indian population.
Caste Census : The Need for More data for better targeted welfare policy
While in the case of the Dalits and the STs, the quotas are proportionate to their population as gathered in census exercises conducted every 10 years, the reservation for OBCs is not based on their share in the population of India.
OBC quota was fixed at 27 per cent as it was the available space to keep the reservation cap at 50 per cent. The Mandal Commission had estimated the OBC population at 52 per cent.
The parties demanding caste census claim that so-called upper castes have occupied disproportionate share in jobs and access to higher education.
India is a parliamentary democracy which means a form of government in which political control is exercised by all the people, either directly or through their elected representatives.
When we Say all the people it should include so far as possible all the section of society reflecting the social reality of a country. If a democracy is being run by only few homogenous group of people, then it is not a democracy rather it is an oligarchy.
The last caste census data gathered and published corresponds to Census 1931. The last census conducted by the British colonial government in 1941 collected caste data but did not publish the figures. After Independence, Census 1951, the government collected and published caste data of only SCs and STs.
the Narendra Modi government told the supreme court that the policy of caste census was reversed in 1951 by the first government of Independent India headed by Jawaharlal Nehru.
However, the Manmohan Singh government decided to collect caste date in Census 2011 as part of Socio-Economic Caste Census (SECC) but the data was never released.
WHY CASTE CENSUS IS IMPORTANT?
The absence of fresh caste census data means that the caste estimates of 1931 are being projected for formulating welfare policies in 2021. A caste census is likely to table a fresh and updated data set for policymaking.
The NSSO (National Sample Survey Organisation) surveys have provided different estimates between 1999 and 2007, varying from about 36 per cent to 45 per cent for OBCs.
14. Who was Nadaprabhu Kempegowda?
Subject: History
Context:
Nadaprabhu Kempegowda, a 16th century chieftain of the Vijayanagara empire, is credited as the founder of Bengaluru. It is said that he conceived the idea of a new city while hunting with his minister, and later marked its territory by erecting towers in four corners of the proposed city.
He was from the dominant agricultural Vokkaliga community in south Karnataka.
His Achievements:
Against Social Evils: Nadaprabhu Kempegowda abolished the practice of cutting the fingers of the left hand of an unmarried woman during a custom known as Bandi Devaru.
Infrastructure: Kempegowda is also known to have developed around 1,000 lakes in the city to cater to drinking and agricultural needs.
Literature: The ruler knew multiple languages, besides Kannada, and even authored a Yakshagana play in Telugu named Gangagaurivilasa.
The old Mysuru region in south Karnataka consists of areas that were part of the erstwhile Kingdom of Mysore — Mysuru, Mandya, Chamarajanagar, Tumkur, Hassan, Chikmagalur, Kolar, Bengaluru and excludes coastal areas and Kodagu.
15. Tirupati's megalithic burial sites in a state of neglect
Subject: Art and Culture 
Context:
Anthropomorphic sites are those marked by a representation of human form above the megalithic Tirupati district is dotted with anthropomorphic burial sites, said to be the largest as a collection in Andhra Pradesh.
Among these, the most prominent one is the 'pillared dolmen' of the megalithic era, found at Mallayyagaripalle, nestling on a hillock between Chandragiri and Dornakambala, 20 km from Tirupati. The structure locally referred to as 'Pandava Gullu' or 'Pandavula Banda' in memory of the Pandavas, is estimated to be 2,500 years old.
This could be an indication to the presence of humans living in groups during the megalithic period (300–500 BC) in this region.
The pillared dolmen with rock art beneath the capstone at Mallayyagaripalle came under threat owing to granite mining in the vicinity. The Mallayyagaripalle structure is a cist burial chamber. Such chambers are built by arranging slabs neatly broken from huge stones at a time when there were no proper tools.
There is another endangered megalith monument in Palem village near Kallur, which resembles a bull's horn. Called locally as 'Devara Yeddhu'
Yet another type of a megalithic burial site is the 'stone circle', where the tomb is surrounded by round stones arranged in a circle. One such site in Venkatapuram, 15 km east of Tirupati near Karakambadi,
The megalithic people's staunch belief in life after death and the travel embarked by soul to other worlds. the megalithic people used to keep food and tools inside the chamber for use by the dead person.
While "megalith" is often used to describe a single piece of stone, it also can be used to denote one or more rocks hewn in a definite shape for special purposes. It has been used to describe structures built by people from many parts of the world living in many different periods.
Some types of Megalith structures are given below:
Menhir: Menhir is the name used in Western Europe for a single upright stone erected in prehistoric times; sometimes called a "standing stone". a tall or grand structure erected in memory of a dead person.
Monolith: Any single standing stone erected in prehistoric times. Sometimes synonymous with "megalith" and "menhir"; for later periods, the word monolith is more likely to be used to describe single stones.
Capstone style: Single megaliths placed horizontally, often over burial chambers, without the use of support stones.
Stone circles: In most languages, stone circles are called "cromlechs" (a word in the Welch language); the word "cromlech" is sometimes used with that meaning in English.
Dolmen: A Dolmen is a megalithic form created by placing a large capstone on two or more support stones creating a chamber below, sometimes closed in on one or more sides. Often used as a tomb or burial chamber.
Cist: Cist is a small stone-built coffin-like box or ossuary used to hold the bodies of the dead. Burials are megalithic forms very similar to dolmens in structure. These type of burials were completely underground. There were single- and multiple-chambered cists.
16. Rajasthans's Jalliawalan Tragedy : Mangarh Massacre
Subject: Modern India
Context:
On November 17, 1913, six years before the Jallianwala Bagh massacre of April 13, 1919, a horrifying tragedy occurred in Mangarh (Banswada, Rajasthan). While 379 lives were lost in Jallianwala, British cannons and machine guns are known to have killed more than 1,500 tribals in Mangarh.
A noteworthy name in these lost pages of history is that of Govind Guru, a revolutionary leader of the tribals of the region that included present-day Udaipur, Dungarpur and Banswara in Rajasthan, Gujarat's Idar and Malwa in Madhya Pradesh.
Guru was a living legend among the Bhil and Garasiya tribal communities, a man who united thousands of tribals with his voice.
Before Govind Guru became a leader in India's freedom struggle, he played an important role in India's renaissance movement. At the age of 25, he impressed Swami Dayanand Saraswati, a central figure of that movement in north India. Those days, Dayanand Saraswati was in Udaipur; a sanyasi, he was raising issues related to swaraj, swabhasha and swadeshi (self-rule, self-language, and self-reliance) in the country and was spearheading social reforms in the Rajputana. These two figures together initiated a wave of social reforms in the tribal areas.
In 1903, Govind Guru pledged not to drink alcohol, shifting his focus to eradicating social evils, boycotting foreign goods, ending forced labour, educating girls, and resolving mutual disputes among tribes instead of taking them to the courts. This led to the creation of a Sump (Unity) Sabha, whose first meeting was held on the hilltop in Mangarh. This historical event solidified Mangarh's significance in Indian history as it became central to the tribal movement in this area. Like the Jallianwala Bagh massacre, this incident worried the British government and the local princely states. While the British were worried about their participation in the freedom struggle, the princely states were more concerned about social reform that could lead to the tribes demanding an independent Bhil state.
Consequently, there were many attempts to suppress the movement that started in 1883 but had spread like wildfire by 1903. Called the Bhagat movement, the gathering of tribals around the fire to reaffirm their oath was seen by the British as a threat. By 1913, the movement had turned into a revolution that made British officers even more wary as the tribals pledged to fight against suppression.
In November 1917, thousands of tribals gathered on the call of Govind Guru to decide on a decisive action against the suppression being faced by them in the form of forced labour, bonded system, and taxes on farmers during the famine.
In what is today known as the Mangarh massacre, British soldiers fired cannons and machine guns at a large crowd of unarmed tribals who had gathered in an open space on the hilltop of Mangarh. More than 1,500 tribals were killed in the massacre and hundreds were injured.
The consequence of the Mangarh massacre was cruel. Unlike in the Jallianwala Bagh case, no Dyer was held responsible or punished here. Rather, Govind Guru was given a death sentence, and his wife was arrested. But fearing that the movement of tribal Bhils would turn violent, the British postponed his execution and sentenced him to 20 years of imprisonment on an isolated island. When he was released from jail, all the princely states came together to exile him. He lived his last years in Kamboi, Gujarat, where he died on October 30, 1931.
17. Afzal Khan (general) and Shivaji
Subject :History
Context:
THE Supreme Court on Friday sought reports from officials of Maharasthra's Satara district on the demolition drive conducted around the tomb of Afzal Khan, the 17thcentury commander of the Adil Shahi dynasty of Bijapur.
Concept:
Afzal Khan (died 20 November 1659) was a general who served the Adil Shahi dynasty of Bijapur Sultanate in India. He played an important role in the southern expansion of the Bijapur Sultanate by subjugating the Nayaka chiefs who had taken control of the former Vijayanagara territory.
In 1659, the Bijapur government sent Afzal Khan to subjugate Chatrapati Shivaji Maharaj, a former vassal who had started acting independently. He was killed at a truce negotiation meeting with Chatrapati Shivaji Maharaj, and his army was defeated at the Battle of Pratapgad.
Shivaji
Shivaji was born in Shivner near Junnar. He was the son of ShahjiBhonsle by his first wife Shahji was a descendant of the Yadava rulers of Devagiri from his mother's side and the Sisodias of Mewar on his father's side
On 6 June 1674, Shivaji was crowned at He assumed the title of "Chhatrapathi" (metaphor for "supreme king ")
The relentless campaigns affected Shivaji's health. He died in 1680 at the age of 53. At the time of his death, Shivaji's kingdom comprised the Western Ghats and the Konkan between Kalyan and Goa. The provinces in the south included western Karnataka extending from Belgaum to the bank of Tungabhadra.
Contemporaries: Tuka Ram was a contemporary of Maratha Shivaji and saints like Eknath and Ramdas was regarded by Shivaji as his guru. He had conflict with the Mughals (1670) at Aurangazeb reign.
Administration
Shivaji divided the kingdom into four provinces, each under a viceroy. The provinces were divided into a number of Pranths.
This council of eight ministers was known as Ashta Pradhan. Its functions were advisory. Mukhya Pradhan or Peshwa or prime minister, The Amatya or finance minister, The Walkia-Nawis or Mantri,Summant or Dabiror foreign secretary, Sachiv or ShuruNawis or home secretary,Pandit Rao or Danadhyaksha or Sadar and Muhtasib or ecclesiastical head, Nyayadhish or chief justice, Sari Naubat or commander-in-chief
Shivaji collected two taxes, Chauth and Sardeshmukhi, from the adjoining territories of his empire, the Mughal provinces and the territories of the Sultan of Bijapur. Chauth was one-fourth of the revenue of the district conquered by the Marthas. Sardeshmukhi was an additional 10% of the revenue which Shivaji collected by virtue of his position as Sardeshmukh.
The infantry was divided into regiments, brigades. The smallest unit with nine soldiers was headed by a Naik (corporal). Each unit with 25 horsemen was placed under one havildar (equivalent to the rank of a sergeant). Over five havildars were placed under one jamaladar and over ten jamaladars under one hazari. Sari Naubat was the supreme commander of cavalry.
The cavalry was divided into two classes: the bargirs (soldiers whose horses were given by the state) and the shiledars (mercenary horsemen who had to find their own horses). There were water-carriers and farriers too