Daily Prelims Notes 15 April 2021
April 15, 2021

Posted by:

admin1

Category:

DPN

Daily Prelims Notes
15 April 2021
Table Of Contents
Subject: Governance
Context: Delhi starts rolling out Union govt's 'one nation, one ration card' scheme.
Concept:
About the scheme:
One Nation One Ration Card (RC) will ensure all beneficiaries especially migrants can access PDS across the nation from any PDS shop of their own choice.
Benefits: No poor person is deprived of getting subsidized foodgrains under the food security scheme when they shift from one place to another.
It also aims to remove the chance of anyone holding more than one ration card to avail benefits from different states.
Significance: This will provide freedom to the beneficiaries as they will not be tied to any one PDS shop and reduce their dependence on shop owners and curtail instances of corruption.
Standard format of 'one nation, one ration card':
A standard format for ration card has been prepared after taking into account the format used by different states.
For national portability, the state governments have been asked to issue the ration card in bi-lingual format, wherein besides the local language, the other language could be Hindi or English.
The states have also been told to have a 10-digit standard ration card number, wherein first two digits will be state code and the next two digits will be running ration card numbers.
Besides this, a set of another two digits will be appended with ration card number to create unique member IDs for each member of the household in a ration card.
2. OFFICIAL LANGUAGE IN COURTS
Subject: Polity
Context: Ambedkar had proposed Sanskrit as official language: CJI Bobde
Concept:
Article 348 (1) of the Constitution of India provides that all proceedings in the Supreme Court and in every High court shall be in English Language until Parliament by law otherwise provides.
Under Article 348 (2), the Governor of the State may, with the previous consent of the President, authorize the use of the Hindi language or any other language used for any official purpose of the State, in the proceedings of the High Court having its principal seat in that State provided that decrees, judgments or orders passed by such High Courts shall be in English.
Section 7 of the Official Languages Act, 1963, provides that the use of Hindi or official language of a State in addition to the English language may be authorized, with the consent of the President of India, by the Governor of the State for purpose of judgments etc. made by the High Court for that State.
Subject: Disaster Management
Context: Declare Covid-19 pandemic a natural calamity to allow use of disaster funds: Uddhav Thackeray to PM
Concept:
Disaster Management Act, 2005 provides for the effective management of disaster in India.
Overall responsibility: The Disaster Management Division of the Ministry of Home Affairs has the overall responsibility for national disaster response.
The Act provides for financial mechanisms like the National Disaster Mitigation Fund and similar funds at the state and district levels.
Authorities:
The National Disaster Management Authority (NDMA), headed by the Prime Minister
State Disaster Management Authorities (SDMAs) headed by the Chief Ministers
District Disaster Management Authorities (DDMAs) headed by the District Collector or District Magistrate or Deputy Commissioner
What is a disaster?
According to the Disaster Management Act, 2005, a disaster is defined as – "a catastrophe, mishap, calamity or grave occurrence in any area, arising from natural or manmade causes, or by accident or negligence which results in substantial loss of life or human suffering or damage to, and destruction of, property, or damage to, or degradation of, environment, and is of such a nature or magnitude as to be beyond the coping capacity of the community of the affected area".
The Ministry of Home Affairs in its document titled "Disaster Management in India", has defined a disaster as an "extreme disruption of the functioning of a society that causes widespread human, material, or environmental losses that exceed the ability of the affected society to cope with its own resources."
In 2001, the National Committee on Disaster Management mandated to look into the parameters that should define a national calamity did not suggest any fixed criterion.
Types of disasters: The High Power Committee on Disaster Management (1999) identified 31 disaster categories organized into five major sub-groups, which are:
Water and climate related disasters
Geological related disasters
Chemical industrial and nuclear related disasters
Biological related disasters, which includes biological disasters
Epidemics.
Subject: Environment
Context: Researchers have described a pterosaur species with opposable thumbs, which could likely be the earliest-known instance of the limb.
Concept:
The pterosaur species were reptiles, close cousins of dinosaurs and the first animals after insects to evolve powered flight.
They evolved into various species; while some were as large as an F-16 fighter jet, others were as small as paper airplanes.
The new pterosaur fossil was discovered in the Tiaojishan Formation of Liaoning, China, and is thought to be 160 million years old. It has been named Kunpengopterusantipollicatus, also dubbed "Monkeydactyl".
What has the team of researchers found?
"Antipollicatus" in ancient Greek means "opposite thumbs", and it was attached to the name because the researchers' findings could be the first discovery of a pterosaur with an opposed thumb.
By studying its forelimb morphology and musculature, they suggest that K. antipollicatus could have used its hand for grasping, which is likely an adaptation for arboreal life.
Subject: International Relations
Context: Navies of the 'Quad' can swing together to tackle any threat in Indo-Pacific: Top Indian & US commanders.
Concept:
It is a four-nation alliance of India, Australia, USA and Japan which was established in 2007.
It is often dubbed as an "Asian" or "mini" NATO, and is viewed as a counterbalance to China's military and economic clout in the Indo-Pacific region.
The 2020 US-China Economic and Security Review Commission shows China's growing power projection along the Indian Ocean rim with military or economic activities in countries like Pakistan, Sri Lanka, Maldives, Myanmar and Bangladesh.
Interestingly, the QUAD, which used to be known as the quadrilateral security dialogue, is now known as the quadrilateral framework to indicate it has gone beyond a narrow security dialogue.
In November 2017, India, the USA, Australia and Japan gave shape to the long-pending "QUAD" Coalition to develop a new strategy to keep the critical sea routes in the Indo-Pacific free of any influence (especially China).
Since then, QUAD has taken several steps to bolster military and strategic ties with a series of working- and ministerial-level meetings.
Participation in Malabar Exercise:
In 2020, all four QUAD Countries – Japan, India, Australia and the USA took part in the Malabar exercise.
Malabar exercise is an annual trilateral naval exercise between the navies of India, Japan, and the USA which is held alternately in the Indian and Pacific Oceans.
Subject: National Organisations
Context: National Commission for Scheduled Castes starts online complaints portal.
Concept:
NCSC is a constitutional body that works to safeguard the interests of the scheduled castes (SC) in India.
Article 338 of the constitution of India deals with this commission:
It provides for a National Commission for the Scheduled Castes and Scheduled Tribes with duties to investigate and monitor all matters relating to safeguards provided for them, to inquire into specific complaints and to participate and advise on the planning process of their socio-economic development etc.
History and Origin:
Special Officer: Initially, the constitution provided for the appointment of a Special Officer under Article 338.
The special officer was designated as the Commissioner for Scheduled Castes and Scheduled Tribes.
65th Amendment, 1990: It replaced the one-member system with a multi-member National Commission for Scheduled Castes (SC) and Scheduled Tribes (ST).
The Constitution (65th Amendment) Act 1990, amended Article 338 of the Constitution.
89th Amendment, 2003: By this amendment, the erstwhile National Commission for SC and ST was replaced by two separate Commissions from the year 2004 which were: National Commission for Scheduled Castes (NCSC) and National Commission for Scheduled Tribes (NCST)- under Article 338-A.
Structure:
It consists of Chairperson, Vice-chairperson and three other members.
They are appointed by the President by warrant under his hand and seal.
Functions:
Monitoring and investigating all issues concerning the safeguards provided for the SCs under the constitution.
Enquiring into complaints relating to the deprivation of the rights and safeguards of the SCs.
Taking part in and advising the central or state governments with respect to the planning of socio-economic development of the SCs.
Regular reporting to the President of the country on the implementation of these safeguards.
Recommending steps to be taken to further the socio-economic development and other welfare activities of the SCs.
Any other function with respect to the welfare, protection, development and advancement of the SC community.
The Commission is also required to discharge similar functions with regard to the Anglo-Indian Community as it does with respect to the SCs.
Till 2018, the commission was also required to discharge similar functions with regard to the other backward classes (OBCs). It was relieved from this responsibility by the 102nd Amendment Act of 2018.
Subject: Governance
Context: Recently, the Principal Scientific Adviser to the Government of India has virtually launched the MANAS Platform.
Concept:
About MANAS Platform
The MANAS platform stands for Mental Health and Normalcy Augmentation System.
It was endorsed as a national program by the Prime Minister's Science, Technology, and Innovation Advisory Council (PM-STIAC).
It is a comprehensive, scalable, and national digital wellbeing platform and an app developed to augment mental well-being of Indian citizens.
It was initiated by the Office of the Principal Scientific Adviser to the Government of India.
It is a joint venture by Pune-based Armed Forces Medical College (AFMC) and National Institute of Mental Health and Neuro-Sciences (NIMHANS), Bengaluru.
The application has been developed by the Bengaluru centre of the Centre for Development of Advanced Computing (CDAC).
It is based on life skills and core psychological process, with universal accessibility, delivering age-appropriate methods and promoting positive attitude focusing on wellness.
The current version has identified two age groups i.e. ages 15 to 20, termed as Mann-Marg, and ages 20 to 35, termed as YoungISTAN.
PM-STIAC
The Prime Minister's Science, Technology, and Innovation Advisory Council (PM-STIAC), is an overarching Council that facilitates the Principal Scientific Adviser's Office to assess the status in specific science and technology domains, comprehend challenges in hand, formulate specific interventions, develop a futuristic roadmap and advise the Prime Minister accordingly.
The Office of the Principal Scientific Adviser (PSA) to the Government of India coordinates to facilitate and ensure the implementation of significant interventions by concerned government departments, agencies, and ministries.
The PM-STIAC Secretariat is based at Invest India and provides support to the Office of the PSA on project management and monitoring of the aforesaid interventions and national missions.
Subject: Science & tech
Context: Iran 'almost' ready for 60% uranium enrichment: UN nuclear agency.
Concept:
Uranium enrichment is a process that is necessary to create an effective nuclear fuel out of mined uranium by increasing the percentage of uranium-235 which undergoes fission with thermal neutrons.
Nuclear fuel is mined from naturally occurring uranium ore deposits and then isolated through chemical reactions and separation processes.
These chemical processes used to separate the uranium from the ore are not to be confused with the physical and chemical processes used to enrich the uranium.
Naturally occurring uranium does not have a high enough concentration of Uranium-235 at only about 0.72% with the remainder being Uranium-238.
Due to the fact that uranium-238 is fissionable and not fissile, the concentration of uranium-235 must be increased before it can be effectively used as a nuclear fuel.
Subject: International Agreements
Context: Singapore has ratified the Regional Comprehensive Economic Partnership (RCEP) agreement, becoming the first country to do so.
Concept:
Regional Comprehensive Economic Partnership (RCEP) is a free trade agreement (FTA) between –
The 10 members of ASEAN
Additional members of ASEAN +3 = China, Japan, South Korea
Members with which ASEAN countries have FTA = Australia, New Zealand
The group is expected to represent at least 30% of the global GDP and will emerge as the largest free trade agreement in the world.
It includes more than 3 billion people, has a combined GDP of about $17 trillion, and accounts for about 40 per cent of world trade.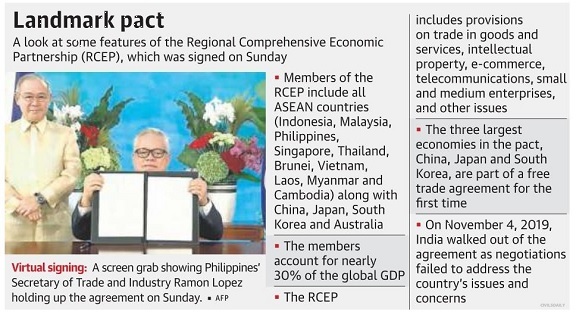 Subject: International Organisations
Context: NATO will likely join the U.S. in withdrawing all troops from Afghanistan this September, German Defense Minister AnnegretKramp-Karrenbauer said Wednesday.
Concept:
North Atlantic Treaty Organization:
It is an intergovernmental military alliance.
Established by Washington treaty that was signed on 4 April 1949.
Headquarters — Brussels, Belgium.
Headquarters of Allied Command Operations — Mons, Belgium.
Significance:
It constitutes a system of collective defence whereby its independent member states agree to mutual defence in response to an attack by any external party.
Composition:
Since its founding, the admission of new member states has increased the alliance from the original 12 countries to 30. The most recent member state to be added to NATO was North Macedonia on 27 March 2020.
NATO membership is open to "any other European state in a position to further the principles of this Treaty and to contribute to the security of the North Atlantic area."
Objectives:
Political – NATO promotes democratic values and enables members to consult and cooperate on defence and security-related issues to solve problems, build trust and, in the long run, prevent conflict.
Military – NATO is committed to the peaceful resolution of disputes. If diplomatic efforts fail, it has the military power to undertake crisis-management operations.
These are carried out under the collective defence clause of NATO's founding treaty – Article 5 of the Washington Treaty or under a United Nations mandate, alone or in cooperation with other countries and international organisations.