Daily Prelims Notes 15 February 2021
February 15, 2021

Posted by:

admin1

Category:

DPN

Daily Prelims Notes
15 February 2021
By
Santosh Sir
All 6 Prelims qualified
4 CSE Mains qualified
If I can do it, you can too
Table Of Contents
Subject: Security
Context: On the eve of 2 years of Pulwama attack the PM dedicated the "Main Battle Tank Arjun Mark 1A" to the nation.
Concept:
It is an indigenously designed, developed and manufactured by CVRDE and DRDO along with 15 academic institutions, eight labs and several MSMEs.
The biggest achievement with the latest version is 54.3 per cent indeginous content against the 41 per cent in the earlier model.
The Mk-1A version has 14 major upgrades on the earlier version. It is also supposed to have missile firing capability as per the design, but this feature will be added later as final testing of the capability is still on.
About the Arjun Main Battle Tank:
It was initiated by DRDO in 1972 with the Combat Vehicles Research and Development Establishment (CVRDE) as its lead laboratory.
It is a state-of-the-art tank with superior fire power, high mobility, and excellent protection.
The CVRDE achieved breakthroughs in the engine, transmission, hydropneumatic suspension, hull and turret as well as the gun control system.
Mass production began in 1996 at the Indian Ordnance Factory's production facility in Avadi, Tamil Nadu.
Features:
It stands out for Fin StabilisedArmour Piercing Discarding Sabot (FSAPDS)' ammunition and 120-mm calibre rifled gun.
It has computer-controlled integrated fire control system with stabilised sighting that works in all lighting conditions.
It also has two secondary weapons (machine gun) attached to it.
Subject: Environment
Context: Debris and silt across Ganga after Uttarakhand flood raised turbidity of water impacting water supply in Delhi.
Concept:
It is the degree to which the water loses its transparency due to the presence of suspended particulates. It is considered good measure of quality of water.
Turbidity is a measure of relative clarity of a liquid and is measured in Nephelometric Turbidity Units (NTU). Debris, silt and mud in the water are among the reasons behind high turbidity.
WHO establishes that the turbidity of drinking water shouldn't be more than 5 NTU, and should ideally be below 1 NTU.
A turbidity measurement could be used to provide an estimation of the TSS (Total Suspended Solids) concentration, which is otherwise a tedious and difficult parameter to measure.
Sources/Factors of turbidity include:
Phytoplankton
Sediments from erosion
Resuspended sediments from the bottom (frequently stir up by bottom feeders like carp)
Waste discharge
Algae growth
Urban runoff
Impact of turbidity
Affects drinking water quality
Suspended particles absorb heat from the sunlight, making turbid waters become warmer, and so reducing the concentration of oxygen in the water
Many organisms can't survive in warm water
It also helps the attachment of heavy metals and many other toxic organic compounds and pesticides
Subject: Science and Tech
Context: Rise in turbidity in rivers due to Uttarakhand flood saw use of coagulants to treat turbidity.
Concept:
To address the turbidity in Delhi's water sources coagulants are being added temporarily, so that they can be filtered.
Coagulants are particles that causes particles in liquid to clump together and form clot which can be filtered out.
Coagulation with extracts from natural and renewable vegetation has been widely practiced throughout history.
Extracts from the seeds of the Moringa oleifera tree, widely present in Africa, the Middle East, and the Indian subcontinent, can be used. Strychnos potatorum (also known as the clearing nut or nirmali tree), is found in India, Sri Lanka and Myanmar and can be used to treat water. Prickly pear cactus is prevalent and traditionally used in Latin America. Lava beans are other example of natural coagulant.
Alum is one of the most widely used coagulants in the water treatment industry.
Organic coagulants are generally used for solid & liquid separation and sludge generation. Ex- PolyAMINEs and PolyDADMACs; Melamine Formaldehydes and Tannins
Inorganic coagulants: cost-effective and applicable for a broad variety of water and wastewater. Inorganic coagulants are particularly effective on raw water with low turbidity and will often treat this type of water when organic coagulants cannot. Ex- Alum, Aluminum Chloride, Polyaluminum Chloride (PAC) & Aluminum Chlorohydrate (ACH), Ferric Sulfate & Ferrous Sulfate, Ferric Chloride
How does coagulation work to remove turbidity?
Coagulants contain significant quantities of water-soluble proteins, which carry an overall positive charge when in solution.
The proteins bind to the predominantly negatively charged particles that cause turbidity (e.g., sand, silt, clay).
Coagulation happens when the positively and negatively charged particles are chemically attracted.
They can then accumulate (a process called flocculation) to form larger and heavier particles called flocs.
The flocs can be settled out or removed by filtration. Bacteria and viruses can attach themselves to the suspended particles in water that cause turbidity.
Therefore, reducing turbidity levels through coagulation may also improve the microbiological quality of water.
Subject: Polity
Context: The MP protem Speaker said recent Rinkusharma murder was due to "dharma and Hindutva", and culprits must be punished.
Concept:
The word "Protem" is a latinwor meaning "time-being". Hence, protem speaker is one in office for time-being.
Usually, the senior most member is elected as the pro-tem speaker.
The president/governor administers the oath of the office for the pro-tem speaker.
When the house elects the new speaker the office of the pro-tem speaker ceases to exist. Hence the office of the pro-tem speaker is a temporary one which will be in existence for few days.
He/she has same power and privileges as that of the speaker.
Role of protem speaker
to administer the oath to the newly elected members and help house elect the new Speaker
5. International Cruise Terminal Sagarika in Kochi
Subject: Economy
Context: The PM dedicated first international cruise Terminal to the nation.
Concept:
It is another landmark for Kochi which is slowly evolving as major cruise destination across the globe.
A dedicated terminal, that is fully air-conditioned and serving the cruise ship requirements, provides all statutory clearances, including Customs and Immigration, for cruise passengers.
Other amenities included walk-in-berthing, assured quality bunkers and fresh water services, said Port Trust sources.
Closeness to Mattancherry and Fort Kochi that have a rich historic legacy has added to its rise as cruise destination.
The backwater tourism in Alappuzha and spices destinations in Idukki are other major attraction.
It is seen as a major efforts towards blue economy.
Additional:
The Union government has relaxed cabotage restrictions for cruise vessels so that it is possible to transport Indians from one port to another port in the country on foreign cruise vessels transiting through the country's waters.
Cabotage is the transport of goods or passengers between two places in the same country by a transport operator from another country.
The PM also talked of The Propylene Derivatives Petrochemical complex of Kochi Refinery which will help strengthen our journey towards being Atmanirbhar.
About Mattancherry
Mattancherry is home to the Paradesi Synagogue, India's oldest functioning synagogue, Mattancherry Palace Museum, MattacherryPazhayannur Royal temple.
The name Mattancherry comes from "AncherryMattom", a "Namboodiriillam" which the foreign traders then pronounced it as Matt-Ancherry, gradually became Mattancherry. It is largely a Tamil Brahmin settlement.
Subject: Art and Culture
Context: A group of TheruKoothu, a declining art form,saw artists performing their first performance in political party rally this year.
Concept:
It is the most popular form of folk drama of Tamil Nadu, literally means "street play".
It is mostly performed at the time of annual temple festivals of Mariamman (Rain goddess) to achieve rich harvest.
At the core of the extensive repertoire of Therukoothu there is a cycle of eight plays based on the life of Draupadi.
Kattiakaran, the Sutradhara of the Therukoothu performance, gives the gist of the play to the audience and Komali entertains the audience with his buffoonery
In TheruKoothu make-up and costumes are considered to be of prime importance.They perform with menacing moustaches, heavy make-up, colourful dresses and a handful male dressed as female mythological characters as well.
Generally performed in open air, under the gas lights.
Subject: Art and Culture
Context: A fuel station owner at Nagapampalli near Karur has been offering half-a-litre of petrol free to customers whose kids recite 10 couplets of Thirukkural.
Concept:
The aim of initiative is:
Promote reading habit
Bring about a focus in students
Awareness about the poet and his ideas
About Thiruvallavur:
Thiruvalluvar is also called Valluvar and was a Tamil poet-saint.
Regarded as the cultural and moral icon for Tamils across caste and religious lines.
He dismissed the caste system
He had contributed the Tirukkural or 'Kural' to the Sangam literature.
Tirukkural is comprised of 133 sections of 10 couplets each is divided into three books: Aram (virtue), Porul (government and society), and Kamam (love).
Recently political controversy arose for if belonged to 3rd-4th century or 8th to 9th Also, he is associated with Jainism as well as Hinduism by some groups.
15th January is celebrated as the Thiruvalluvar Day.
Subject: Science and tech
Context: Scientists have found that the Covid-19 leaves behind the danger of multi-organ damage due to autoimmunity effect.
Concept:
About autoimmunity:
It is a condition in which the body's defence mechanism attacks its own organs, mistaking them as foreign invaders.
Clinical reports suggest of autoimmune conditions that follow Covid-19 leading to multi-organ failure.
Such response post-covid19 is now explained through molecular mimicry', which occurs when virus epitopes elicit an antibody response.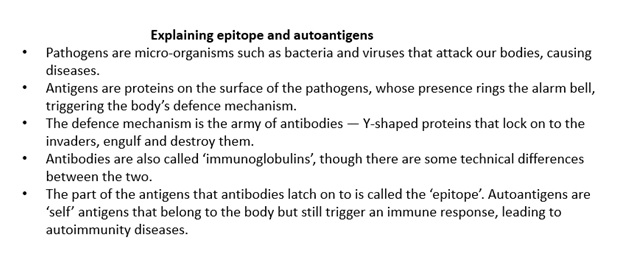 These epitopes are similar to the ones present in the other 'good' proteins in the body, the antibodies could attack the latter instead of (or in addition to) the viral epitopes. This gives rise to what we know as autoimmune conditions.
The scientists also highlighted Human proteins housing amino acid sequences similar to the viral epitopes which were identified as possible 'autoantigens' — that is, targets of antibodies generated against the spike protein of SARS-CoV-2.
These findings if established experimentally can contribute to the understanding and better management of post-infection autoimmune reactions
9. External Commercial Borrowing (ECB)
Subject: Economy
Context: ECB as cheap source of borrowing needs to be availed with caution said RBI director.
Concept:
It is a commercial loan raised by an eligible resident entity from recognised non-resident entities.
These foreign sources could be:
Commercial bank loans
Buyers' credit and suppliers' credit
Securitised instruments such as Floating Rate Notes and Fixed Rate Bonds etc.
Credit from official export credit agencies and commercial borrowings from the private sector window of Multilateral Financial Institutions.
Commercial borrowings account for the largest component of India's external debt.
Why ECB?
With interest rates in the US and Euro Zone currently being markedly lower than domestic rates, a corporate can save on its financing costs by taking recourse to ECB even after it takes into account associated costs such as hedging, guarantee fees and other transaction costs.
The six-month London Interbank Offered Rate (LIBOR) or any other six-month interbank interest rate applicable to a currency of borrowing such as Euro Interbank Offered Rate is the benchmark rate for ECBs in foreign currencies.
In India it is allowed for expansion of existing capacity as well as for fresh investment.
ECB is the considered best solution to push productive lending without implications for price rise (as pushing liquidity involves risk of inflatioon)
ECB is different from FDI as ECB means any kind of funding other than Equity which comes under FDI
Concerns with ECB
Borrowers' skill to use it to their advantage is a must for such instruments
Exchange rate risk involved in servicing the debt
Hedging off ECB is must and involves costs and this option may not be always available
Higher magnitude of foreign debt could lead to rupee appreciation and reduction in the competitiveness of our exports