Daily Prelims Notes 16 January 2022
January 16, 2022

Posted by:

admin1

Category:

DPN

Daily Prelims Notes
16 January 2022
Table Of Contents
Subject – Governance
Context – Woman held for trafficking at Ranchi airport; 'bought child' for Rs 22k: cops
Concept –
To know about CWC, please refer August 2021 DPN.
2. The National Martyrs Memorial
Subject – History
Context – The Prime Minister's event at Ferozepur was cancelled after his convoy was stranded on a flyover for 15-20 minutes as the road was blocked by protesters near the National Martyrs Memorial in Hussainiwala.
Concept –
National Martyrs Memorial Hussainiwala depicts an irrepressible revolutionary spirit of three National Martyrs namely Bhagat Singh, Rajguru and Sukhdev who lit eternal flame of liberty by smilingly embracing martyrdom for the motherland.
S Bhagat Singh and BK Dutt threw a Bomb in the Central Assembly hall New Delhi on April, 8 1929 to record their protest against the British rule in India. He and his two brave comrades Rajguru and Sukhdev were tried for shooting a British Police Officer Mr Saundras on the 17th December, 1928
These three revolutionaries were awarded death sentence. Following a hasty trial of the Lahore conspiracy case they were executed a day earlier than the hanging scheduled in the Central Jail Lahore at 7.15 PM on March 23,1931
The Jail authorities broke the back wal of the Jail and secretly brought the dead bodies of S Bhaghat Singh and comrades here, on this spot at the bank of the river Sutlej for an unceremonial cremation.
Bomb in the Central Legislative Assembly(April 1929)
The HSRA leadership now decided to let the people know about its changed objectives and the need for a revolution by the masses.
Bhagat Singh and BatukeshwarDutt were asked to throw a bomb in the Central Legislative Assembly on April8, 1929 to protest against the passage of the Public Safety Bill and Trade Disputes Bill aimed at curtailing civil liberties of citizens in general and workers in particular.
The bombs had been deliberately made harmless and were aimed at making 'the deaf hear'.
The objective was to get arrested and to use the trial court as a forum for propaganda so that people would become familiar with their movement and ideology.
Action against the Revolutionaries
Bhagat Singh, Sukhdev and Rajguru were tried in the Lahore conspiracy case. Many other revolutionaries were tried in a series of other cases.
In jail, these revolutionaries protested against the horrible conditions through fasting, and demanded honourable and decent treatment as political prisoners.
JatinDas became the first martyr on the 64th day of his fast.
The defence of these young revolutionaries was organised by Congress leaders. Bhagat Singh became a household name.
Azad was involved in a bid to blow up Viceroy Irwin' strain near Delhi in December 1929.
During 1930 there were a series of violent actions in Punjab and towns of United Provinces (26 incidents in 1930 in Punjab alone).Azad died in a police encounter in a park in Allahabad in February 1931.
Bhagat Singh, Sukhdev and Rajguru were hanged on March 23, 1931.
Subject – Personalities in News
Context – On January 9, birth anniversary of Savitribai's fellow pioneer teacher in Pune, Fatima Sheikh.
Concept –
Fatima Sheikh was an Indian educator and social reformer, who was a colleague of the social reformers JyotiraoPhule and Savitribai Phule.
She is widely considered to be India's first Muslim woman teacher.
Jyotirao and Savitribai Phule along with Fatima Sheikh took charge of spreading education among the downtrodden communities.
Sheikh met Savitribai Phule while both were enrolled at a teacher training institution run by Cynthia Farrar, an American missionary.
Sheikh was considered to be a feminist icon, and in pre-independent India, she had to fight social ostracism and discrimination to bring about a change in the country.
She would take up causes she believed in, like co-founding the Indigenous Library in 1848 — which was one of India's first schools for girls — along with the Phules.
The efforts that she put in, working alongside the Phules, to provide opportunities to those born in the lower caste, got recognised as the SatyashodhakSamaj (Truthseekers' Society) movement.
In 2014, Sheikh's achievements were featured by the government in the form of a profile in Urdu textbooks, along with other such exemplary and resolute educators of her time.
Subject – Science and Tech
Context – Six airbags could be mandatory in your car soon
Concept –
An airbag is a vehicle occupant-restraint system using a bag designed to inflate extremely quickly, and then quickly deflate during a collision.
It consists of the airbag cushion, a flexible fabric bag, an inflation module, and an impact sensor.
The purpose of the airbag is to provide a vehicle occupant with a soft cushioning and restraint during a collision. It can reduce injuries between the flailing occupant and the interior of the vehicle.
On 5 March 2021, the Indian Ministry of Road Transport and Highways mandated that all new vehicle models introduced in India after 1 April 2021 have dual front airbags; the regulation also requires that all existing models be equipped with dual front airbags by 31 August 2021.
How do air bags work?
The chemical at the heart of the air bag reaction is called sodium azide, or NaN3.
Under normal circumstances, this molecule is quite stable. If heated, though, it will fall apart.
The chemical equation 2 NaN3–> 2 Na + 3 N2 describes exactly how it falls apart.

A handful (130 grams) of sodium azide will produce 67 liters of nitrogen gas–which is enough to inflate a normal air bag.
Sodium is a very reactive metal that will react rapidly with water to form sodium hydroxide; as a result, it would be quite harmful if it got into your eyes, nose or mouth. So to minimize the danger of exposure, air bag manufacturers mix the sodium azide with other chemicals that will react with the sodium and, in turn, make less toxic compounds.

There are sensors in the front of the automobile that detect a collision. These sensors send an electric signal to the canister that contains the sodium azide and the electric signal detonates a small amount of an igniter compound. The heat from this ignition starts the decomposition of the sodium azide and the generation of nitrogen gas to fill the air bag.
From the time the sensor detects the collision to the time the air bag is fully inflated is only 30 milliseconds, or 0.03 second.
What is an 'M1' vehicle?
Under the government's homologation rules, vehicles are bucketed into broad categories. 'Category M' covers motor vehicles with at least four wheels, used for carrying passengers.
And the sub-category 'M1' defines "a motor vehicle used for the carriage of passengers, comprising not more than eight seats in addition to the driver's seat".
What is homologation?
Homologation is the process of certifying that a particular vehicle is roadworthy, and matches certain specified criteria laid down by the government for all vehicles that are built or imported into the country.
Tests are carried out to ensure that the vehicle matches the requirements of the Indian market in terms of emissions, and safety and roadworthiness, as laid down by the Central Motor Vehicle Rules.
The Supreme Court Committee on Road Safety
It was headed by former apex court judge Justice K S P Radhakrishnan(later by retired judges, Justice A M Sapre)
Brasilia Declaration on Road Safety
The declaration was signed at the Second Global High-Level conference on Road Safety held in Brazil.
Through the Brasilia Declaration Countries plan to achieve the Sustainable Development Goal 3.6: By 2020, halve the number of global deaths and injuries from road traffic accidents.
United Nations has also declared 2010-2020 as the decade of action for Road Safety.
Countries should form transport policies in order to favor more sustainable modes of transport such as walking, cycling and using public transport.
Subject – Governance
Context – Interacting with over 150 startups on Saturday as part of Azadika Amrit Mahotsav, Prime Minister Narendra Modi has declared that January 16 will be celebrated as 'National Start-up Day'.
Concept –
The prime Minister said, "start-ups are going to be the backbone of new India. When India completes 100 years of independence, start-ups will have an important role. Country's innovators are making the country proud globally."
He further noted that, "this decade is being called as 'techade' of India…to strengthen the innovation, entrepreneurship and start-up ecosystem have important aspects like liberating entrepreneurship, innovation from govt processes, bureaucratic silos."
The event is a part of AzadikaAmritMahotsav, "Celebrating Innovation Ecosystem".
According to Prime Minister's Office (PMO), the event is being hosted by the Department for Promotion of Industry and Internal Trade (DPIIT), Ministry of Commerce and Industry, from January 10 to 16. The event marks the 6th anniversary of the launch of the Startup India initiative.
Definition of Startup for Government schemes
To bring uniformity in the enterprises, the Department for Promotion of Industry and Internal Trade, Ministry of Commerce and Industry, Government of India has come out with a definition for an entity to be considered as a Startup.
An entity shall be considered as a Startup:

Upto a period of ten years from the date of incorporation/ registration, if it is incorporated as a private limited company (as defined in the Companies Act, 2013) or registered as a partnership firm (registered under section 59 of the Partnership Act, 1932) or a limited liability partnership (under the Limited Liability Partnership Act, 2008) in India.
Turnover of the entity for any of the financial years since incorporation/ registration has not exceeded one hundred crore rupees.
Entity is working towards innovation, development or improvement of products or processes or services, or if it is a scalable business model with a high potential of employment generation or wealth creation. Provided that an entity formed by splitting up or reconstruction of an existing business shall not be considered a 'Startup'.

Provided that such entity is not formed by splitting up, or reconstruction, of a business already in existence.
An entity shall cease to be a Startup on completion of ten years from the date of its incorporation/ registration or if its turnover for any previous year exceeds one hundred crore rupees.
The process of recognition as a 'Startup' shall be through an online application set up by the Department for Promotion of Industry and Internal Trade.
Post getting recognition a Startup may apply for Tax exemption under section 80 IAC of the Income Tax Act.
Post getting clearance for Tax exemption, the Startup can avail tax holiday for 3 consecutive financial years out of its first ten years since incorporation.
Startup India Scheme
Startup India scheme is an important government scheme that was launched on 16th January 2016 with an aim to promote and support the start-ups in India by providing bank finances.
Organized by the Department for promotion of industry and internal trade, the major objective of Startup India is to discard some of the restrictive States Government policies which include:

License Raj
Land Permissions
Foreign Investment Proposals
Environmental Clearances

Various benefits under it:

10,000 crore startup funding pool.
Reduction in patent registration fees.
Improved Bankruptcy Code, to ensure a 90-day exit window.
Freedom from inspections for first 3 years of operation.
Freedom from Capital Gain Tax for first 3 years of operation.
Freedom from tax for first 3 years of operation.
Self-certification compliance.
Created an Innovation hub, under the Atal Innovation Mission.
To target 5 lakh schools, and involve 10 lakh children in innovation-related programmes.
New schemes to provide IPR protection to startup firms.
Built Startup Oasis as Rajasthan Incubation Center.
Subject – Places in News
Context – U.S. coast on tsunami alert after Pacific volcano
Concept –
Tonga is a Polynesian country and also an archipelago consisting of 169 islands, of which 36 are inhabited.
In 2010, Tonga took a decisive step away from its traditional absolute monarchy and towards becoming a fully functioning constitutional monarchy, after legislative reforms paved the way for its first partial representative elections.
Geologically the Tongan islands are of two types: most have a limestone base formed from uplifted coral formations; others consist of limestone overlaying a volcanic base.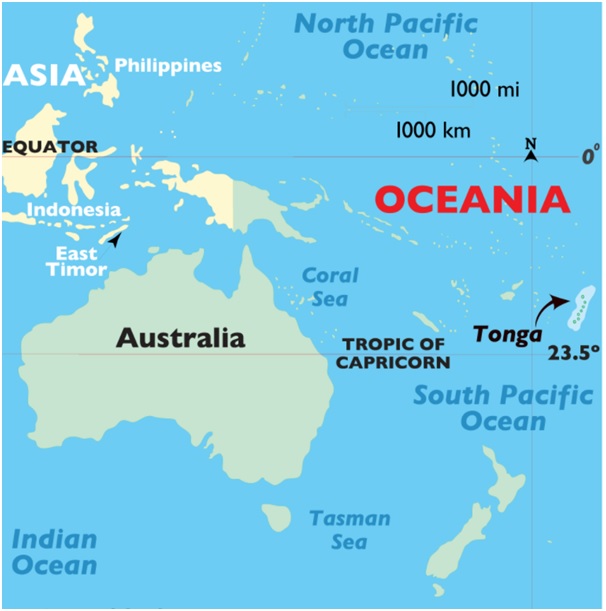 Why are the volcano's eruptions so highly explosive, given that sea water should cool the magma down?
If magma rises into sea water slowly, even at temperatures of about 1200 degrees Celsius, a thin film of steam forms between the magma and water. This provides a layer of insulation to allow the outer surface of the magma to cool.
But this process doesn't work when magma is blasted out of the ground full of volcanic gas. When magma enters the water rapidly, any steam layers are quickly disrupted, bringing hot magma in direct contact with cold water.
Volcano researchers call this 'fuel-coolant interaction' and it is akin to weapons-grade chemical explosions. Extremely violent blasts tear the magma apart. A chain reaction begins, with new magma fragments exposing fresh hot interior surfaces to water, and the explosions repeat, ultimately jetting out volcanic particles and causing blasts with supersonic speeds.
Subject – IR
Context – India makes its position clear on road to Lipulekh
Concept –
Lipulekh is a Himalayan pass. The pass is near the Chinese trading town of Taklakot (Purang) in Tibet and used since ancient times by traders, mendicants and pilgrims transiting between India and Tibet.
This pass links the Byans valley of Uttarakhand, India with the Tibet Autonomous Region of China, and forms the last territorial point in Indian territory.
The Kailash MansarovarYatra, a Hinduism pilgrimage to Mount Kailash and Lake Manasarovar, traverses this pass.
Presently, Lipulekh Pass is open for cross-border trade every year from June through September.
It is also known as Lipu-Lekh Pass/Qiangla or Tri-Corner is a high altitude mountain pass situated in the western Himalayas with a height of 5,334 metre or 17,500 feet.
It is an International mountain pass between India, China and Nepal.
Nepalese claims
The Nepalese claims to the southern side of the pass, called Kalapani territory, are based on 1816 Sagauli Treaty between British East India Company and Nepal. The treaty delimited the boundary along the Kali River (also called the Sharda River and Mahakali River).
India claims that the river begins at the Kalapani village as this is where all its tributaries merge. But Nepal claims that it begins from the Lipulekh Pass.
The historical record shows that, sometime around 1865, the British shifted the border near Kalapani to the watershed of the Kalapani river instead of the river itself, thereby claiming the area now called the Kalapani territory.This is consistent with the British position that the Kali River begins only from the Kalapani springs,which meant that the agreement of Sugauli did not apply to the region above the springs.
Kali River
It is also known as Sharda river or Kali Ganga in Uttarakhand.
It joins Ghagra river in Uttar Pradesh, which is a tributary of Ganga.
River Projects: Tanakpur hydro-electric project, Chameliya hydro-electric project, Sharda Barrage.
Subject – Governance
Context – Despite ban, cockfights organised in A.P
Concept –
A cockfight is a blood sport, held in a ring called a cockpit. The history of raising fowl for fighting goes back 6,000 years.
Cockfighting in India primarily takes place in January, coinciding with Makar Sankranti.
The practice is widespread in coastal districts of Andhra Pradesh, including Krishna, Guntur, East Godavari and West Godavari districts, despite being illegal in India.
Fights between birds such as junglefowls and roosters are said to have been arranged in ancient India as a mode of entertainment. It is recorded that the outcome of the Battle of Palnadu (1178–1182) was decided by a rooster fight, following which cockfighting gained foothold in Andhra Pradesh.
In the present day, cockfighting takes place in Andhra Pradesh and other parts of India such as Telangana, Karnataka, and Odisha.
Roosters are specially bred for cockfights, with knives and blades tied to their legs. The fight typically results in the death of one of the birds.
Cockfighting has been illegal in India since the enactment of Prevention of Cruelty to Animals Act in 1960.

Subsequent judgements by the Supreme Court of India in 2015, and the Hyderabad High Court in 2016, upheld the ban.
In January 2018, the Supreme Court allowed the sport to be held in a traditional way, without the use of knives and blades and without gambling or betting.

Despite the ban, cockfighting is still popular in Andhra Pradesh.
Subject – Science and Tech
Context – Muscles starve in the absence of vitamin D, study of mice finds
Concept –
Skeletal muscles normally brim with energy, yet they starve in the absence of Vitamin D, says recent research.
This research demonstrates that glycogen stored in the skeletal muscles is not converted into a usable form of energy without Vitamin D.
Usually, the glucose absorbed from the food is converted into glycogen and stored in the skeletal muscle. This stored energy reserve is used by muscles to produce energy after the food consumed is digested. However, in the absence of vitamin D, the skeletal muscle is starved of energy, decreasing muscle mass.
Vitamin D deficiency is often associated with rickets. In rickets, the bone tissue does not correctly mineralise calcium and phosphorus, leading to softening of bones resulting in skeletal deformities.
However, we are becoming aware that vitamin D works more as a hormone than and is involved in a host of biochemical reactions. It is key to maintaining metabolic functions, immune system, bone health and plays a crucial role in depression, mood swings, anxiety and sleep quality.
As part of the normal metabolic process, proteins produced in our body degrade, and in due course, new proteins are made to replace them. Usually, when the protein degradation exceeds protein synthesis, skeletal muscle atrophy or simply a decrease in muscle mass occurs.
Typically, the protein synthesis is high when the digestion of the food is taking place and is slower during the post-absorptive state when the digestion is completed.
In mice lacking a vitamin D receptor (VDR) after the weaning stage of growth, the protein synthesis was impaired during the post-absorptive stage.
Without the vitamin D receptor there was a general increase in protein degradation and a decrease in postabsorptive protein synthesis.
VDR knockout mice had higher glycogen levels than the control ones. Scientists found that the glycogen synthase, the key enzyme that converts glucose into glycogen, was having a field day without the inhibitory enzymes active. More and more glycogen was being produced and stored in the skeletal muscle.
Nevertheless, the glycogen phosphorylase, an enzyme that converts glycogen to glucose when energy is needed, was significantly lower. As a result, while muscle continued to make glycogen, none of it could be converted back to glucose resulting in energy deficiency."
Even with abundant glycogen present, the skeletal muscle could not extract the energy in the absence of vitamin D.
Without vitamin D, glycogen storage cannot be utilised for glucose production. When the glycogen storage does not give energy, particularly in a post-absorb state, the skeletal muscle draws more glucose from the blood. This leads to a systemic energy shortage.
When there is systemic lack of energy, like during hunger, the protein degradation in muscle is triggered leading to muscle wasting.
Subject – Science and Tech
Context – The elderly are prone to chronic conditions that manifest as itches
Concept –
Chronic itch can be dermatologic-often triggered by the release of histamine, and treated with antihistamine drugs (e.g., Benadryl), neuropathic (related to the nervous system, as in shingles, nerve compression and cerebral hemorrhage), or systemic (as in renal insufficiency) or psychogenic (as in obsessive-compulsive disorders).
The elderly are particularly prone to chronic conditions that manifest as itches.
Associated causes could be diabetes, hypothyroidism, several cancers and Iron deficiency.
Factors that induce itch are called pruritogens. Tissues that are sensitive to itch include the skin, mucus membranes and the cornea of the eye.
Some nerve fibres in these tissues (pruriceptors) are stimulated by pruritogens and the resulting signals are carried, via itch-signaling neurons in the spinal cord, to the brain. There are several different receptors and channels that respond to pruritogens. A great degree of redundancy in their roles ensures that no matter what, the itch sensation gets through to your brain. A common example of chronic itch is atopic dermatitis, an inflammatory condition showing cracked, itchy skin, which is often caused by allergens.
The scratch response is a key difference between itch and pain. Sudden, sharp pain causes you to hurriedly retract and thus escape damage; scratching actually draws attention to the cause of the itch. Scratching evokes an inhibition of itch-signaling neurons in the spinal cord. This reduces the quantum of itch sensations that reach the brain. But the respite is only short-lived – by scratching, you are inflicting mild pain, and in your brain, pain can momentarily overshadow the itch sensation.
Scratching may even trigger reward systems in the brain, making it a pleasurable feeling. But for patients with chronic itch, scratching can be a bane, causing damage to the skin and aggravating the itch.
In a series of deceptively simple experiments, the neuroscientist, showed that people who have recently lost a limb in accidents and often complain of their 'phantom hand itching like crazy', could obtain relief by scratching various parts of their face – scratch the upper lip, and the absent index finger feels comforted, and so on.
Novel therapeutic methods try to tackle chronic itch at many different points, from the skin to the central nervous system. UVB light is known to attenuate histamine release from immune cells in the skin, so phototherapy has proved useful. Garments of a silk that is coated with antimicrobial compounds are another strategy to soothe itching skin. Long-term itch leads to functional anomalies in the regions of the brain associated with itch, and non-invasive transcranial direct-current simulation has been shown to offer relief.
11. Locusts ability to smell an odour
Subject – Science and Tech
Context – Researchers at Washington University in St. Louis found the answer as to how locusts smell an odour
Concept –
The ability to smell coffee immaterial of the presence of other interfering smells or the environment remains the same in humans.
In effect, other smells or different environmental factors do not get in the way of our ability to experience the smell of individual odours.
The locust exploited two functional types of neurons: those that are activated when an odourant is present, and those which are silenced when an odourant is present but become activated after the odour presentation ends.
To recognise an odourant's presence, researchers simply needed to add evidence for the odourant being present and subtract evidence against that odour being present.